-Expanded
coverage
-Wire updates
-About anthrax

Full archive form


Search help


Week of Sept. 11


Commemorative Globe front pages
How to help


Afghan charities


Relief funds

Showing support


Flag flying guide


Flag wallpaper


Printable flag
Memorials


Post a tribute to someone killed in the attack or write condolences to all victims in the National Book of Remembrance.
Messages


A changed America?


Condolences


Acts of patriotism
Investigation
Anyone with information regarding the attacks should call the FBI at this number:
866-483-5137
---

Leave a tip online

FBI website
Tax help
The IRS has set up a website and a toll-free number to help people having trouble with taxes as a result of the Sept. 11 attacks.
---
Call 866-562-5227, weekdays, 7 a.m. to 10 p.m.


Visit website





Stepped-up measures, changes at Logan Airport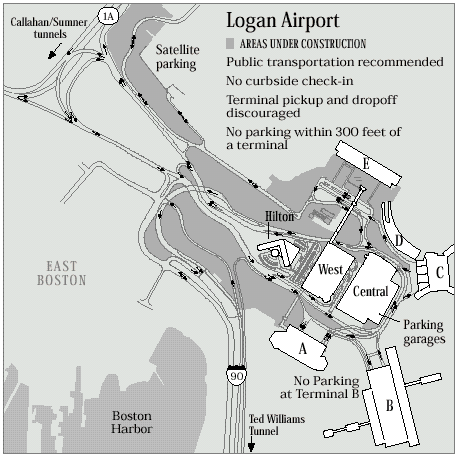 (Globe Staff Graphic)
Before leaving:

Confirm flight information with your airline before departing, as any flight information printed on existing tickets may no longer be valid.
Parking at Logan will be limited now due to the indefinite closure of the Terminal B garage, and part of Central Parking, making use of public transportation a necessity. Logan offers a variety of ground transportation options. For more information, call 800-23-LOGAN, or TTY, 800-262-333.

- - - - - - - - - - - - - - - - - - - - - - - -

To and From

The Logan Express bus service runs from Braintree, Framingham, Woburn, and Peabody.
The Logan Dart bus service runs from the financial district to the airport via the Ted Williams Tunnel.
The Airport Water Shuttle offers boat service between Logan and Rowes Wharf, 617-330-8680.
The Harbor Express boat service runs from Quincy Shipyard to Logan, 617-376-8417.
City water taxi on-call boat; service is available at various points around Boston Harbor, 617-422-0392.
MBTA's Blue Line train service, with free shuttle bus service, runs from the Airport MBTA station and all Logan Terminals, 617-222-3200.
Taxi service will continue to run to and from Logan Airport.

- - - - - - - - - - - - - - - - - - - - - - - -

At the airport

Curbside parking will not be allowed. No parking will be allowed within 300 feet of a terminal. Pick-up and dropoff is discouraged.
Curbside check-in has been discontinued for all flights.
Proper identification is always required: a valid driver's license or other identification for domestic flights; passport for international. Please check these requirements with your airline or travel agent before you arrive at the airport.
Arrive well in advance of your flight time Ð a minimum of two hours for all flights.
Only ticketed passengers will be allowed through checkpoints.
Knives of any type, regardless of blade length or composition, will not be allowed through security. This includes pocket knives, key chain knives, and retractable blades.
Be aware of all behavior and comments, as you are traveling through a high-security area.
Public service representatives are available throughout the terminals to assist with any questions.