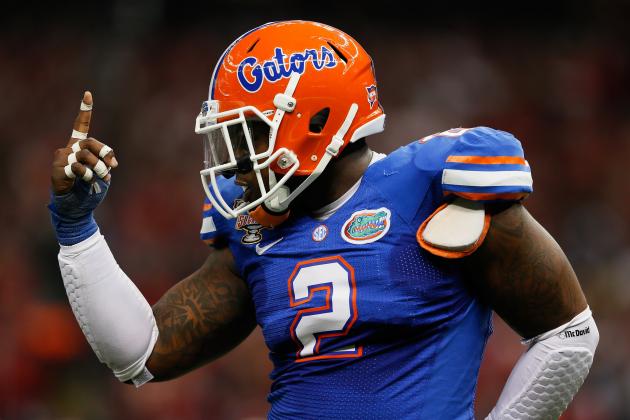 The New England Patriots are examining options to fortify their defensive line.
According to Aaron Wilson of The Baltimore Sun, the Patriots will host Florida defensive tackle Dominique Easley for a private visit on Tuesday. Easley has a busy week; he already seen the Browns (Sunday) and has a meet-up planned with the St. Louis Rams (Monday).
The Patriots have preferred their defensive tackles to soak up multiple blockers and control the gaps on either side (two-gap), but the 6-foot-2, 288-pound Easley is known for beating his assignment with burst off the snap and getting into the backfield (one-gap).
His quick "get-off" is his best weapon, but its sustainability is already coming into question. Easley tore each ACL at different points in his college career: the left one in 2011, the right one in 2013. He recovered quickly to start 11 games in 2012, logging four sacks in the process.
Can he rebound like that again? Can he hold up for the long haul? The Patriots probably hope to get closer to an answer with this visit.
There are question marks pertaining to Easley, but the Patriots have questions of their own, up and down the depth chart at defensive tackle. Vince Wilfork (Achilles) and Tommy Kelly (ACL) are both coming off season-ending injuries and are 32 and 33 years old, respectively. Young prospects Chris Jones, Joe Vellano, and Sealver Siliga have shown flashes of potential, but the Patriots are wise to consider improving their long-term options at defensive tackle.
Easley has been my target in the second round in a couple of my mock drafts, and while he needs to learn to play with more discipline, his athletic upside and high motor make him a perfect prospect for the Patriots at defensive tackle.

Follow @ErikFrenz