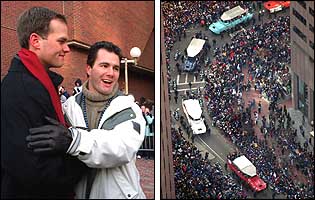 Left: Quarterback Tom Brady and kicker Adam Vinatieri. Right: The procession of Duck Tour buses carrying the team arrives at City Hall. (Globe Staff Photos / Janet Knott and Suzanne Kreiter)
Party time for the Patriots
A million plus gather for parade, rally
By Boston.com Staff and Associated Press, 02/05/02
BOSTON -- Tens of thousands of New England Patriots fans overflowed City Hall Plaza today, hanging from trees and lampposts and perched on the roofs of surrounding buildings, as the Super Bowl champions arrived for a victory rally.
The Boston Police estimated that 1.25 million people crowded into the plaza and jammed the parade route. Many of them began arriving well before sunrise to secure their spots, braving frigid temperatures on the coldest day of the winter.
The players were introduced as a team, just as they had been at the Super Bowl. Team owner Robert Kraft spoke first, lifting the Vince Lombardi Trophy.
Kraft thanked the fans for their support, and said he had a goal when he bought the team: To win a world championship. "Today, we're all world champions!" he said.
Coach Bill Belichick then told the crowd, "Our journey's complete now... This is our time."
Cornerback Ty Law performed his trademark end zone dance with receiver Troy Brown, and then forced quarterback Tom Brady, Belichick, and Kraft to do end zone dances. (They were not very good.)
Brown said he never touched the AFC Championship trophy, preferring to wait to get his hands on the Super Bowl hardware.
"I'm looking forward to doing this again next year," he said.
Patriots captain Lawyer Milloy led the crowd in a chant of, "We're No. 1!"
"City of Boston. It's been a long time coming, huh?" Milloy said. "They labeled us underdogs, they gave us no respect. We've got our respect now, right?"
Brady, the Super Bowl MVP, did not speak at the rally, and Drew Bledsoe did not attend.
The team set out from Hynes Convention Center shortly after noon aboard a flotilla of 13 Duck Tour buses, with Kraft, Belichick, and the championship trophy in the lead truck.
Accompanied by a phalanx of Boston motorcycle police, the parade made its way down Boylston and Tremont streets at a snail's pace as fans stood 15 deep, shoulder to shoulder on the sidewalks, shouting and jumping up and down in an effort to stay warm in the frigid temperatures.
It took more than an hour for the procession to reach City Hall, where fans waved American flags and Patriots banners. "We Shocked the World" said one sign. A giant screen showed highlights from the Patriots' 20-17 victory over the heavily favored St. Louis Rams.
Fans and players waved and took photographs of each other. Some players even cupped their hands to their ears as they rode slowly through the parade route, urging the fans to cheer even louder.
"It's a good thing John Madden isn't our coach," one fan wrote on a board he held high above his head. The broadcaster and former coach had said the Patriots should run out the clock and play for overtime instead of trying to win the game in regulation.
Kicker Adam Vinatieri hit a 48-yard field goal as time expired to secure the Patriots' victory.
At the rally, Vinatieri shared with the crowd a mantra the team adopted when they would hear people doubting their abilities. "Don't talk to me," he said, urging the crowd to repeat the phrase as he enumerated the team's many accomplishments, which many had doubted were possible.
Vinatieri told the fans he shaved off his playoff beard because he doesn't need it now; he's got the trophy.
Some of the fans had a personal stake in the celebration, with at least two hoisting marriage proposals signs for Brady. Brady, 24, took over when Bledsoe injured his ankle and held onto the starting job for the rest of the season. At the rally, he caught footballs thrown onto the stage from fans during the rally and autographed them.
Mike Montuori, 43, of East Boston, said the Super Bowl victory and homecoming parade made up for his disappointments in Boston sports, including Red Sox first baseman Bill Buckner's infamous error in game 6 of the 1986 World Series.
"This is the greatest day ever in Boston sports," Montuori proclaimed. "This is greatness and you'll never see anything like this again."
Some of the younger fans had other reasons to be happy.
"My mom and dad let me stay home from school. Thanks Pats!" said one youngster's sign.
Jeff Andrew, 15, of Westwood, and several of his friends attended the City Hall rally topless to showcase the letters P-A-T-R-I-O-T-S painted across their chests.
"I'm not feeling any pain, I'm too numb," Andrew said. "I'll do anything for the Pats. We're hardcore fans."
Above the plaza and along the parade route, fans peered from rooftops with binoculars and through high-rise office windows. Church bells rang and people showered the route with confetti.
Amanda Monteforte got up at 4:30 a.m. and painted "Pats" on her forehead and quarterback Tom Brady's number "12" on her cheeks before heading to City Hall Plaza.
"I couldn't sleep," said Monteforte, 18, from Everett. "We couldn't wait to come here."
The last time Boston had a sports championship or filled the plaza for a hometown team was in 1986, when Larry Bird led the Celtics to an NBA title. The city was reduced to celebrating Colorado's Stanley Cup title last year because former Bruin Ray Bourque finally got his ring.
"We're so used to being miserable," said John Snoonian, 33, a chemist from Ayer. "We're used to getting that close, then having it fall off the table. This is much, much better."
The crowds even spilled into the suburbs. An hour before the start of the parade, hundreds of people waited for public transit from Revere and Quincy and elsewhere to take them into the city.
Tight security measures included no backpacks, briefcases or other bags allowed at the City Hall rally, according to Boston police.
Nonessential state employees were given an extra hour break to attend the festivities. Acting Gov. Jane Swift, U.S. Sen. John Kerry and Boston Mayor Thomas M. Menino attended the rally.
Laurie Jerome, 40, of Westwood, said she and her husband Michael, 37, returned from New Orleans at 1:30 a.m. and still turned out for the celebration. Dressed in a red, white and blue feather boa, Mardi Gras beads and a Patriots jacket, Laurie said she liked the Patriots' team effort.
"They're hard-working bluecollar slobs like the rest of us," she said. "That's why it's so exciting."