A special section published by the Globe July 6, 2002.


An appreciation


His .406 season


The greatest hitter


Writers spelled trouble


Ted's All-Star games


The longest home run


The later years


The fisherman


The San Diego years


The last game


Talk of the town

A special section published by the Globe July 22, 2002.


Why we remember


The science of hitting


Legends' tales


Red Sox' tales
John Updike, David Halberstam and Peter Gammons capture small parts of a life that in many ways was beyond words


'Hub fans bid Kid Adieu'


Day with a great one


Williams was a big hit



The life of Ted Williams


Ted Williams memorabilia


Fans' reactions

---

Ted's will

Cyronics pact

Compare his signatures

Download wallpaper



Tributes to Ted


The remains debate



Additional stories

The Kid
A Shaughnessy tribute
from August, 1994


Tunnel of love
Dedication of the
Ted Williams Tunnel
in December, 1995


It went far away
50th anniversary
of longest home run
in Fenway history


Ted's the star attraction
Williams' appearance
at the 1999 All-Star
game at Fenway


More archives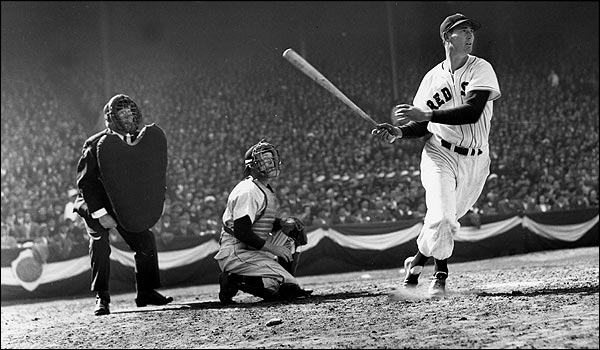 (Brearley Collection Photo from Opening Day 1947)

Red Sox slugger Ted Williams is last major league baseball player to hit above .400. (AP Photo)

AN APPRECIATION
In baseball and beyond, Williams was a true American hero
The death of Ted Williams signals the loss of the man who rivals Babe Ruth as the greatest hitter in baseball history and stands alone as the dominant sports figure of 20th-century New England — Hall of Famer, decorated Marine fighter pilot, champion of charity, oversized personality.
Ted Williams's career statistics
Read users' thoughts about Ted Williams


DAN SHAUGHNESSY
Unforgettable memories
To the end, he loved to talk about hitting. Even after strokes and surgeries wrecked his once-powerful body, Ted Williams would still rise in his wheelchair and get loud and lucid if you raised the subject of hitting a baseball.
BOB RYAN
His desire made wish come true
We can cut right through the clutter and get right to a reasonably solid premise. The two greatest all-around hitters were Babe Ruth and Ted Williams.
GLOBE EDITORIAL
Bidding the kid adieu
Great hitters, like great writers, can be obsessive about their craft, and in his playing days Ted Williams was the epitome of a perfectionist.