A special section published by the Globe July 6, 2002.


An appreciation


His .406 season


The greatest hitter


Writers spelled trouble


Ted's All-Star games


The longest home run


The later years


The fisherman


The San Diego years


The last game


Talk of the town

A special section published by the Globe July 22, 2002.


Why we remember


The science of hitting


Legends' tales


Red Sox' tales
John Updike, David Halberstam and Peter Gammons capture small parts of a life that in many ways was beyond words


'Hub fans bid Kid Adieu'


Day with a great one


Williams was a big hit



The life of Ted Williams


Ted Williams memorabilia


Fans' reactions

---

Ted's will

Cyronics pact

Compare his signatures

Download wallpaper



Tributes to Ted


The remains debate



Additional stories

The Kid
A Shaughnessy tribute
from August, 1994


Tunnel of love
Dedication of the
Ted Williams Tunnel
in December, 1995


It went far away
50th anniversary
of longest home run
in Fenway history


Ted's the star attraction
Williams' appearance
at the 1999 All-Star
game at Fenway


More archives



Tunnel of love for Williams
on day of dedication and tributes
By Kevin Paul Dupont, Globe Staff, Globe Staff, 12/16/95

ed Williams, a cane in one hand, a blue knit ski cap cocked elfishly over his wavy graying hair, stood in a South Boston chill yesterday morning and officially placed his name, plaque and good wishes on the third harbor tunnel.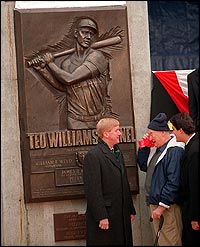 It was an emotion-packed day for Ted Williams as he joined his son, John Henry (right), and Gov. William F. Weld. (Globe Staff Photo / David L. Ryan)

In a light wintry drizzle, and with a crowd of some 3,000 fans, politicians and construction workers brightened by his presence, the 77-year-old Williams stood at a podium in front of the tunnel's eastbound entrance and thanked the city that has spent nearly 60 years immortalizing his swing, his swagger and his style -- sometimes crusty, usually gracious and always genuine.

"Certainly, the last few weeks, I thought of me being in front of all you Bostonians," said Williams, his step now slower, two strokes in recent years weakening his motor skills. "And everyplace I go, they're waving at me, sending out a cheer . . . and I can't help but keep thinking, 'Geez, for people to be so . . . nice and respectful and enthused . . . I've only seen that when somebody looks like they are gonna die -- or they are gonna die.'

"And I'd just like to say this one thing today . . . I'm a long way from that." Yes indeed, Ted Williams lives, not only in our dreams and memories of yesterday but in present-day America where Americans wish that the USA cranked out made-in-America heroes and icons as it did in the days of world wars and national pride. There is no telling how much longer Williams will be with us, but his birthdate (Aug. 30, 1918) and state of health tell us that yesterday could be the final time he stands in the shadow of Fenway Park. He lives in Florida now. Boston is, for the most part, a ground he made hallow and now only visits. Of course he wasn't wearing a tie. You had to ask? He first appeared at the staging in front of his tunnel, the Ted Williams Tunnel, at 10:17 a.m., wearing a gray V-neck sweater pulled over an open-collar blue shirt. In deference to the weather, and certainly not style, he wore a blue winter jacket with some advertising scrawled across the back: "Ranger Boats, Flippin, Ark." The jacket's hood remained turned down and Williams never bothered to engage the zipper. Perhaps it was Boston, but the jacket made a statement that Ted Williams, last of the .400 hitters, probably would have preferred to spend the day fishing for large-mouth bass. "I'm so happy to be here," said Williams, who came through the tunnel in a 1966 Ford Thunderbird, accompanied by Gov. William F. Weld and former governors Ed King and Michael Dukakis. "I got to drive in a car with a governor and three former governors -- that's pretty high-class company." "The first time I saw Ted? Oh, it was 1963 and we were having spring training in Scottsdale," recalled Rico Petrocelli, a face in the crowd at the tunnel ceremonies. "One memory in particular sticks out. I was with a bunch of rookies, left behind while the club played somewhere else, and Ted stayed behind to work with the hitters. I'm in the outfield shagging flies and Williams is at the cage, watching each guy hit, giving his advice. You know Ted -- loves to talk hitting; I mean, loves it. "Well, he's telling this one guy what to do, Gage Naudin. I think it was, and Gage doesn't do what Ted's telling him. After a while, Ted comes arond the cage and says, 'Goddammit, give me that bat!' And I'll never forget it . . . the next three pitches -- Bang! Bang! Bang! -- right out of the park. I'm in right field, just in awe, turning on each one and watchin' 'em sail over the fence. Everyone today talks about bat speed . . . 'You gotta have bat speed.' People didn't say that then, but Ted was always saying, 'You gotta be quick . . . You gotta be fast.' And he was. He was lightnin' fast. "I stood there at the tunnel and watched him the whole time. I couldn't take my eyes off him. Did you see his son next to him on the stage, John Henry, offered him a pair of gloves? And he turned them down. Geez, that's Ted, sittin' up there like it's 80 degrees. "I do have real feelings for Ted; it's hard to explain . . . this guy . . . maybe he's the last of a certain brand of ballplayer. He's in that Babe Ruth image . . . those years of hard-nosed ballplayers, when they played with no helmets and the pitchers would knock you on your rear end and then you'd get up and hit a homer. I remember Rudy York was my manager at Double A and we'd ask Rudy what Williams was like when Rudy played against him for Detroit. And Rudy would tell us this story about one of their pitchers, Virgil Trucks, who, when Ted was a rookie, figured, 'Ah, who's this cocky kid, I'll put him on his rear end.' And sure enough he did, but then Williams got up, dusted himself off and, bang, the next pitch was in the upper deck. Home run. "That was Ted Williams." Williams' second stop yesterday was a return to his roots, Fenway Park, a low-key luncheon at the 600 Club. While invited guests dined on chicken and rice, Williams' No. 9 was illuminated under the "At Bat" sign on the famous left-field scoreboard. No one took batting practice. A grounds worker slowly cut a path across the outfield with a snowblower. A Christmas tree stood solitary at second base. Snow swirled on the roof above the right-field grandstand, where Williams' No. 9 rests in perpetuity, next to No. 4 (Bobby Doerr), No. 1 (Joe Cronin) and No. 8 (Carl Yastrzemski). The heroes of New England summers rested shoulder to shoulder in winter's white. Inside the 600 Club, Williams sat in the middle of the dining room and greeted well-wishers with a big smile and firm handshakes. Old men, young boys, smiling women in their 20s and 30s, most of whom saw Williams only play in the memories of their mothers and fathers. For the record, Williams never removed his sweater or his coat, which was still unzipped and still silently promoting the Ranger Boats in Flippin, Ark. Williams did remove his knit cap, but only after John Henry assured him that it was in his safekeeping. Guests came and went. Occasionally, Teddy Ballgame, hitter of 521 career homers, penned his signature on a ball or a program. The honored guest was a master of pleasantries. An older man and a young boy at his side, Williams smiled wide for a camera and said, "Three great-looking guys." The camera flashed. Another handshake waited in the reception line. The old man with the sweetest of swings reached out and said hello and began to look tired. "Here's a guy who was in two wars," said Williams' former teammate, Johnny Pesky, who stood proudly on the stage in front of Ted's tunnel yesterday. "Two wars, one a world war, and he was the greatest hitter who ever lived. This is nice. I'm glad they're doing this for him now, before he dies. He gets to enjoy it. He's a hero. He's what you call a real American hero. "The first time I met him? Sure, I remember. I was the clubhouse kid in Portland Oregon, and he was this 17-year-old gangly kid from San Diego. I guess that would have made me 16, I don't know . . . Ted's always said he's just a year older and I guess he's going to stick with that. And now here he is, getting a tunnel named after him. Me, I'm settling for a foul pole in right field Pesky's pole on the right-field line. I hit a homer off Mike Garcia and Mel Parnell hung that one on me. "The one I'll never forget about Ted is when we're playing in the Armed Forces World Series at Pearl Harbor, right there on Furlong Field. Ted hits this popup, and geez, the thing must have been 400 feet high. What a pop fly! The catcher got under it and caught it, but before he did, Ted flipped his bat, oh, it had to be 30 feet in the air, and then he went running under it, hoping it would hit him off the head. He wasn't trying to hit the catcher. It's just that he was so mad at himself, he was trying to hit himself in the head with the bat. You know, I told him that story recently, and he said it wasn't true. He denies it. But I'm telling you it's true. I was there. "On top of it all, there was a photographer on the field, with a wooden box full of his gear, lenses and stuff, I guess. On his way to the dugout, Ted kicks the guy's box, the stuff goes flying and Ted's cleat marks scratch up the box. The guy's there yellin', 'Hey, what are you doin'?' And Ted wheels around and says, 'I just popped up . . . what do you want me to do, kiss your . . . ' " Slightly weary, but still appearing upbeat, Williams left the 600 Club in a wheelchair around 1:30 p.m., shortly before former Red Sox general manager Lou Gorman made some brief announcements. Pesky spoke, thanking all for coming, reminiscing about his friend's great deeds. As Williams was wheeled through the crowd, waving goodbye, Gorman called him a living legend. The crowd applauded. John Henry kept pace as his father and friends made their way to an elevator. Later in the day, after a four- or five-hour rest in his Park Plaza hotel room, Williams was honored again with the start of the Ted Williams 406 Club -- which will stand as his lasting legacy to the Jimmy Fund and the Dana- Farber Cancer Institute. In an early-evening news conference, former Sox players Gerry Moses and Mike Andrews announced the 406 Club's intention to raise in excess of $2 million to help the Jimmy Fund fight cancer in children. Williams became the Jimmy Fund's best-known spokesman during his Red Sox days. New England drive- ins and movie theaters rolled his filmed message before every feature. Ted Williams said give, and parents and children dug deep in their pockets. Williams was still pitching for the Jimmy Fund last night. It is not too late to become a 406 member (call 617-632-3300 for more information). No one has hit .400 since Williams batted .406 in 1941. Those who sign up, and pledge $1,000 a year for five years, will have their names placed on a plaque at Fenway Park. "I grew up in southern California, just like Ted, but I didn't meet him for the first time until I was in spring training with the Pirates," said Ralph Kiner, who was among the honored guests at the Fenway luncheon and the Dana-Farber soiree. "It was my third year 1948 with Pittsburgh, and I'd had a pretty good year the year before; I hit 51 homers. He searched me out. Seems funny, but Ted Williams sought me out to find out what I knew about hitting. "I'd only be guessing at how the conversation went, but I think I told him all the things Hank Greenberg retired in 1947 had told me. I mean, Hank and Ted were the two most intelligent men ever to hit a baseball. Ted made a little joke, saying that he'd already learned everything from Hank Greenberg -- he'd asked him himself a few years before. "You know, there's really no one like Ted. In my time, I'd say there have been three American heroes -- Ted Williams, Frank Sinatra and John Wayne. I didn't know Wayne, but I know Sinatra, and Ted's more outgoing, more enthusiastic . . . more giving. Sure, he had faults, but who hasn't had faults? He had his problems with the press, but everyone had that. But he always stood up for what he was, and his accomplishments were unreal. Who could have been better with a bat? Babe Ruth, maybe? Ruth, Williams and Joe DiMaggio -- they are the game of baseball." The Hub, with the help of a kid, bid The Kid adieu last night around 11. Kate Shaughnessy, daughter of Globe sports columnist Dan Shaughnessy, read a poem to Williams at the close of the Jimmy Fund show. Two years ago, Kate came down with leukemia, and today her rosy cheeks are living testimony to the good work and goodwill of Dana-Farber. Reading the poem she prepared, brave 10-year-old Kate grabbed a microphone and saluted Williams: Ted Williams is a really, really great guy, He really likes kids, but he hates wearing ties; He won two Triple Crowns and was the MVP twice, He feuded with sportswriters, but to kids he was nice. 521 homers, he's in the Hall of Fame, He's The Kid, The Thumper, and Teddy Ballgame. He would do anything for the Jimmy Fund, And I'd like to say thank you, for all that he's done. Williams dressed up for the evening, the final innings of his long day. He wore a sports jacket, white shirt and Texas string tie. In the calming, paternal tone of a department store Santa Claus, he assured Kate that she had done a splendid job reading her poem -- a 12th-grader if ever he had heard one. He voice was silken, its thumbprint as smooth as his legendary swing. "I am truly so very honored tonight," Williams said moments later, sitting in his chair in the middle of the banquet hall, spraying his bon mots around the room, like so many singles and gap doubles. "Boy, am I in dreamland, or what?" And with that, Ted Williams, holder of records, maker of dreams, savior of children, once more -- and perhaps forever -- bid the Hub adieu.