A special section published by the Globe July 6, 2002.


An appreciation


His .406 season


The greatest hitter


Writers spelled trouble


Ted's All-Star games


The longest home run


The later years


The fisherman


The San Diego years


The last game


Talk of the town

A special section published by the Globe July 22, 2002.


Why we remember


The science of hitting


Legends' tales


Red Sox' tales
John Updike, David Halberstam and Peter Gammons capture small parts of a life that in many ways was beyond words


'Hub fans bid Kid Adieu'


Day with a great one


Williams was a big hit



The life of Ted Williams


Ted Williams memorabilia


Fans' reactions

---

Ted's will

Cyronics pact

Compare his signatures

Download wallpaper



Tributes to Ted


The remains debate



Additional stories

The Kid
A Shaughnessy tribute
from August, 1994


Tunnel of love
Dedication of the
Ted Williams Tunnel
in December, 1995


It went far away
50th anniversary
of longest home run
in Fenway history


Ted's the star attraction
Williams' appearance
at the 1999 All-Star
game at Fenway


More archives



THE SCIENCE OF HITTING
'If we'd just set up a Ted Williams University the day he retired, we'd have started understanding all this a long, long time ago.'
By Peter Gammons, Special to the Globe, 7/22/2002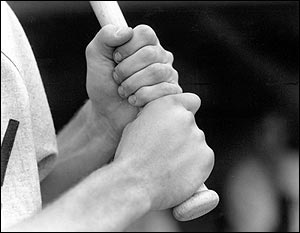 By combining extraordinary vision with remarkable bat speed, Ted Williams made hitting an art form. (AP File Photo)

he subject was hitting discipline and philosophy, and how it has made the New York Yankees, Seattle Mariners, and Oakland Athletics so dominant.

''It was pounded on me from the day I signed into the A's organization,'' said Jason Giambi. ''Then I got to the big leagues, and there was Mark McGwire as my example. But, really, this is all nothing new. What everyone is now focusing on is what Ted Williams preached his entire life. `Get a good pitch to hit,'' he always said, hitting in its simplest form.

''You want to teach hitting right?'' Giambi continued. ''Buy every kid in this country a copy of Ted Williams's book.''

''I've heard it said that we changed the game because of our approach, our deep counts, our discipline and patience,'' said Joe Torre. ''We didn't change anything. There's nothing new to be brought to hitting, because Ted understood it all. What have the Yankees been doing offensively the last six years? What Ted told us to do. In many ways, the Yankee philosophy is simply the Williams philosophy.''

Ironically, the Red Sox did not believe in that teaching philosophy, which is what makes Shea Hillenbrand's rise to All-Star status so remarkable, not to mention admirable. This spring, when Ben Cherrington and Theo Epstein took over the baseball development operation, their first act was to pass out ''The Science of Hitting'' to every player in the system. ''He defines everything that we hope our organizational philosophy will follow,'' said Epstein.

When Wade Boggs was a sophomore at Plant High School in Tampa, he was struggling as a hitter. His father bought him Williams's book, and Boggs said he used to ''stay up all night studying it.'' All the way to Cooperstown.

Plate discipline. Pitch recognition. Command of the strike zone. On-base percentage. Slugging percentage. OPS (On-base percentage plus slugging percentage).

''You take all those terms that we all talk about today, and we apply them to both hitting and pitching,'' said Mets assistant general manager Jim Duquette. ''Ted said that you cannot be a successful hitter or pitcher unless you command the strike zone. My guess is that Ted could teach a lot to pitchers.'' Indeed.

''Commanding the strike zone for hitters and pitchers is our organizational philosophy, and, yes, it's obviously the Ted Williams philosophy,'' said Oakland GM Billy Beane, like Williams and Tony Gwynn a San Diego native. ''Plate discipline is not an option in our organization, it's what we do. When Eric Chavez first signed, we butted heads, and I told him it wasn't an option. This was what he had to do. Like Williams, Chavez is another San Diego guy. Yes, he's learned, and is on his way to stardom.''

''I think,'' Giambi said, ''that Ted would love the fact that Billy doesn't give that option as to whether you can be disciplined or not.''

''Ted,'' said Beane, ''was right, and why argue with genius?''

Oakland has minor league quotas for hitting. A player cannot be his team's Player of the Month if he doesn't reach a particular walk, on-base percentage, or OPS level. If Williams was still in baseball, he'd be working with the A's.

Oakland is just one organization that strongly believes in statistics as proof of performance. Check out some of the statistical evidence of Williams's philosophical genius:

He won six batting titles, four home run crowns, and led the league in RBI four times. Eight times he led the AL in walks. He won the Triple Crown in 1942 and 1947.
He has the highest lifetime batting average of any of the 17 players with 500 homers:
| | | |
| --- | --- | --- |
| | BA | HR |
| Ted Williams | .344 | 521 |
| Babe Ruth | .342 | 714 |
| Jimmie Foxx | .325 | 534 |
| Hank Aaron | .305 | 755 |
| Mel Ott | .304 | 511 |
| Willie Mays | .302 | 660 |
He led the AL in OPS by more than 50 points five times, something accomplished only eight other times in baseball history.
| | |
| --- | --- |
| Ted Williams | 5 times |
| Babe Ruth | 4 times |
| Barry Bonds | 2001 |
| Mickey Mantle | 1962 |
| Rogers Hornsby | 1924 |
| Nap Lajoie | 1901 |
He not only has the single-season on-base percentage record of .551 in 1941, he is also the career leader.
| | |
| --- | --- |
| Ted Williams | .483 |
| Babe Ruth | .474 |
| John McGraw | .466 |
| Billy Hamilton | .455 |
| Lou Gehrig | .447 |
''I didn't understand that this was Ted Williams's style,'' said McGwire. ''I had the philosophy ingrained in me from the time I signed with the A's. But the longer I was in the game, the more I learned about Ted. When I got to meet him at the All-Star Game in 1999 it was a tremendous thrill, especially because of some of things he'd said about me as a hitter.''
McGwire was a Williams favorite because he was so patient and reduced the strike zone to a finite area. ''Mark was the classic example of doing what Ted preached,'' said Beane. ''But the closest person to Ted is Barry Bonds. He is Ted, 2002. Just watch him. Check the on-base percentage and the walks and the slugging. He never swings at a bad pitch.''
This past spring, Bonds told broadcaster and former Cy Young Award winner Rick Sutcliffe that he had reduced the strike zone to a tiny hitting area, and that's all he looked at. ''It's about the size of a quarter,'' said Bonds. In 1986, Williams told Don Mattingly and Boggs, ''until I got to two strikes, I looked for one pitch in one area, about the size of a silver dollar.''
''All the hitting ideas began with Ted,'' said former Mets hiting coach Dave Engle, who grew up driving every summer from San Diego to Lakeville, Mass., where his father Ted, Williams's high school friend, ran the Ted Williams Camp. ''He understood that all power is generated from the lower half, the hips. He understood that because the ball is coming at an angle downwards, you can't generate power without a slight uppercut to meet the ball squarely.
''It's really been the last 10 years that hitting has been studied the way pitching was studied and taught. If we'd just set up a Ted Williams University the day he retired, we'd have started understanding all this a long, long time ago.''
This story ran on page D9 of the Boston Globe on 7/22/2002.
&copy Copyright 2002 Globe Newspaper Company.