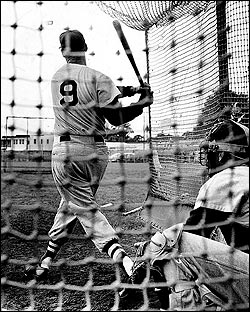 When it was Ted Williams's turn in the batting cage, teammates tuned in for a free hitting lesson. (1968 Boston Public Library File Photo)
Frank Malzone
Former teammate (1955-60), 72
Demanding perfection
''When you first heard him, he was so loud, I remember thinking, `Did I do something wrong?' But once you got to know him, it was just his way of approaching life, the way he'd go at everything demanding so much perfection.
''My first full year with the Red Sox I made the All-Star team in 1957. Me and Ted were the only two guys from the Red Sox on the team. I remember sitting together with him on the plane, how we sat and talked, and he explained to me how important it was for the American League to win the ballgame. I was under the impression it was an exhibition, like it is today.''
---
Bobby Doerr
Hall of Famer, former teammate (1939-51), 84
Special from the beginning
''I remember when I first saw Ted back in San Diego in 1936 in the Pacific Coast League. I was standing by the batting cage, and oh, about 8 or 10 feet in front of me was this tall, skinny kid. He was 6-foot-3, 147 pounds. Frank Shellenbach was the manager, and he was pitching batting practice, and he said, `Let the kid hit a few.' We had a lot of ex-major leaguers on the team, and I remember guys grumbling, `This kid is going to take up our time.' Well, Ted hit six or seven balls, very impressive, he might have hit one out of the park, and I remember somebody on the other side of the cage, I wish I remember who it was, saying, `That kid is going to be signed before the week is out.' That was on a Thursday. Monday was an off-day, and we were at the railroad station, getting ready to go to San Francisco, and here was Ted, all excited, bouncing up and down.
''Ted was a very compassionate guy. He'd do anything in the world for you. But sometimes I'd want to grab him and shake him, because he'd be off having a tantrum or something. But Ted was a very positive guy. Everything was always forward progress. He was a step ahead of everybody. For me, he was to baseball like Ben Hogan was to golf. He had a lot of new ideas. He was the first guy to go to the lighter bat.
''I remember we were at the All-Star Game in Detroit, and we were in the lobby of the Book Cadillac Hotel. Mr. Hillerich of the bat company was there, and Ted said, `Mr. Hillerich, I want some 32-ounce bats.' Mr. Hillerich threw up his hands and said, `You can't get good wood with a light bat.' Everybody then was using 34-, 35-, 36-ounce bats. Ted said, `What good is wood if you can't handle it?'
''He recognized the value of quickness and using the best part of the bat, rather than hit it on the trademark. He also developed olive-oil resin. We had resin, but it was clammy. Ted came up with the olive-oil resin. You leave your bat lying in the dirt, and it would be like George Brett's pine-tar bat.''
---
Wade Boggs
Red Sox (1982-92), 44
A favorite of all time
''Don Mattingly and I and Ted met at a restaurant. I think we got there at around 5:30 or 6 and didn't leave until 11 or 11:30. Peter Gammons just kept filling up cassette after cassette. That's probably one of the greatest times I've ever had, other than sitting in front of my locker and talking to Ted at an old-timers game. I was still in the beginning of my career, I had four years in the big leagues and Donnie had two, and it was the hitting guru, the old mentor, talking to us about hitting. Here's the legend, one of the greatest hitters of all time, talking to two of the up-and-coming guys. We talked about everything under the sun, situation hitting, how to attack certain individuals, it was absolutely priceless. It was like E.F. Hutton - when Ted talked, everybody listened. I think he saw some similarities, some of the patience and discipline, like waiting for a pitch to hit. I hit to left field a lot more than Ted did. He was a dead-pull hitter who hit .400. A dead-pull hitter today would hit .200.
''I've got his bat and ball and pictures of he and Joe DiMaggio standing together in the dugout. I have a lot of pictures of Ted and myself, signed. He was the favorite player of my dad, Win. I just sort of carried it on.''
---
Johnny Pesky
Former teammate (1942-52), 82
Someone to listen to
''He used to call his own pitchers stupid. He'd say, `You guys are some of the dumbest SOBs I've ever seen.' They'd go into orbit. But they'd all listen.
''I remember we were in Vero Beach playing an exhibition game against the Dodgers. Ted would always come out early. I remember him sitting there on the step at the top of the dugout, and he had Roy Campanella and Duke Snider or [Andy] Pafko, some other guys, and I could hear him giving them a hitting lesson that was out of this world.
''I came up with the Sox in 1942, the year after Ted hit .406. I remember we'd take the train from Boston to Chicago, an overnight trip. We'd have a Pullman dining car, the writers would have one. We got on the train in Back Bay, and after we'd have dinner, Ted would be surrounded by guys, talking about hitting. Even at a young age, he had hitting down.
''We got out of the service and came back after the war, and boy we got off to a great start. Bobby Doerr was struggling, hitting about .270 but leading the league in RBIs. We were getting ready for batting practice, and Ted was giving Bobby hell. He was saying, `One day you've got your feet apart, the next day you've got them together, you use a closed stance, you use an open stance, get a stance and give it a try.' Ted did all the talking. Two minutes later, Bobby said, `Ted, I'm not you.' Ted yelled at him, `You want to be a lousy .280 hitter, you be a .280 hitter,' and he stomped off.''
---
Mel Parnell
Former teammate (1947-56), 80
Keeping it straight
''I remember back in '48, he was called out on strikes, and he came back to the dugout and complained that home plate was out of line. All the pitchers on the bench got a big laugh out of that. But he got in a discussion with [manager] Joe Cronin about it, and Cronin finally said we'd check it. The next morning, the grounds crew came out, and sure enough, home plate was out of line. Only Ted Williams. He was amazing, a very intelligent person. You had to respect what he said.''
---
Sam Mele
Former teammate (1947-49, 54-55), 79
All about winning
''You know Ted liked pasta and stuff. My wife invited him to our home in Quincy. We were sitting in the dining room, and you know how kids are, they find out he's here. I said to them, `Let him alone,' but he said, `Aw, let them come in.' So one at a time they'd come around the table. They didn't even bother looking at me, about 15 or 20 kids, and Ted signed for every damn one of 'em.
''We were in spring training, and after I took my cuts and rounded the bases, I went out to left field, because Ted liked to talk hitting. He talked to me a lot about the opposing pitcher, what to look for him to throw. I asked him about playing the outfield. He said, `Wait a minute. Go to the little guy in center field, talk to him.' Of course, he was talking about Dom DiMaggio.
''I don't know what people thought of him as a team man. But we'd sit around Ted's locker, me and DiMaggio, Pesky, and he'd say, `This is what you say to yourself after every game - ''How'd we make out? Did I do something to help us win or did I do something that made lose the game? The last thing you ask is, `How did I make out.' '' That proved to me how important winning was to him.''
---
Birdie Tebbetts
Former teammate (1947-50), deceased
A moment of laughter
''You couldn't distract him. He was intense. Every great hitter was intense. There was only one guy who could shake up Ted Williams, and that was Jake Early. He was a catcher for the Senators. He did a perfect imitation of a tobacco auctioneer, at the time when auctions were popular. When Williams would get up, Early would auction off a brand of tobacco. Finally, Ted would have to stop the game, call time out, and bust up laughing. He did it about once every series. We all waited for him to do it.''
---
Ray Boone
Former teammate (1960), 78
Cardinals missed out
Herb Benninghaven was a part-time scout for the St. Louis Cardinals. He worked for the San Diego gas company. He always had a Sunday ballclub. A lot of those guys played for him on Sunday. As a scout, it was a way for him to get to know different prospects. Ted used to hang out at his house all the time. They only lived a few doors apart and he would always come over. Herb's wife was always cooking and baking. When Ted was ready to sign, he signed with the Padres for $800. Ted told Herb that if he could get him $1,000, he would sign with the Cardinals. Herb said yes, he'd try to do it. Years later, Herb showed me the telegram from the Cardinals, rejecting his prospect - Ted Williams. The Cardinals could have had Williams and Musial in the same outfield.''
---
Charlie Wagner
Former teammate (1939-46), 89
A friend to all
''We became very good friends. He got up early and I got up early. We didn't drink or smoke. No nightclubs and all that stuff. We became roommates. Ted liked company, but he was a loner in a sense. He liked company when he wanted company. We lived at the same hotel in Boston. It was the Sheraton Hotel on Bay State Road. It was the nicest hotel. It had a roof garden. I used to go in there and sit in the corner and watch people come in. It was a nice hotel. You could hide away there, and nobody would know it. Ted would fly out and fly back. He liked to do things alone. But he had every friend in America.''
---
Johnny Orlando
Former clubhouse attendant, deceased
Picking your spots
''It ain't that he don't want to be friendly. It's just that he hates front-runners. He don't like people who run up and make a big fuss over him when he's done something good. Now take me. I never shook his hand once after he hit a home run. Never once. He don't need it then. It's after he goes 0 for 5 that I talk to him. That's when he needs it, not when he's doin' good.''
Compiled by Gordon Edes. Some material from the book ''I Remember Ted Williams,'' by David Cataneo was used in this report.