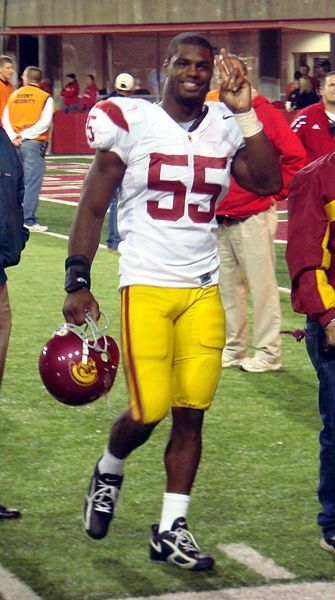 Let's just admit it. Despite devouring all the of the mock drafts, semi-educated guesses, deliberately misleading rumors, and flat-out gossip like we're Peter King rummaging through the Starbucks dumpster, you, me, and Mel Kiper Jr. haven't a clue what the New England Patriots are going to do with the No. 7 overall selection in today's NFL Draft.
Especially Mel. There are a few memorable draft moments that stand out in my mind over the years - the made-for-TV nose dives of Thurman Thomas, Randy Moss, Warren Sapp, and Brady Quinn, Dr. Z's dismissive appraisal of Dan Marino (man, I wish I could find this on YouTube), that one time Chris Berman paused for breath - I think my favorite happened in 2005, when the Patriots selected little-known Fresno State guard Logan Mankins with the 32d and final pick in the first round.
You could just tell from Kiper's reaction that he was completely befuddled by this pick - when asked by Berman for his reaction, he looked like a deer in the headlights, albeit a deer with an awesome man-bouffant - and it was so apparent that he wanted to rip the selection; if I recall correctly Kiper had Mankins pegged as a late second or early third rounder. But bless his little draftnik heart, he just couldn't do it. The Pats, I'm going to guess you recall, were coming off back to back Super Bowl titles, their previous two drafts had been sensational, and at that moment in time it was a self-defeating act to question any personnel decisions that they made. So Kiper dislodged his tongue from his throat, stammered something about it being a bit of a reach but that the mean Mankins was a Patriots-type of player . . . then burst into tears, ripped his draft board to shreds, shrieked "I hate you, Belichick!," and stormed off to his room. Well, maybe not all of that is true. But trust me. It was awesome.
That said . . . the fun of the whole exercise is in the guessing, isn't it? Me, I'm always hopeful they Patriots will take a speedy, athletic linebacker, even though those of you with a much better grasp of the Patriots' defensive concepts and requirements than I have end up emailing me detailed explanations of why that won't happen . . . and then it doesn't. The year the Pats took Mankins, I was pleading for Lofa Tatupu, the Maine Black Bear-turned-USC Trojan who went to Seattle in Rd. 2. Last year, I coveted Ole Miss linebacker Patrick Willis, and when it became obvious in the weeks before the draft that he would be long gone before the Patriots picked (he went 11th to the Niners), I convinced myself that Miami's Jon Beason or Michigan's David Harris would be capable additions to the aging linebacking corps. Again, the Patriots looked elsewhere.
But like a dog who keeps getting his dumb self zapped by an electric fence, I'm ready to make the same mistake again. Yup, I think there's a very good chance the Pats are taking a - dramatic pause - linebacker with their top pick today.
I tend to believe the rumor CNN/SI's Don Banks was reporting in the last day or so: the Pats will trade down from No. 7 to No. 10 with New Orleans and end up with Southern Cal linebacker Keith Rivers and an extra third-round pick. Rivers is a little small for the Pats' system - the USC website lists him at just 220 pounds - but he's fast, smart, versatile, and is said to have good character, and I just can get past the fact that they are desperate for an infusion of young talent at the position. Tennessee's Jerod Mayo also seems to be another possibility, though that might just be a smokescreen, and I also wouldn't be shocked if they go with the best value philosophy and take Rivers's college teammate, defensive tackle Sedrick Ellis, or Virginia offensive lineman Branden Albert at No. 7.
Feel free to pop into the comments and let me know who you think the Pats will take. If it's someone who will make Kiper's head spin, all the better. After all, Mankins seems to have turned out quite all right.
* * *
As for today's Completely Random Football Card: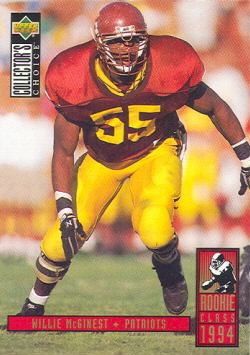 You know, the last No. 55 the Patriots drafted from Southern Cal seemed to turn out okay.
About Touching All The Bases
| | |
| --- | --- |
| | Irreverence and insight from Chad Finn, a Globe/Boston.com sports writer and media columnist. A winner of several national and regional writing awards, he is the founder and sole contributor to the TATB blog, which launched in December 2004. Yes, he realizes how lucky he is. |
Tweets by @GlobeChadFinn
browse this blog
by category
The best of Touching All The Bases