Posted by Chad Finn, Globe Staff
April 22, 2008 09:10 AM
Pretty fancy new digs here, no? Whenever Bob Ryan and Mike Reiss are among your new neighbors, I figure you must be living right.
So . . . I suppose an explanation is in order. For those of you who are joining me here after reading TATB in its previous independent incarnation, thanks for coming along on the ride. As you can tell, the appearance of the blog has changed, but it's my intention to keep virtually everything else the same. I appreciated the spirit and intelligence of the commenters on the old site - there was a real community vibe there - and I hope that isn't lost in the transition.
As for those of you who are just stumbling upon this odd little blog for the first time . . . well, I think the words of Pedro Martinez apply: Where you been, man? Seriously, it's good to have you. Put your feet up and stay awhile.
Much of what's to follow won't come as breaking news to TATB's longtime readers. But for you newbies, most of the answers regarding what we aim for here - humor, passion, irreverence, insight, adequate spelling - can be found in the links and under The Scoop heading in the right rail. In the meantime, consider this post a crash course in our particular sports belief system.
And so, let's go. I believe . . .
. . . that Manny Ramirez has it figured out better than most of us: "After all this is over, all I want is for my kids to go to college and to be their best friend. That's all I want. I donít care about home runs or whatever." Seems to me that's the definition of wisdom.
. . . that George Brett is the greatest hitter I have ever seen, but Manny is batting right behind him in that lineup.
. . . that January 22, 2003 - the date the Red Sox signed the one and only David Americo Ortiz - will go down as the most important day in franchise history.
. . . that Bill Buckner never should have required forgiveness, and that Grady Little and Don Zimmer never should receive it.
. . . that Terry Francona is the best Red Sox manager of my lifetime, Joe Kerrigan is the worst, and there's a lot of mediocrity, ineptitude, and alcohol consumption among those in between.
. . . that I'll officially feel like a geezer the day Ken Griffey Jr. retires - he's one day younger than me, and as long as Junior's playing a kid's game, then I can't possibly be that old, right?
. . . that Roger Clemens and Barry Bonds both belong in Cooperstown, but their dastardly transgressions should be spelled out in bronze.
. . . that closed-minded grumps who deride Bill James as a stat geek are missing out on one of the most engaging baseball writers of any era.
. . . that Tom Brady will be the quarterbacking equal of his idol Mr. Montana only when he secures another Lombardi Trophy - and he will.
. . . that in retrospect, Parcells needed Belichick a whole lot more than Belichick needed Parcells.
. . . that LeBron James is the NBA's most talented player, Kobe Bryant the best, and Kevin Garnett the most valuable, and we all know what the award is called.
. . . the Rajon Rondo is just a short bounce pass away from being one of the NBA's elite point guards.
. . . that in 1999 and 2000, we witnessed the most dominating and charismatic pitcher of all-time in Pedro Martinez. Koufax didn't have to do it in the steroid era.
. . . that the Basketball Hall of Fame has an incomplete roster until Dennis Johnson makes their team.
. . . that this Celtics season will be remembered as "Where No. 17 happened."
. . . that Don Orsillo is a vinyl-covered automaton programmed by Tom Werner, Gil Santos still has the voice but no longer the vision, and Mike Gorman remains Boston's most competent and underrated play-by-play guy.
. . . that Bo Jackson, Mark Fidrych, and Lyman Bostock are three baseball "What Ifs?" who linger in my consciousness all these years after their final ballgame.
. . . that 81-year-old Vin Scully still has his fastball, Joe Morgan must have beaned while not wearing a batting helmet repeatedly, and Tim McCarver has been slapped with at least one restraining order by Derek Jeter.
. . . that of the Celtics' three superstars, Ray Allen has made the greatest individual sacrifice this season and deserves more praise for his selflessness than he has received.
. . . that Hank "Tommy Boy" Steinbrenner will be an endless source of amusement to Red Sox fans.
. . . that the Patriots know precisely what Matt Walsh has in his DVD collection, and they're not particularly concerned.
. . . that the most gifted player ever to suit up for the Patriots was Terry Glenn.
. . . that Tom Brady should just admit he's a Yankees fan.
. . . that of all of Boston's four major sports teams (sorry, Revo), the Bruins have the most faithful followers, and they deserve better than what Jeremy Jacobs gives them.
. . . that Jason Varitek is the Derek Jeter of the Red Sox - indispensable, sure, but overrated in the immeasurables.
. . . that there's never been a better time to be a Boston sports fan, and I'm ridiculously lucky to have a home to write about it.
. . . in miracles. (Yes!)
* * *
As for today's Completely Random Baseball Card: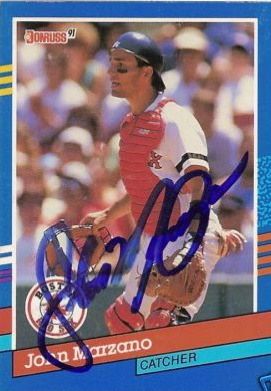 Sad to hear about the passing of former Sox catcher John Marzano earlier this week. Marzano was thriving in his second career as an analyst for MLB.com, and by all accounts he was one of those rare people who seemed to befriend everyone who crossed his path, from young Sox fans in Pawtucket to young superstars in Seattle. At 45, he was six months the junior of his former Boston batterymate Roger Clemens, and much too young for the ballgame to end.
* * *
Email Chad at chadfinn4@yahoo.com
About Touching All The Bases
| | |
| --- | --- |
| | Irreverence and insight from Chad Finn, a Globe/Boston.com sports writer and media columnist. A winner of several national and regional writing awards, he is the founder and sole contributor to the TATB blog, which launched in December 2004. Yes, he realizes how lucky he is. |
Tweets by @GlobeChadFinn
browse this blog
by category
The best of Touching All The Bases