Posted by Chad Finn, Globe Staff
April 24, 2008 02:51 PM
While lounging here watching the Sox bullpen take gasoline and a match to what should have been Justin Masterson's victorious debut, I figured I'd post this long-promised sequel to my look back at the 2002 Baseball America Prospect Handbook. The first part, including a capsule retrospective of the Sox's top prospects from six years ago, can be found here. And yes, Kevin Youkilis really was ranked 28 spots below someone named Seung Song.
The number in parenthesis is that player's rank within his own organization's top 30 prospects, according to BA. Let's restart this with a fun one, and if there are other teams you'd like to see, well, I suppose I do take requests . . .
NEW YORK YANKEES
Phenoms: None. And somewhere, Hank Steinbrenner read this, rattled off a string of expletives, and drop-kicked an intern. He's the best.
Flops: 3B/QB Drew Henson (1), LHP Brandon Claussen (3), OF John-Ford Griffin (4), RHP Adrian Hernandez (13)
. . . and those lingering somewhere in between: 1B Nick Johnson (2), OF Juan Rivera (5), LHP Sean Henn (6), OF Marcus Thames (7), C Dioner Navarro (19), LHP Chase Wright (24)
Six years later: Ah, Henson, the rich man's Chad Hutchinson . . . One of the most touted prep athletes ever, I suspect he would have made it had he picked one sport (football, probably) and stuck with it . . . I'd love Lloyd Carr's honest assessment on who he thought would be the better quarterback when Henson and Tom Brady were sharing the Michigan QB job eight years ago . . . Hernandez, a Cuban defector, was supposed to be the next El Duque. He turned out to be the next Ariel Prieto . . . Rivera and Thames are basically the same player, a righthanded-hitting corner outfielder with above-average power and not many other attributes . . . Johnson was a very good hitter before his limbs started falling off . . . Navarro, now on his third team (the Rays), may still make it. He's only 24 and hit .285 with eight homers in the second half last season . . . Chase Wright looks like he may become the closest thing in Yankees' lore to Bobby Sprowl.
OAKLAND A'S
Phenoms: 1B Carlos Pena (1), RHP Aaron Harang (16), RHP Rich Harden (21)
Flops: RHP Chad Harville (3)
. . . and those lingering somewhere in between: OF Eric Byrnes (2), 2B Esteban German (4), SS Bobby Crosby (5), 2B Mark Ellis (6), RHP Jeremy Bonderman (7), LHP Neal Cotts (14)
Six years later: Harden just blew out an eyelid while reading this. May need reconstructive surgery, out 4 to 6 weeks . . . Sadly, the same lame joke could be made for Crosby. Both have looked like stars when they are healthy - Crosby was the '04 AL Rookie of the Year, and Harden may have the best stuff of any starter in the league, as the Sox saw in Japan - but neither one of them can stay on the field. Crosby hasn't played more than 96 games since his rookie season . . . Was Pena's improbable 46-homer breakthrough for the (Devil) Rays last season for real? Actually, I tend to think it was. He was more productive in Detroit than he got credit for, sometimes it takes some players longer to grow into their ability, and no one's ever questioned his desire. He'll never hit for a high average, but 35-40 homers in '08 seems realistic . . . Harang is a fantasy baseball bargain and a workhorse for the Reds, winning 32 games for a lousy team the past two seasons and taking the NL strikeout title in '06 . . . I haven't read "Moneyball" in a few years, but I seem to remember Billy Beane having a fit after the A's took Bonderman in the first round in '01, and the A's dealt him (along with Pena) to the Tigers barely a year after he was drafted. He has the reputation as being a top-of-the-rotation starter, but he's not: his career ERA+ is 93, and he's had an ERA below the league average just once in six years . . . Few seem to notice, but Ellis is a darned good player, an excellent defender with some pop (he hit 19 homers last year) . . . Byrnes is baseball's version of Jeff Spicoli - actually, scratch that; he'll never out-dude the Weaver brothers - but he's turned into a pretty productive everyday player after spending most of his 20s performing like a big-boy version of Darren Bragg.
SAN DIEGO PADRES
Phenoms: RHP Jacob Peavy (3), LHP Oliver Perez (10)
Flops: 3B Sean Burroughs (1), RHP Dennis Tankersley (2), RHP Ben Howard (6), 2B Jake Gautreau (8)
. . . and those lingering somewhere in between: OF Xavier Nady (4), 2B Ramon Vazquez (9), RHP Justin Germano (21), SS Jason Bartlett (23)

Six years later: Obviously, Peavy never would have made it if he hadn't started going by Jake. That's way more befitting of an ace . . . I don't think much of Omar Minaya as a GM, but getting the enigmatic Perez from the Pirates two years ago for Xavier Nady may turn out to be a masterstroke. At age 22 in '04, he struck out 239 and had a 1.15 WHIP in 189 innings for Pittsburgh. Even with his control struggles in the following seasons, you don't trade an arm like his for a so-so bat like Nady . . . The Padres dealt Vazquez, along with Jay Payton and David Pauley, to the Sox for playoff hero Dave Roberts in December, '04. He was brutal (his OPS+ was 23) and in July he was mercifully sent to Cleveland for a better and more expensive version of himself, Alex Cora . . . Burroughs's power apparently peaked in Little League. In over 1,500 big league at-bats, he slugged .358 . . . The Padres got Tankersley from the Sox for the mummified remains of Ed Sprague in June, 2000. He went 1-10 with a 7.61 ERA in 27 career games - including an ERA of infinity after giving up seven runs without recording an out in his lone appearance in '03. So, yes, I guess you could say he tanked. (Groan.)
TORONTO BLUE JAYS
Phenoms: RHP Dustin McGowan (4), OF Alexis Rios (8)
Flops: C-1B Josh Phelps (1), OF Gabe Gross (2), OF Tyrell Godwin (10)
. . . and those lingering somewhere in between: C-1b Jayson Werth (3), 2B Orlando Hudson (5), OF Eric Hinske (6), RHP Brandon League (7), C Kevin Cash (9)
Six years later: Phelps, a lanky, scatterarmed catcher with middle-of-the-order power, was supposed to be the next Dale Murphy. Turns out he hit more like Dale Arnold, though he has had occasional if hardly prolonged success (he hit 15 homers in 265 at-bats in '02, and has a career OPS+ of 112. He's in the Cardinals system now . . . It seems like Rios - aka The Next Dave Winfield - has been around for a decade, but he's just 27 and a prime candidate for a huge spike in performance this season . . . Hinske won the Rookie of the Year in '02, but he's stagnated since and got a ring as a just-happy-to-be-here sub on last year's Sox. Surprisingly, he's off to a monster start with the Rays, with five homers and a .727 slugging percentage in 55 at-bats. I didn't think he'd be in the majors this year . . . I'm probably overrating the post-Tommy John surgery version of McGowan, but he strikes me as a future ace every time I see him pitch. The results haven't been there yet, however . . . Cash might be the most overmatched major league hitter I've seen since - well, who, Creighton Gubanich? - but he gets a thumbs-up here for sparing us from another season of current Amato's sandwich artist Doug Mirabelli.
* * *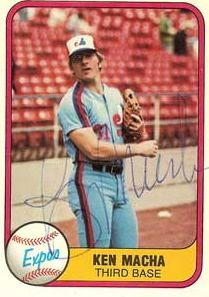 I'm not saying Macha is the most boring broadcaster I've ever heard, but I bet when he can't sleep, he solves the problem by talking to himself for a few minutes.
About Touching All The Bases
| | |
| --- | --- |
| | Irreverence and insight from Chad Finn, a Globe/Boston.com sports writer and media columnist. A winner of several national and regional writing awards, he is the founder and sole contributor to the TATB blog, which launched in December 2004. Yes, he realizes how lucky he is. |
Tweets by @GlobeChadFinn
browse this blog
by category
The best of Touching All The Bases