Posted by Chad Finn, Globe Staff
May 18, 2008 11:26 PM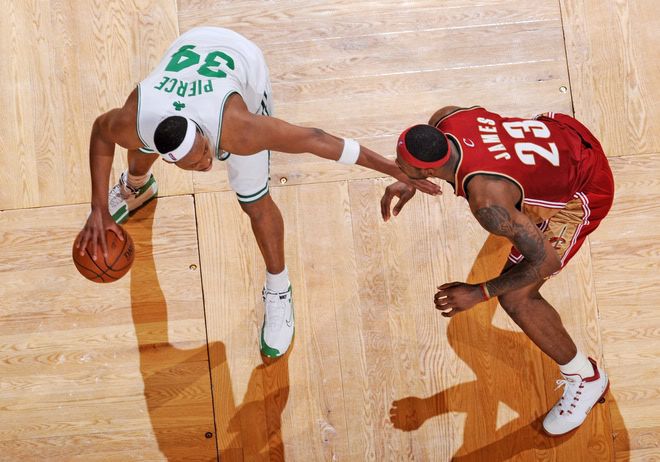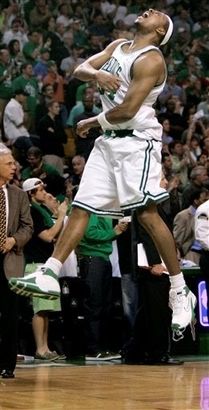 (Getty Images Photos)
Postgame overreaction while savoring The Truth's redemption song . . .
1. Whew . . . can we exhale yet? After this one, I think I'm sweating more than Kendrick Perkins. It felt like the Celtics' lead was no more than three points the whole game, and those 48 minutes were more tense than we would have liked - I was secretly hoping for a repeat of Game 7 from Hawks series, though hardly expecting it. But when the final buzzer sounded, the Celtics lived to play another day, thanks mostly to a phenomenal performance by Paul Pierce. The magnitude of Pierce's 41-point outburst can't be exaggerated; ol' No. 34 submitted perhaps the best and certainly the most important performance of his career. It seemed like every time the Celtics were desperate for points, he delivered them, whether it was a 15-foot step-back jumper, a rattled-in free throw, or a nothing-but-net bomb from three. He was a superstar in every sense today, and I do hope this effort at least temporarily silences the ignorant but vocal few who prefer to emphasize the silly negatives of Pierce's career while disregarding how dependable he has been, how there are few pure scorers in his class, how he is a rock of a teammate who usually tried to do the right thing, how he was often the one reason a lousy team was worth watching. You know Pierce deserves this, even as we must concede that the show was nearly stolen from him by the transcendent LeBron James, who scored an easy 45 points and damn near extended Cleveland's season by his own sheer will and unprecedented talent. While Pierce/LeBron didn't quite have the drama and one-upsmanship of Bird/'Nique '88, the duel was undoubtedly a classic, and we'll all remember this game for many seasons to come. Right now, I'm just relieved we'll remember it well.
2. As excellent as Pierce was, this season might be over without a steady performance from the bench, particularly P.J. Brown, who earned every dollar of his salary today with a outstanding stretch of play in the second half in which he scored four straight points, had a tap-back rebound that saved a key possession, and buried a huge jumper with just under two minutes left. And I couldn't possibly have more respect for Eddie House, who lost his minutes to nearly washed-up chucker Sam Cassell, stayed ready when lesser men would have checked out, and came through when his coach got the good sense to call on him again.
3. My favorite highlight? Probably when House outhustled Wally Szczerbiak to a loose ball, resulting in a pair of free throws for James Posey. Runner-up? Garnett pick-pocketing Szczerbiak at the top of the key and drawing what should have been a flagrant foul on the other end. Did I mention that the way Wally Zoolander plays the game at this point in his career annoys the hell out of me, and it was delightful to watch him do his best to shoot the Cavs out of the game in the first half. That's the bricklaying, back-patting phony I grew to despise during his time in Boston.
4. I almost felt bad for Ray Allen (4 points), who was a complete non-factor to the point that I began wondering if Sam Cassell might get some of his minutes in the second half. If that's not a sign of desperation, I don't know what is. In the third quarter, Allen bricked two wide-open threes, including one in which he could and should have passed the ball back to an open and scorching Pierce. I give Doc Rivers credit for planting Allen on the bench for much of the fourth quarter, though it was encouraging to see Allen return and stick a pair of clutch free throws in the final moments. I'm not sure what's going on here, whether he's tired, his talent is eroding, or it's just a slump, but I do know the Celtics need him to be a factor if they are going to get past Detroit.
5. As for today's Completely Random Basketball Card: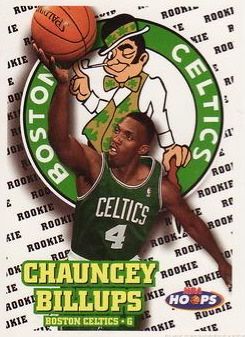 Bring it on, Chauncey. (And who names a kid Chauncey, anyway?)
About Touching All The Bases
| | |
| --- | --- |
| | Irreverence and insight from Chad Finn, a Globe/Boston.com sports writer and media columnist. A winner of several national and regional writing awards, he is the founder and sole contributor to the TATB blog, which launched in December 2004. Yes, he realizes how lucky he is. |
Tweets by @GlobeChadFinn
browse this blog
by category
The best of Touching All The Bases