Posted by Chad Finn, Globe Staff
May 22, 2008 02:05 AM
Ten free minutes for me, 10 free throwaway lines for you . . .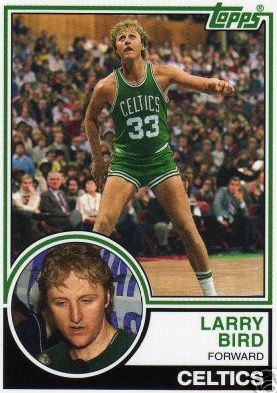 1. Because I enjoyed this piece so much, I'm kicking off this post with this week's discovery from the addictive and potentially life-altering SI Vault: A February 5, 1979 story, titled "Flying to the Top," on a certain painfully shy basketball star for Indiana State who was just then arriving on the brink of fame. While the one and only Larry Joe Bird eventually became comfortable in his superstar's skin, revealing a dry, biting sense of humor and proving the son of French Lick was far from a dumb hick, he refused to be interviewed for this story - in fact, he was so media-phobic then that he refused to be interviewed for nearly every story. But even without fresh quotes from the subject, this piece was fascinating. Not only was it frank about part of Bird's appeal having to do with his skin color, but it also revealed some petty jealousies among his less gifted teammates. (Where have you gone, Carl Nicks?) I also got a kick out of this paragraph breaking down his skills:
Southern Illinois Coach Joe Gottfried has said somewhat facetiously of Bird, "If this guy has a weakness, it's that he can't shoot the 20-foot jumper lefthanded." But most pro scouts agree that Bird is not particularly quick, is only so-so on defense and is a bit too reluctant to dribble under pressure. Still, Laker General Manager Bill Sharman calls Bird "one of the best college forwards I have ever seen." And Slick Leonard, coach and general manager of the Pacers, says, "I've seen two great passing forwards in my time. Rick Barry is one, and Larry Bird is the other. Bird seems to see guys before he even gets the ball."
Rick Barry passed? Have to admit, I thought of him as merely a chucker. Anyway, if you're not going to click on the link for the Bird story, then maybe I can entice you with this: Christie Brinkley was on the cover.
2. If I wasn't convinced after his first start, you know I am now: Justin Masterson is going to be a significant factor for this team before the season is through, possibly as the seventh-inning setup man. My only concern with him - and it's a fairly minor one at that - is that his stuff moves so much that it's often out of the strike zone by the time it finds the catcher's mitt.
3. David Ortiz, the last 28 days: .319 average, 1.080 OPS, 8 homers, 21 RBIs in 91 at-bats. Yup, I think it's safe to declare his mystifying season-opening slump officially dead.
4. Last season, Josh Beckett allowed 17 home runs in 200.2 innings. This season, he's coughed up nine already in 54 innings. Should we be worried that he's reverting to his '06 form, when he allowed a league-high 36 in 204.2 innings? Nah, not so soon. Beckett gets a lot of leeway here as a repeatedly proven Legitimate Ace, and I'm still chalking up any mistakes he makes to his delayed start to the season. I'll leave the shrieking to the WEEI crowd for now.
5. My apologies for failing to crank out the usual Starting Five post after the Celtics' Game 1 win over the Pistons Tuesday night. I was in the office, saw the game only in bits and pieces, and returned home to discover I forgot to DVR the thing. I get stupider by the day. Anyway, for once I'm not going to pretend to have any sort of expert take on the game, other than to say I'm more confident than ever that Rajon Rondo can hold his own and then some against the overrated, arrogant, and ailing Chauncey Billups. If Rondo plays the rest of the series like he did Sunday - and I realize that's a major if given how inconsistent he has been in the postseason - the Celtics will have an easier time finishing off schizophrenic Detroit than they did LeBron and the Cavs.
6. Unfortunately for Mike D'Antoni, he didn't heed one of the lingering lessons from the Rick Pitino disaster with the Celtics: Don't take a coaching job with a crappy team until you know where they'll be picking in the lottery. I believe that's officially known as the Billups/Mercer Rule. Frankly, I don't understand why D'Antoni chose the Isiah-ravaged Knicks over the Bulls in the first place. Right about the time the ping-pong balls fell Chicago's way, it sure looked like he didn't either.
7. My favorite non-Posnanski read of the week: Jeff Pearlman's funny timeline of his life as a sportswriter. I don't think I'll look at Wes Helms the same way ever again.
8. Felger pointed this out on his radio show yesterday, but it's so telling that it bears repeating: Matt Ryan, he of the six-year, $72-million deal with the Falcons, will make more on his first NFL contract than Tom Brady is making on his third. If that's not a damning indictment of the NFL salary structure, I don't know what is.
9. If you haven't had your fill of this nonsense by now, head on over to longtime TATB pal Mike Giardi's blog on NECN.com, where I recently submitted to a Q-and-A in which the subjects included Ray Allen's Celtic future, the done-for-'08 Yankees, and, um, ABBA. Check it out if you get the chance.
10. As for today's Completely Random Baseball card: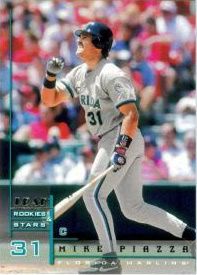 Farewell to one of the all-time great Marlins. In all seriousness, Piazza's retirement this week probably merited more attention than it received, though I suppose it was a formality since he was no longer on a big league roster. Piazza's final stats in 16 big league seasons - 427 homers, 1335 RBIs, a .307 average, and a 142 OPS+ - ensure that Cooperstown will come calling, most likely five years from now. He'll be remembered as an icon with two franchises - nope, Florida isn't one of them - which is not a bad legacy at all for a 62d-round draft pick.
About Touching All The Bases
| | |
| --- | --- |
| | Irreverence and insight from Chad Finn, a Globe/Boston.com sports writer and media columnist. A winner of several national and regional writing awards, he is the founder and sole contributor to the TATB blog, which launched in December 2004. Yes, he realizes how lucky he is. |
Tweets by @GlobeChadFinn
browse this blog
by category
The best of Touching All The Bases