Posted by Chad Finn, Globe Staff
May 24, 2008 10:24 PM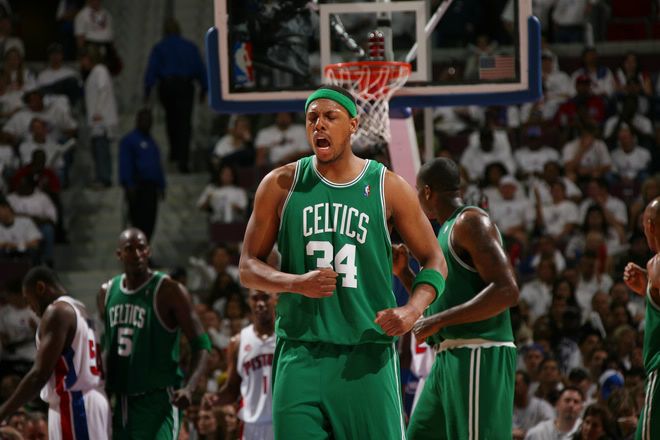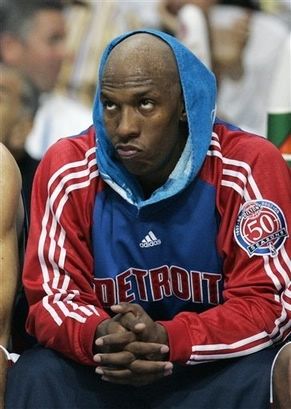 Getty Images Photo (top); AP Photo (above)
Postgame overreaction from a thoroughly enjoyable Game 3 . . .
1. I always thought the six-game road winless streak to start this postseason was, more than anything, a matter of fluke and circumstance; a talented, veteran team that won over three-quarters of its games away from home during the regular season simply doesn't forget how to win as the visitor. It's about time we finally had some proof to affirm such an opinion, and the Celtics could not have picked a better time to get that gorilla, as Paul Pierce called it in tonight's aftermath, off their backs. Save for a few tense moments here and there - the Celtics' casualness with a double-digit second-half lead nearly allowed a listless Detroit team to get back into the game - they were basically in control from the end of the first period (when they closed with a bench-fueled 10-0 run) to the final buzzer. Perhaps most encouragingly, it was a total team victory; of the three so-called stars, only Kevin Garnett (22 points, 13 boards) played consistently well (and truth be told, Ray Allen was brutal). Yet the defensive intensity rarely waned, six players reached double figures, and even Sam Cassell shook off the rust and made a couple of important contributions. All of that considered, even the most optimistic Celtics fan would have had a hard time imagining this one would go as well as it did.
2. It must be noted that the Celtics wouldn't be up 2-1 in this series without the (playoff) game of his life from Kendrick Perkins, who hit 6 of 7 shots, scored 12 points, collected 10 rebounds, and even knocked down a medium-range jumper. (Maybe he can offer Allen some shooting tips.) Just when I was starting to think that the savvy P.J. Brown should get the brunt of the minutes at center, Perkins submits a performance like this one, and I'm reminded of why his teammates seem to hold him such high regard: he's not the most athletic big fella around, but there are few who work harder.

3. The most telling indication that Chauncey Billups is legitimately hurt wasn't the one field goal next to his name on the stat sheet, but the fact that he isn't even attempting to post up Rajon Rondo. The low post is where a healthy Billups usually does his damage, but all he appears capable of doing right now on that balky hammy is hoisting up jumpers, and his ill-considered decisions down the stretch tonight ended any hope of a Pistons' comeback. Rodney Stuckey was the best player in a Detroit uniform tonight, and I was glad to see the ball in Billups's hands rather than his when the Pistons were desperate for a basket. Really, that tells you all you need to know about the state of Billups's game.
4. Even in victory, I've got some grievances to air. Three, actually: 1) When the Celtics have a big lead, Rajon Rondo plays like he's auditioning for an And1 mixed tape. Settle down, kid. 2) If by some stroke of fortune I happen to be at the Palace at Auburn Hills the next time an Artest-style melee breaks out, I promise you I will be going straight for that incessantly jabbering moron of a PA announcer, and I won't stop busting my ninja moves on him until he can speak only in a whisper. 3) So much for his return to form. I'm beginning to think Allen is channeling his UConn buddy and chief apologist, Donny Marshall, a career 32.1 percent shooter.
5. As for today's Completely Random Basketball Card:

This Jackson card is my shoehorned way of praising his fellow analyst, Jeff Van Gundy, who has been an absolute revelation in this series. He's terrific on the technical stuff without depending on jargon (such as when he explained why the Celtics struggle with getting into their offense when Detroit presses), he pulls no punches (he called Rip Hamilton a flopper tonight, which he is) and he's much funnier than you would have ever suspected based on the dour image he projected as a coach. His best line? "I had to take the SAT to get into college. Who took yours [for you], Mark Jackson?" For the first time all night, Jackson was speechless.
About Touching All The Bases
| | |
| --- | --- |
| | Irreverence and insight from Chad Finn, a Globe/Boston.com sports writer and media columnist. A winner of several national and regional writing awards, he is the founder and sole contributor to the TATB blog, which launched in December 2004. Yes, he realizes how lucky he is. |
Tweets by @GlobeChadFinn
browse this blog
by category
The best of Touching All The Bases