Posted by Chad Finn, Globe Staff
July 23, 2008 11:33 PM
In the six seasons since he was bestowed upon us by the baseball gods (with an assist from Terry Ryan), we've said this so often that we might as well pretend it's trademarked: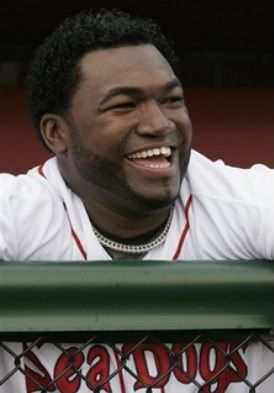 (Joel Page/AP Photo)
David Ortiz Is The Best Thing Ever To Happen To The Boston Red Sox™
Turns out he was also a pretty special thing for the Portland Sea Dogs as well.
Along with my daughter, who through her wide 4-year-old eyes sees Papi as some amalgam of the Cookie Monster and a cartoon superhero, I was among the 7,000 or so eager fans who packed Hadlock Field Monday night to witness his first rehab appearance in the state of Maine.
I'll admit, I was curious to see how Papi would handle the whole Big Fish In A Double-A Pond experience. Oh, I knew he'd smile and wave and acknowledge the cheers to a reasonable extent; we all know he's an uncommonly good-natured man who seems more or less incapable of prima donna behavior (though certain home plate umpires might disagree).
It's just that after three games in Pawtucket (and three home runs) prior to coming to Portland, the cynic in me assumed Papi had already grown weary of the Thank Heavens His Wrist Is Okay Rehab Tour 2008, that he must have been anxious to get back to the big leagues and his big-league life.
And you know, he probably was. But bless him, he sure didn't show it.
Papi was great. He was charming, charismatic, larger-than-life yet approachable. He liberally flashed that famous easy smile, put in more than a cameo appearance signing autographs, offered a high-five to every young fan within an arm's length, even turned toward the crowd and posed for pictures while he was on third base during a pitching change. He was everything you hoped he'd be, and a tape-measure blast beyond that.
The only letdown, if you could call it such a thing, was that he failed to hit a home run, though he did hit a thunderclap of a popup that at first looked like it was destined to plunk the L.L. Bean boot beyond the outfield fence. Sitting in the right field pavilion, I'm not ashamed to say I flinched and nearly dropped my Sea Dog biscuit. (That's not nearly as vulgar as it sounds.)
The fans weren't the only ones in awe. It was equal parts comical and endearing to watch how the other Sea Dogs carried themselves in his presence, especially during the pregame; they were like wide-eyed eighth graders who somehow lucked into hanging out with the varsity captain. I'm pretty sure once Papi gets back to Boston, he'll discover Iggy Suarez has stowed away in his duffel bag.
I didn't realize this was possible, but I departed Portland that night with more respect and admiration for him than I had before. It was among the most fun times I've ever had at a ballpark, because of my little girl's company, because it was a postcard-perfect July evening, and of course because of Papi's presence.
The whole scene was a pleasant, and perhaps necessary, reminder of how wonderful baseball can be. Did I mention I'm 38 years old? I can only imagine how kids must have felt.
Papi is a true rarity among the modern famous: he's a genuine superstar who possesses a man-of-the-people grace. He's larger than life, yet never too big for anyone.
In time, I suppose he might forget ever coming to Portland. But he made sure Portland will never forget when Big Papi came to them.
* * *
As for today's Completely Random Baseball Card: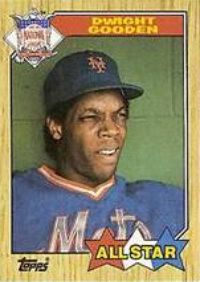 Papi's appearance in Portland reminded me of the other time I saw a significant big leaguer play a minor league rehab game in Maine. Trust me when I say this was an entirely different experience.
In 1987, while working his way back to the Mets after going through drug rehab, Dwight Gooden pitched against the Maine Guides (the Official Defunct Minor League Team of TATB) in Old Orchard Beach.
It's easy to forget now, as Gooden's legacy is that of a cautionary tale more than anything else, but there was a brief time in the mid-'80s where he trailed only Michael Jordan as the biggest superstar in sports. They called him Dr. K, and save for Pedro Martinez in his prime, the most consistently dazzling starting pitcher I have ever seen is Dwight Gooden in '85.
While his star had already begun to fade by '87 (though few realized it yet), he was still a huge deal when he came to The Ballpark. And he knew it. Gooden carried himself with a remarkable air of arrogance, scarcely acknowledging the fans before or during the game, and even sharing a snicker with a Tidewater teammate as a Maine player named Ken Dowell writhed in the batters box after getting beaned.
He struck me as a reprehensible character right then. He did nothing in the ensuing acts of his life to change my mind.
About Touching All The Bases
| | |
| --- | --- |
| | Irreverence and insight from Chad Finn, a Globe/Boston.com sports writer and media columnist. A winner of several national and regional writing awards, he is the founder and sole contributor to the TATB blog, which launched in December 2004. Yes, he realizes how lucky he is. |
Tweets by @GlobeChadFinn
browse this blog
by category
The best of Touching All The Bases