Posted by Chad Finn, Globe Staff
July 26, 2008 12:58 AM
A not-so-short list of people, places, and inanimate objects still aggravating me in the aftermath of tonight's loss to the Yankees . . .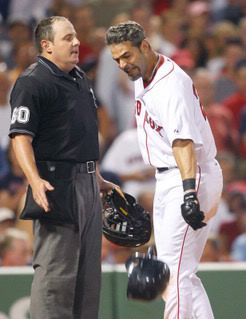 (AP Photo)
Manny:
I don't have to tell longtime TATB readers that I've diligently stood up for Manny the past eight years, and I will always believe the $160 million has been a downright bargain when you consider his Hall of Fame numbers and entertainment value.
But dammit, I just can't defend him right now. I can't. I can't justify the ill-timed and convenient minor injuries or the apparent indifference to the significance of Yankees games. And beyond that, we're arriving at the point where he doesn't produce enough for the team to tolerate the ancillary nonsense.
Hell, maybe we're past that point - Theo Epstein's reaction to the Manny Follies in Anaheim suggests he sees it that way, and it could not be more telling that Terry Francona, a manager who never publicly embarrasses his players, refused to cover for him this time. All we need are a few anonymous leaks telling us of nefarious incidents we don't know about, and the skids will officially be greased for his departure.
Maybe Manny wants out anyway. I don't know what he is thinking here - who does? - but if he misses the next few games and does not have a cast from his ankle to his thigh, then I'm officially okay with any course of action the Sox decide to take with him, during the season or afterward. He's 36 years old. It's time to be accountable.
Believe me, I hate writing about him this way, because it will convince all the mouthbreathers who have bashed him for years that they are vindicated. But Manny needed a good reason to miss tonight's game. And you, me, and Terry Francona are yet to hear one.
Joba Chamberlain: As someone who so enjoyed Pedro Martinez's work through the years, I suppose it is somewhat hypocritical to say this, but I will anyway: If Chamberlain doesn't knock off the headhunting nonsense, he's going to kill somebody. The Yankees' young fireballer, who carries himself like Roger Clemens with one more generation of inbreeding, was a couple of inches and a split second away from turning Kevin Youkilis into his era's Tony C. tonight, and by my count that's four times he's thrown at him in less than a year. Hey, Youkilis annoys everyone, friend and foe alike. That's no reason to put a dent in his forehead, kid.
Josh Beckett: Ah, I know, it's not really fair to fault him. Beckett pitched very well, just not quite as well as the other guy, which brings me to two points: 1) I miss the mortal lock from last October. 2) I remember snickering a few months back when Hank Steinbrenner referred to Chamberlain as "our Beckett." I'm loathe to give that buffoon credit, but he might have been right.
Jason Giambi: Oh, I see, his improbable rejuvenation at age 37 is due to the mustache. You know, a cynic might notice his slugging percentage is 100 points higher than it was a year ago and wonder if the 'stache is a actually a side effect to the real elixir.
Marty Foster: Is that his name? I'm not sure, because in my living room tonight, the home plate umpire was known as "That's A Ball, You Blind Bleepin' Moron." You know when mild-mannered Mike Lowell flips out at you over balls and strikes, you've probably missed a few.
Mariano Rivera: C'mon, man, you're 38. Will you please just get old already? Please?
Brian Cashman: The Yankees' squirrely GM gave his ballclub a second victory over the Sox tonight, acquiring lefty reliever Damaso Marte and outfielder Xavier Nady from Pittsburgh for a collection of minor leaguers, including top prospect Jose Tabata. I'm not sure the Sox should have paid the ransom the Yankees did, but there's no denying that Marte and Nady would have been welcome additions to the Sox, and the pressure is now on Theo to bolster his club. If New York ends up nosing out the Sox (and Tampa) in the AL East, tonight may be remembered as the turning point, and not only for what happened on the field.
Jim Rice: This falls under the "inanimate object" designation. When it's Sox-Yankees, I want Eck in the studio, and every other alleged analyst on the bench. I loved Jim Ed as a hitter, but I sometimes wonder if the last game he watched from beginning to end was one he played in.
Those who still squeal like little pink-hatted piggies for Jacoby Ellsbury when he drags his 81 OPS+ to the plate: Don't worry. He'll be just as precious in Pawtucket.
Me: One of these years, I'll smarten up and realize it's not wise to write off the Yankees when they look old and discombobulated in June. What can I say, I was convinced they didn't have the pitching this year, but Chamberlain's apparent emergence as a legitimate No. 1, as well as Mike Mussina's offseason visit to the fountain of youth, changes everything. The Yankees are a contender, and like two square-jawed strippers fighting over A-Rod, this one's going to be a dogfight, folks.
About Touching All The Bases
| | |
| --- | --- |
| | Irreverence and insight from Chad Finn, a Globe/Boston.com sports writer and media columnist. A winner of several national and regional writing awards, he is the founder and sole contributor to the TATB blog, which launched in December 2004. Yes, he realizes how lucky he is. |
Tweets by @GlobeChadFinn
browse this blog
by category
The best of Touching All The Bases