Posted by Chad Finn, Globe Staff
July 10, 2008 01:35 AM
Cranking out a few Random Lists of Five while wondering if Dale Arnold got play-by-play tips from Glenn Geffner . . .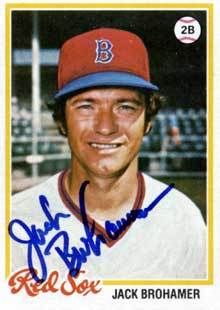 Five quality pitchers on the not-so-quality 1982 Cleveland Indians:
1. Bert Blyleven (3,701 career strikeouts)
2. Rick Sutcliffe (1984 NL Cy Young winner)
3. John Denny (1983 NL Cy Young winner)
4. Ed Whitson (126 career wins and an epic beatdown of Billy Martin)
5. Rick Waits (Welcome at all 1978 Red Sox reunions)
Five members of the "offensive juggernaut" 1978 Red Sox who had an OPS+ below 100:
1. Rick Burleson (70 OPS+, .295 OBP . . . just horrendous. And he led off.)
2. Jerry Remy (81 OPS+, .321 OBP . . . how did Rice knock in 139 runs with these two out-makers supposedly setting the table?)
3. George Scott (83 OPS+, 12 homers, .305 OBP . . . this is the end, my friend.)
4. Butch Hobson (92 OPS+ . . . he was hurt, okay? Geez, back off already. We don't diss Clell around here.)
5. Jack Brohamer (65 OPS+ . . . not a regular, but he did get 244 mostly worthless at-bats.)
Five conclusions drawn from the first half of the baseball season:
1. Erik Bedard doesn't really give a bleep.
2. If Lance Berkman isn't the game's most underrated great hitter, then Chipper Jones is.
3. Hank Steinbrenner is a joint gift from the the comedy and baseball gods.
4. Josh Hamilton has as much pure talent as any player I have ever seen, with the possible exception of Junior Griffey.
5. It's just not as much fun without Papi.
Five knuckleballers with Red Sox ties:
1. Tim Wakefield (Well, sure.)
2. Wilbur Wood (Won one game in parts of four seasons with Red Sox; won 20 or more four straight years with White Sox.)
3. Jared Fernandez (Former Duquette-era Sox farmhand has four wins in majors.)
4. Charlie Zink (Having a fine season at Pawtucket, he'll be a big-leaguer yet.)
5. Shea Hillenbrand (Whoops, this is knuckleballers, not knuckleheads. My bad.)
Five women muscle-fetishist A-Rod surely finds attractive:
1. Chynna (Not the one from Wilson Phillips.)
2. Debbie Clemens
3. The 100-meter breastroke specialist on the 1984 East German swim team. (Trust me, she had a mustache like Giambi's.)
4. These two dreadlocked vixens.
5. Suzyn Waldman, but only if she can improve her bench press.
Five 1986 Donruss Rated Rookies:
1. Jose Canseco (462 homers)
2. Fred McGriff (493 homers)
3. Andres Galarraga (399 homers)
4. Paul O'Neill (281 homers, and countless hissy fits. A true Yankee.)
5. Danny Tartabull (262 homers and a rapid flameout. Not a true Yankee.)
. . . and five more who didn't rate:
1. Dave Shipanoff
2. Johnny Abrego
3. Ty Gainey
4. Marty Clary
5. Juan Nieves (Not a total busto; he did throw a no-hitter before blowing out his arm.)
Five songs that the Corona-addled drunk at the local clam shack thinks Jimmy Buffett sings:
1. "Two Pina Coladas," Garth Brooks (A transparent attempt at duplicating the barroom success of "Friends In Low Places.)
2. "The Pina Colada Song," Rupert Holmes (An all-time abomination, and yet it's on my iPod. I have no explanation, just shame.)
3. "Key Largo," Bertie Higgins (With a rockin' name like that, how was he only a one-hit wonder.)
4. "Ten Rounds With Jose Cuervo," Tracy Byrd
5. Anything off Kenny Chesney's last three derivative albums.
Five developments in the sports world I'm hoping for in July:
1. The Celtics re-sign James Posey.
2. Papi comes back with a vengeance.
3. The Packers tell Brett Favre that his services and hillbilly-brained interceptions are no longer needed, thanks, but if he really wants a job, Peter King might be looking for an assistant to help loofah his stretchmarks.
4. The Yankees fall apart after their recent resurgence, prompting more fun missives from Hank the Tank.
5. Rich Harden helps the Cubs before his inevitable injury.
Five members of the World Champeen 2004 Red Sox you probably forgot about:
1. Sandy Martinez (Good-field, no-hit catcher. Right, kind of like Varitek.)
2. Ricky Gutierrez (The Royce Clayton of that championship season.)
3. Andy Dominique (The prototype for Jeff Bailey.)
4. Jimmy Anderson (Overweight, underwhelming lefty.)
5. Bobby Jones (8 walks in 3.3 innings - yeah, you remember him now, don't you?)
Five still-active players I wrote off as finished when they played for the Sox years ago:
1. Tony Clark (Drew Bledsoe was more mobile.)
2. Alan Embree
3. Darren Oliver (This one really stuns me.)
4. Keith Foulke
5. Mike Timlin (Wait . . . he's still here?)
About Touching All The Bases
| | |
| --- | --- |
| | Irreverence and insight from Chad Finn, a Globe/Boston.com sports writer and media columnist. A winner of several national and regional writing awards, he is the founder and sole contributor to the TATB blog, which launched in December 2004. Yes, he realizes how lucky he is. |
Tweets by @GlobeChadFinn
browse this blog
by category
The best of Touching All The Bases