Posted by Chad Finn, Globe Staff
July 18, 2008 08:48 PM
Playing a weekend edition of nine innings while wondering if Josh Hamilton is still waiting for Willie Mays to turn around and acknowledge him . . .
1. It's absurd to suggest Manny tanked that now-infamous, 1-2-3-sit at-bat against Mariano Rivera. Absurd. Not only was Manny in the early stages of one of his hot streaks (he had reached base 8 of 13 times in the series to that point, and went 11 for 22 in the following six games), but hitting is the one thing he has always taken seriously. Even when he's going well, Manny often guesses, not only at the pitch but the location, and Rivera froze him with three straight damn near unhittable cutters on the black. That wasn't tanking; it was one future Hall of Famer getting the best of another future Hall of Famer. It happens. And for what it's worth, I put the odds of a Manny return next season at 50/50, though if there really is a front-office mole conveniently leaking information to the likes of Bob Lobel, then I'll greatly lower the odds, because that would suggest to me that certain members of the Sox front office are already greasing the skids for his departure.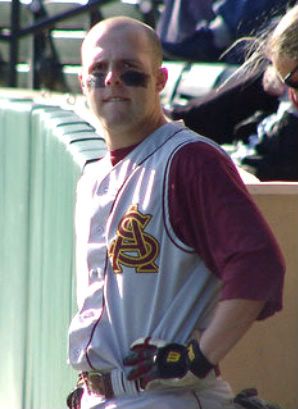 (Arizona State Photo)
2. I'm probably the last one to learn about this, but it turns out there was some
pretty interesting history
between AL All-Star second basemen Dustin Pedroia and Texas's Ian Kinsler. They were teammates in 2002 at Arizona State, but after Pedroia beat out Kinsler for the starting shortstop gig, the current AL batting leader transferred to Missouri. I have a feeling how the majority will vote on this one, but I'll ask anyway: If you could have either player for the next five years, which one would you take? I'll go with Pedroia, if only because I'd hate to be so wrong about him again.
3. I'll remember James Posey as I remember Dave Roberts: an athlete whose stay in Boston was brief, but who made a crucial, unforgettable contribution to a champion. As was the case with Roberts, who was dealt by the Sox because of his wish to play every day, I don't fault Posey for leaving. It was his last shot at legitimate NBA riches, and he took the best offer once it was obvious Danny Ainge was keeping the long-term interests of the franchise in mind and wasn't going to give him a fourth year. Posey will be missed - I don't see how they can come close to replacing him for the coming season, for he was everything you could want in a role player - but at least he left behind a season's worth of lasting memories.
4. All right, quick and supremely dorky trivia question for you . . . and believe me, this is trivial. I was killing some downtime digging through some old sports sections at work the other day (nothing ever gets thrown out around here) when I came upon a Sept. 1987 edition of the Sunday Globe. While scanning the Eastern League season-ending leaders on the Scoreboard page, it dawned on me that the pitcher who finished dead last in ERA is the only player listed in the 21-year-old piece of agate who has been on a big-league roster this season. Two hints: He never pitched in the majors for the team that owned his rights at that time, and he's not Curt Schilling. Your answer is right here.
5. I hope Jonathan Papelbon's experience with the New York tabloids and the bloodthirsty jackals at that ill-conceived All-Star parade doesn't affect his personality. While he's probably not the sharpest barb on the wire - Josh Beckett calls him a redneck, which tells you all you need to know - and he's sometimes a little too glib with the media, his affability is genuine, mostly harmless, and downright refreshing when compared to the canned, robotic responses most players of his stature offer when the cameras are on.
6. David Ortiz's numbers after two games in Pawtucket: .400, two homers, four RBIs. Sure looks like he's ready to conquer the American League again, though for entirely selfish reasons I hope he sticks to his word and plays it cautiously for a few more games. A certain Papi-adoring, pink-hatted 4-year-old I know and her daddy have tickets for Monday's game at Hadlock, and I strongly suspect that seeing Lars Anderson won't have quite the same effect for her.
7. Jon Lester, 2008: seven wins, 125 innings, 3.38 ERA, 128 ERA+, 1.32 WHIP. Johan Santana, 2008: eight wins, 133 innings, 3.10 ERA, 132 ERA+, 1.28 WHIP. See, I told you they should have made that trade. Santana's numbers are superior across the board. (What's that? Why, yes, I am challenging your sarcasm detector . . .)
8. Rumor has it that Brian Daubach is a new co-host of WEEI's "The Big Show," but I'll believe it when I actually hear him speak. Right now, all I hear is Ordway chewing.
9. As for today's Completely Random Baseball Card:
Joe, here's your autograph. Stop whining. Jim Kern. If the day comes when I have a podcast here at Boston.com, I vow to do my best to get Posnanski as one of the first guests. You know I'll be the Farley to his McCartney.

About Touching All The Bases
| | |
| --- | --- |
| | Irreverence and insight from Chad Finn, a Globe/Boston.com sports writer and media columnist. A winner of several national and regional writing awards, he is the founder and sole contributor to the TATB blog, which launched in December 2004. Yes, he realizes how lucky he is. |
Tweets by @GlobeChadFinn
browse this blog
by category
The best of Touching All The Bases