Posted by Chad Finn, Globe Staff
August 30, 2008 12:46 AM
A couple of super-quick, semi-formed thoughts, along with a sort-of announcement you may have already heard . . .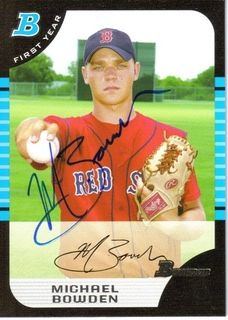 One of the more rewarding things about following sports is when a touted young player makes his debut with the big club. So of course we're all anticipating watching Michael Bowden take on the White Sox today. If you haven't seen him yet, he's an interesting pitcher, with a something of a short-arm delivery that reminds me a little bit of Keith Foulke, and uncanny poise and command for a 21-year-old. The more often I saw him in Portland, the more I liked him. And though Clay Buchholz's struggles make me hesitant to expect anything but maddening inconsistency out of a young pitcher, I'm glad Bowden is getting this start rather than the likes of David Pauley or Charlie Zink. Maybe he's ready for this, maybe he isn't, but at the worst today we should catch glimpses of what promises to be a bright future.
* * *
The commenters and emailers were right: I absolutely should have listed Javier Vazquez among my favorite Yankees in the previous post. He's been a great friend to the Red Sox through the years, last night being the latest example, and I just can't figure out why he's not a better pitcher. He's the definition of an enigma: he has ace stuff, a high K rate, seems like a bright guy, and yet he's more or less a No. 3 starter. Maybe his fastball is too straight, but still, he should be better.
* * *
A Yankees fan buddy of mine always liked to point out - usually in the midst of a crazy-eyed rant about how Jim Rice should not have won the '78 MVP award - that Ron Guidry's 25-3 record that season resulted in the best winning percentage by a 20-game winner in, I believe, modern baseball history, or something like that. (Sorry. I was usually slipping into a coma by the time he got to the actual facts.) With that in mind, I find myself wondering if Daisuke Matsuzaka might run the table on his next five or so starts this season, and if he can't go, say, 21-2, then here's to Cleveland's Cliff Lee (19-2) getting at least one more victory without a loss this season. Guidry was a class act for sure, but I'm all for any Yankee-related reminders of the '78 season being stricken from the record books.
* * *
I'll admit I feared the worst when it came to the state of Josh Beckett's elbow, mainly because he seemed terribly concerned, and he doesn't exactly strike me as someone with a low pain threshold. I was pretty much braced to hear this old lefty's name grimly referenced after Beckett's visit to Dr. James Andrews, so today's reassuring news that his elbow is structurally sound might go down as the most important single development in Sox' season. Beckett's importance in this team's championship quest cannot be overstated. I hope the Red Sox play well enough in his absence that he can take his time until he feels healthy enough to come back and pitch like he did last October.
* * *
My wife, who obviously knows a cool cat when she sees one, wondered out loud after reading my post yesterday (and checking out this photo) as to what the great Oscar Gamble might look like today. Well, here you go. The famous 'fro has gone the way of disco, but we all should look so good at 58.
* * *
As for the sort-of announcement: You know how I'm always saying I'm going to write more, then like Don Draper blowing off Betty's pot roast, I disappear without an explanation? Well, this time I mean it, baby. I am going to write more - every stinkin' day, Monday through Friday, as a matter of fact. The difference this time is that this blog is now an actual part of my job, and not something I throw together in a semi-conscious state at 2:30 a.m. after putting together the mind-numbing Fan's Guide for eight hours. Starting Tuesday, I'll be sliding over to Boston.com full-time in the new position of sports news reporter. My main duties, as I understand them now, will be to make sure the site doesn't miss a thing when it comes to reporting that day's relevant Boston sports news, whether it's aggregating national links, writing quick-hit stuff myself, or filling in the gaps when our beat writers are swamped. I'll be busy, but I'll also have a good amount of time each day to write this silly blog. As you might have figured, it's pretty much my dream job - actually, hell, I never even dared to dream of this - and I can't wait to get going. I feel like the quality my work is going to increase exponentially - I'm eager to do more stuff like this Celtics piece, big-picture stuff I've rarely had the time to do before - and I'm glad to say that finally, I'll also be as dependable as I wished I could have been all along. So thanks for sticking with me. I think you'll like where this thing is headed.
About Touching All The Bases
| | |
| --- | --- |
| | Irreverence and insight from Chad Finn, a Globe/Boston.com sports writer and media columnist. A winner of several national and regional writing awards, he is the founder and sole contributor to the TATB blog, which launched in December 2004. Yes, he realizes how lucky he is. |
Tweets by @GlobeChadFinn
browse this blog
by category
The best of Touching All The Bases