Posted by Chad Finn, Globe Staff
August 5, 2008 03:54 AM
* * *
We shouldn't be so surprised he was all about money. All the old Cleveland stories about him leaving his uncashed six-figure paychecks in his glove compartment were precious, but the truth is his thirst for big, fat stacks of cash led him to Boston in the first place. Manny the Mercenary is not a new character. And if I recall correctly, we pretty much flipped for him the way Dodgers fans are right now, so hold off on the hypocrisy, please.
* * *
I don't mean to suggest that Manny didn't deserve the majority of the grief he received the past few days; again, what he did was inexcusable. But some of the glee that certain media members took in his departure bordered on character assassination, and it was unbecoming to say the least. Dale Arnold was at his smarmy worst during Thursday night's broadcast. Peter Gammons made the bizarre assertion that Manny's transgressions were more of an affront to baseball than the steroid era. And Gerry Callahan, in a venemous column he'd undoubtedly been waiting months to spew, essentially accused him of everything but drowning kittens. There's no doubt Manny should have acknowledged the disabled children and visited the wounded veterans at Walter Reed, but it's not hard to find tales of Manny's generosity if you're looking for them.
* * *
Here's mine: Three years ago during a spring training game in Bradenton, Fla., I happened to be looking on from the concourse when I saw Manny, an inning or so after being removed from the game and in street clothes, saunter over to a group of a dozen or so disabled children and adults seated along the left field line. He promptly signed autographs, shook hands and offered high fives, grinned for pictures, and generally treated every one of them like they were dear old pals having an unexpected reunion. It was a sight that would melt a cynic's heart, and the only other Sox player I saw do such a thing during the time I was there was Johnny Damon. Maybe Manny didn't do that every time, and maybe it was just one more contradiction in his personality, but on that particular day he took it upon himself to give those people a memory they won't forget. And that's the thing: Few want to admit it right now, but over the years he gave us more than our share, too.
* * *
As for today's Completely Random Baseball Card:
Manny, at his introductory press conference in LA: "When I was a little boy my first baseball uniform was one from the Dodgers. No. 30. So the No. 30 has always been my favorite."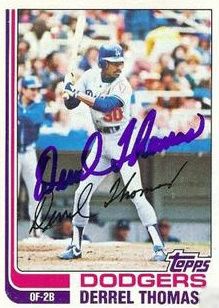 Of all the great Dodgers . . . Derrel Thomas? I guess we shouldn't be surprised. It's just Manny being Derrel.
About Touching All The Bases
| | |
| --- | --- |
| | Irreverence and insight from Chad Finn, a Globe/Boston.com sports writer and media columnist. A winner of several national and regional writing awards, he is the founder and sole contributor to the TATB blog, which launched in December 2004. Yes, he realizes how lucky he is. |
Tweets by @GlobeChadFinn
browse this blog
by category
The best of Touching All The Bases