Posted by Chad Finn, Globe Staff
August 13, 2008 12:26 AM
The Sox needed this one, and as he has all season (and last postseason, too, when he batted .388 with three homers in 49 at-bats), Youkilis delivered. He's clutch, determined, and very, very good, and you bet he deserves his new status as one of the franchise's signature players.
His challenge now is this: Keep it up. The Sox have an opportunity over the next few weeks to secure their place in the postseason, and with some particularly inspired play they might even seize the division. First-place Tampa Bay is facing the next few weeks, minimum, without stars Evan Longoria and Carl Crawford, while the third-place Yankees are suffering through more injuries than the '06 Red Sox (if I didn't know better, I'd think this was a concession speech, Hank).
But to make their move, the Sox need Youkilis to continue to hit at an All-Star level, and it's at least somewhat of a concern that he's historically been a much better hitter in the first half; his career batting average after the All-Star break is .253. And make no mistake: they are depending on him more than ever.
Most of us agree that the time had come for Manny Ramirez to move on, but eventually even his most venomous detractors will realize that his departure has left a void in the lineup that simply cannot be filled by one player on the current roster. (I'm just going to assume that Albert Pujols won't get through waivers.)
Jason Bay? He seems like a swell guy and is an accomplished hitter in his own right, but by no stretch is he the equal to Manny . . . meaning a motivated Manny, not an ow-my-knee-hurts-I'm-done-see-you-in-Fort-Myers Manny. Bay's been an easy fit, but to be honest, I'm still not sure they did the right thing.
But that's a notion for another day. Manny's off captivating LA with the endearing side of his personality, and in order for this team he left behind to generate a legitimate championship-caliber offense around anchor David Ortiz, it's up to everyone to do his part at the plate (except for you Varitek - you just keep on inspirin').
I don't know if some of them will be up to the task. Wisecracks aside, it's delusional to expect anything out of Varitek at this point; he just cannot hit a fastball from the left side of the plate anymore, and every pitcher in the league knows it. And maybe it's too much to ask of the likes of Jacoby Ellsbury, Coco Crisp and a tattered Mike Lowell to deliver more than they have.
But I know this: Kevin Youkilis will do everything in his power to do his part. More often than not this season, that part has been a starring role.
* * *
As for today's Completely Random Baseball Card: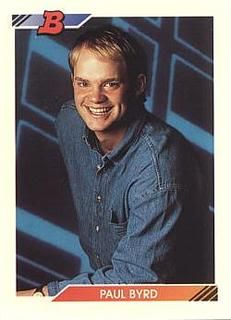 I like the deal - Byrd's exactly what the Sox need, a serviceable veteran to fill in at the back of the rotation while Wakefield heals and Buchholz mopes - but mostly I'm just glad for another excuse to run this card. I'm pretty sure this was Byrd's senior yearbook photo, and I'm guessing it ran under the heading of Most Likely To Hang A 73 MPH Slider With Two On And A Two-Run Lead. But I could be wrong.
* * *
Chad is back from his inexplicable week-long hiatus and can be reached at chadfinn4@yahoo.com or right here on Facebook. But he'll probably be too distracted to reply. Seems the drooling fool is already off again, as he just bolted out the door muttering something about trying to free The Official Muse of TATB (Non-Wife Division). So pathetic.
About Touching All The Bases
| | |
| --- | --- |
| | Irreverence and insight from Chad Finn, a Globe/Boston.com sports writer and media columnist. A winner of several national and regional writing awards, he is the founder and sole contributor to the TATB blog, which launched in December 2004. Yes, he realizes how lucky he is. |
Tweets by @GlobeChadFinn
browse this blog
by category
The best of Touching All The Bases