Posted by Chad Finn, Globe Staff
September 16, 2008 01:29 PM
I don't think it's talking out of turn to suggest Josh Beckett hasn't been quite himself all season. His follow-up to his 20-victory season has been a strange sequence of fits and stops. There was the back injury in spring training, the elbow scare a few weeks back, and too many mystifying performances in between. Except for the occasional brilliant flash, he hasn't been Josh Beckett!, you know?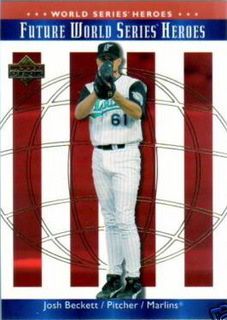 The numbers support the perception. He's allowed as many home runs this year (17) as he did in a season ago, but in 40.3 fewer innings. He's allowed 163 hits in 160.3 innings. His ERA, 4.10, would be fine for someone such as Tim Wakefield, but is on the high side for a pitcher of Beckett's ability and accomplishment.
There is even reasonable debate as to whether he's actually the Red Sox' No. 1 starter anymore. After Jon Lester traded bullets with Toronto's Roy Halladay Sunday and came away with his 15th victory, it was hard not to consider it his coronation as the new ace.
Tonight, Beckett is matched up against Tampa Bay's Andy Sonnanstine, a Paul Byrd-wannabe who has a fraction of Beckett's talent, yet has somehow earned one more victory (13) this season. While Sonnanstine has a mediocre ERA (4.47), suggesting he has benefited from both luck and run support, this is not the mismatch their reputations would suggest; he did limit the Sox to four hits in seven innings in a 4-2 Rays victory in 14 innings at Fenway five days ago.
Tonight, Sox have a golden opportunity within their grasp. With a win in the middle game of this three-game set at the abomination Tony Mazz called "the Juice Box," they have a chance to claim sole possession of first place in the American League East for the first time since July 13. As an added bonus, they could send the Rays, who after a remarkably poised summer finally seem to be showing their inexperience, into a death spiral as October approaches. This has a chance to be one of those games NESN plays on an endless loop all winter.
If Beckett's right tonight, the Rays have no hope. He lives to deliver meaningful victories, and if he gets to step on an opponent's throat in the process, well, that's just a fringe benefit. Beckett is the rare athlete who's confidence grows and focus sharpens under the brightest lights. Call him the anti-Kazmir.
It is due as much to his makeup as it is his ability that Beckett has been a postseason hero twice before his 30th birthday. He stands alongside the Gibsons and Schillings as one of the greatest postseason pitchers ever, he stands alone among his generational peers, and all it takes is a cursory glance at his playoff numbers to know there is not an ounce of exaggeration in that statement.
Which is why this is the truth: It will be extremely difficult for the Red Sox to win their second straight championship and third in five years without Beckett in peak form. (Yes, extremely difficult. After 2004, we never say anything is impossible.)
For all of the amazing things Lester has accomplished in his young career - including, we should note, winning the clinching game of a World Series at age 23, just as Beckett did - he needs a few more unforgettable October moments before he can match highlight reels with his teammate.
As for tonight . . . a memorable September moment from Josh Beckett would do just fine.

About Touching All The Bases
| | |
| --- | --- |
| | Irreverence and insight from Chad Finn, a Globe/Boston.com sports writer and media columnist. A winner of several national and regional writing awards, he is the founder and sole contributor to the TATB blog, which launched in December 2004. Yes, he realizes how lucky he is. |
Tweets by @GlobeChadFinn
browse this blog
by category
The best of Touching All The Bases