Posted by Chad Finn, Globe Staff
September 23, 2008 02:55 PM
It's probably not often that an afterthought in a big trade ends up being the most useful player in the deal, but that's precisely the case with Indians catcher Kelly Shoppach.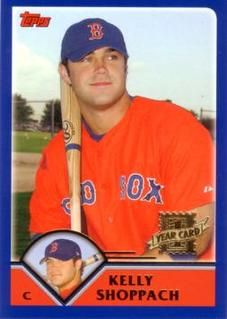 You remember the saga and the swap: On Dec. 8, 2005, the Red Sox traded shortstop Edgar Renteria to the Atlanta Braves for highly regarded third base prospect Andy Marte. Roughly six weeks later, the Sox essentially turned it into a three-way deal, sending Marte, Shoppach, and reliever Guillermo Mota to the Indians for outfielder Coco Crisp, catcher Josh Bard, and reliever David Riske.
The names that grabbed the headlines at the time were Renteria, a respected all-around player who never fit during his one season in Boston; Marte, by all accounts one of the game's elite prospects; and Crisp, who was coming off a 117 OPS+ season at age 25. The Shoppach/Bard aspect of the deal was considered a wash, a younger backup catcher exchanged for an older one with more polish and less potential.
Entering this season, Shoppach had not yet reached his potential, failing to establish himself as anything more than a Mirabelli-in-training. After getting 110 at-bats in '06, he spent last season as Paul Byrd's personal catcher, with occasional cameos filling in for All-Star starter Victor Martinez. But when Martinez went down early in the season and missed three months with an elbow injury, Shoppach got his shot at playing every day. And he seized it.
Offensively, he's been nothing short of a revelation. Shoppach strikes out at a Bellhornian rate (125 whiffs in 342 at-bats), but the power numbers more than offset the holes in his swing: he had five extra-base hits in a game earlier this season, and has hit 21 homers (third among AL catchers) while owning a .529 slugging percentage and an adjusted OPS of 126. By comparison, Jason Varitek's highest single-season OPS+ is 123 in 2001. (That was in 51 games; in 2005, Varitek had a 122 adjusted OPS in 133 games.)
Shoppach's 2008 numbers would stand as a quality season even for a catcher who was in the lineup solely for his bat, but the Baylor product also has built a reputation as an outstanding defensive catcher with a knack for handling pitchers (though he has thrown out just 20 percent of base stealers). Hey, you don't get a cool nickname like "Shop-Vac" by being a Scott Hatteberg clone with the catcher's gear on.
Given Shoppach's breakthrough and the lack of quality catching around the major leagues, it is no exaggeration to say he is the most valuable player to come out of that deal. Just consider the fates of the so-called "name" players in the trade:
Marte, who was rated the game's top prospect by Baseball Prospectus in 2005, has become the Hensley "Bam-Bam" Meulens of his time, a minor league hero who couldn't translate his production to the big leagues. Marte, a career .211 hitter, is batting ninth for the Indians tonight, and that's only because Eric Wedge couldn't figure out a way to bat him 10th.
Renteria, a sluggish, granite-gloved bust during his season with the Sox, had one good season (OPS+ 104) and one outstanding season (OPS+ 125) with the Braves, then was dealt back to the American League before this season, where he promptly turned back into a mummy. Renteria is listed at age 33; having seen him play for the putrid Tigers this season, I'm pretty sure he's at least two decades older. Maybe three.



(Actually, in retrospect, the Braves made out very well in the long run, essentially swapping Marte for two good seasons of Renteria, then moving him to the Tigers for promising starter Jair Jurrjens and outfield prospect Gorkys Hernandez.)
As far as Crisp is concerned, I trust you need no lengthy rehash of his inconsistent three-year run with the Sox, so let's leave it at this: The Sox thought they were getting considerably more than a younger version of Darren Lewis.
It's worth noting that Shoppach was seriously overmatched during his lone, brief stint with the Red Sox, going 0 for 15 with seven strikeouts during a Cup O' Joe in '05. While some reports at the time indicated the Indians insisted on Shoppach in the deal, it's fair to wonder if the 2001 second-round pick's stock had slipped in the eyes of the Red Sox' talent evaluators.
Now, I realize our vision in hindsight here is sharper than Ted Williams's in his prime, but it's hard to watch Shoppach in this series without wondering if the Red Sox made the shortsighted mistake of trading the ideal replacement for Varitek.
I'll be curious to see how the Indians handle their catching situation after the season. Martinez is expected to move to first base, but there's also the possibility that they will keep him behind the plate and shop the 28-year-old Shoppach, who certainly would be coveted.
Should that scenario occur, I'd hope the Red Sox would show interest . . . though I suspect Indians GM Mark Shapiro would demand far more than Coco Crisp for him.
About Touching All The Bases
| | |
| --- | --- |
| | Irreverence and insight from Chad Finn, a Globe/Boston.com sports writer and media columnist. A winner of several national and regional writing awards, he is the founder and sole contributor to the TATB blog, which launched in December 2004. Yes, he realizes how lucky he is. |
Tweets by @GlobeChadFinn
browse this blog
by category
The best of Touching All The Bases