Posted by Chad Finn, Globe Staff
September 2, 2008 10:27 AM
When the calendar turns to September, it's tradition here at TATB that at least some of our harebrained sporting thoughts turn to football and the Patriots. I apologize in advance for the dumb things I'll write in the months to come (I'm still smarting from arrogantly predicting a Super Bowl blowout). So with that disclaimer out of the way, let's kick things off (groan) with a look at a few of the names caught up in Bill Belichick's odd game of roster roulette the past few days . . .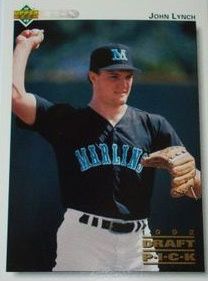 John Lynch: Like most of you, I imagine, I loved the idea of Lynch on the Pats, but the version in my mind's eye was much different than the one we saw on the field this preseason - namely, the helmet-cracking force I remembered was about five years younger and three steps faster. Though it sounds like there's a decent chance he'll rejoin the Patriots over the course of the long season - he's apparently on Belichick's taxi squad of future Hall of Famers, along with Junior Seau and, I believe, Paul Warfield and Lawrence Taylor - I wasn't surprised he was let go. Mike Shanahan in Denver didn't seem to think he could run anymore, and I wouldn't surprised if Belichick came to the same ruthless conclusion after watching Lynch struggle to keep up with young, fast, and mostly anonymous receivers in the preseason. Ultimately, there may be a role for him here, but sentiment aside, I'd prefer faster players to aging, famous ones.
Chad Jackson: I imagine his famous final scene unfolded this way:
Assistant coach/grim reaper: "Chad, coach wants to see you in his office. Bring your playbook."

Jackson, dropping the PS3 controller in astonishment: "Dude, wait . . . we have plays. Like on Madden?"
It was obvious Jackson had a ton of physical ability. It was also obvious that Tom Brady had no faith in him to be at the right place at the right time on the football field, and when you're a wide receiver and the Franchise doesn't trust you, well . . . let's just say it isn't long before the Patriots send you to a nice home out in the country, where you spend your days obliviously running around in a field alongside Bethel Johnson, Doug Gabriel, Tony Simmons, and Donald Hayes. I'm sure he's happy there.
Matt Cassel: The only possible reason that this scattershot Scott Secules wannabe the is on this team is an alarming one: He was more prepared than Matt Gutierrez, in terms of knowledge of the playbook, maturity, and so on, to step in and play if Tom Brady's mysterious foot injury is worse than the Patriots are letting on, or hinders him in any way early in the season. While I think Brady will play Sunday, I do find the headlines ("Brady Ready For Pats' Opener") to be slightly misleading, only because Brady himself seems to qualify every answer with curious word choices, such as "If it's up to me . . ." To put it another way: I think he starts against the Chiefs. But the Patriots aren't as convinced as they'd like to be that his foot is completely healed, and there's at least a small concern that he may not finish. Thus the prepared, if hardly impressive, Cassel remains employed, while Gutierrez is left to wonder what he did wrong.
Deltha O'Neal: First thought when I saw on the ticker that he'd been signed: The Pats are picking up defensive players dumped by the Bengals now? Guess we should plan on a lot of 45-41 games this year. But the Patriots obviously had a need for a veteran cornerback after Fernando Bryant spent camp doing a spot-on Antonio Langham imitation (complete with the tire tracks on his chest) and played his way into a new line of work, and while the Bengals suggest O'Neal lost a step last year, he was axed primarily because the NFL's Official Cheapskate Franchise didn't want to pay a backup defensive back $3 million dollars. I bet he helps the cause in the same way Terrell Buckley did in '01. I'm also all for bringing back Ty Law at a reasonable rate, even with the suspicion that he may be attempting to become the first 260-pound cornerback.
Mark LeVoir: It's a strange game Belichick is playing with the back end of the roster, finding space for no-names like Rams discard LeVoir while turning one day's Stephen Spach into the next day's Jason Pociask. The suggestion, I guess, is that the roster isn't quite as deep as we thought it was. I was surprised that versatile Maine Black Bear great Mike Flynn didn't stick, but who knows, maybe Belichick will bring him back again in the next roster shuffle.
About Touching All The Bases
| | |
| --- | --- |
| | Irreverence and insight from Chad Finn, a Globe/Boston.com sports writer and media columnist. A winner of several national and regional writing awards, he is the founder and sole contributor to the TATB blog, which launched in December 2004. Yes, he realizes how lucky he is. |
Tweets by @GlobeChadFinn
browse this blog
by category
The best of Touching All The Bases