Posted by Chad Finn, Globe Staff
September 18, 2008 12:40 PM
A few seasons ago, after a particularly aggravating loss to habitual Sox-killers Reed Johnson, Frank Catalanotto, and the Toronto Blue Jays, I pecked out my inaugural Enemies List, described then as "those subpar, non-descript and just plain lousy ballplayers who have tormented the Sox in recent years."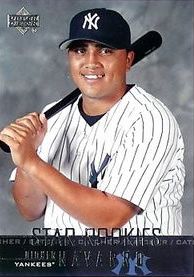 A season or two later, during Yankees slopballer Aaron Small's incomprehensibly successful stretch in which it was apparent he had sold his soul to the Steinbrenners, I updated the list.
Now, after a pair of frustrating losses to these apparently star-kissed Tampa Bay Rays, it seems the time has come again. Without further ado (or blabber), we'll start with a long overdue honoree . . .
Andy Sonnanstine: The definition of average in terms of stuff and statistics - his adjusted ERA is 100 - he somehow turns into the second coming of Mike Boddicker against the Sox. They haven't touched him for an earned run in 13 innings this season.
Dioner Navarro: They call Tuesday's hero "Little Pudge." I don't see it. Looks to me like the Rays' stumpy catcher is mostly made up of discarded parts from the Molina brothers.
Gabe Gross: Though he's had a couple of big hits and an occasional home run against the Sox this season, I've really got nothing against him. I just wanted to use the opportunity to point out that, since I've started working days and thus can listen to the early innings of the Sox game on the commute home, I've come to the realization that Joe Castiglione tells you the exact same facts about a player during every game of a series. I mean, not a word changes. For instance, after three days with the Rays, there is now a certain nasally voice in my head that tells me whenever I hear Gross's name that he was the starting quarterback at Auburn. I'm also all too aware that Sonnanstine pitched two summers for the Sanford Mainers of the NECBL, that Evan Longoria is from Long Beach State (where baseball is a priority), that Joe Maddon threw four touchdown passes in a game while a quarterback at Lafayette, and that Lafayette and Lehigh is the oldest continuous rivalry in college football. To borrow a line from Suzy Kolber: Thanks, Joe. Now please, put down the media guide.
Jonny Gomes: Prediction: The Rays' designated goon will be working the door at Thee Dollhouse within two years.
Travis Snider: From what I've seen of the Jays' prized 20-year-old beer keg of an outfielder, he's going to be tormenting a lot of teams for seasons to come.
Buck Coats: Actually, he's done nothing memorable as far as I can recall. I just wanted to type "Buck Coats." (Why yes, actually, it was fulfilling. Thanks for asking.)
Frank Thomas: The Big Hurt (talk about your double meanings) still pummels the Sox like it's 1992. And yes, he is a no-doubt Hall of Famer.
Vernon Wells: He's hardly a stiff, but it seems he only lives up to his $126 million contract against the Red Sox.
Julio Lugo: The enemy within. How many times a day do you think he hears, "Aw, Julio, take your time. Get healthy. No rush. You don't want to reinjure that thing"?
Jeremy Guthrie: Seems like they can never touch this mediocre Mussina wannabe.
Ramon Hernandez: Carries himself like he's some dazzling combination of Johnny Bench and Brad Pitt, and besides, I still loathe him for that bunt in Game 1 of the 2003 ALDS.
Joba Chamberlain: A $100-million arm. A brain crafted out of Slim Jims.
Jason Giambi: Strange how his power still seems to come and go in cycles. I'll give him credit though: he's grown the thickest, most awesome mustache since either Mark Spitz or Andreas Krieger. (Google the name. I dare you.)
Brett Gardner: He could be Jason Tyner's wimpier kid brother, but somehow he beat Jonathan Papelbon with a 62-hopper earlier this season.
Garret Anderson: He's been a Troy O'Leary-like hitter for a few year now (his adjusted OPS this season is 97), but it seems the only way the Sox can handle him is if he has a blinding case of pink eye.
Maicer Izturis: The Izturises (Izturii?) and Aybars - infernal pests, all of them.
Okay, that's all I've got. Tell me who I forgot in the comments, keeping in mind that annoyances such as Catalanotto and Gregg Zaun were "honored" previously . . .
* * *
As for today's Completely Random Baseball Card:
And somewhere, Wave 'Em In Wendell Kim wonders why he never got a managerial gig.
About Touching All The Bases
| | |
| --- | --- |
| | Irreverence and insight from Chad Finn, a Globe/Boston.com sports writer and media columnist. A winner of several national and regional writing awards, he is the founder and sole contributor to the TATB blog, which launched in December 2004. Yes, he realizes how lucky he is. |
Tweets by @GlobeChadFinn
browse this blog
by category
The best of Touching All The Bases