Posted by Chad Finn, Globe Staff
September 22, 2008 11:21 AM
Psst . . . yo, spead the word: Party on the Fenway lawn tonight. Uh-huh, another one -- sort of a tradition this time of year. Beer will cost you a few bucks, but the champagne should be on the house. It's sure to be a blast. Oh, and remind Papelbon to remember his cardboard hat. Dude's crazy, always the life of these things. Just wait 'til you see him dance.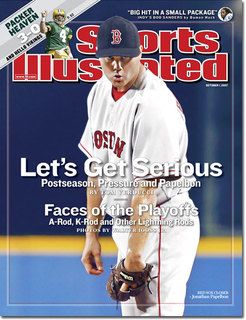 Oh, OK, maybe our party planning is just a wee bit premature here. If there's anything we should have learned from the Patriots' debacle versus the Dolphins yesterday, it's that we should never count any victory before it's hatched. In fact, I'm pretty sure Joey Porter is predicting an Indians win tonight.
But with Sox ace Josh Beckett, who has a 0.95 ERA in his last three starts, opposing Cleveland rookie Zach Jackson, he of the 0-3 record and 6.48 ERA this season . . . well, we just can't help ourselves. This one should be as big a mismatch on the field as it is on paper.
And once the final out in the top of the ninth is recorded and "Dirty Water" blares deep into the Boston night, what has lately felt like something between a formality and the inevitable will finally become official:
For the fifth time in six seasons, the Red Sox will be bound for the postseason.
The scenario tonight is a simple one: If the Sox beat the Indians, they're in. The only team capable of tying them for the American League wild card is the Yankees, who trail the Sox by a full seven games with seven to play. The Yankees are idle this evening, and as you may have noticed, Sunday night's elaborate farewell at The House That Mariano Rivera Closed had the underlying tone of a concession speech.
(For the record, I am sad to see Yankee Stadium go dark. It's always a bummer to see a historic ballpark demolished for the sake of corporate greed, and beyond that, it was the site of one of my greatest -- and certainly the most redemptive -- experiences as a sports fan. To put it another way: I imagine I'll miss it more than Javier Vazquez or Kevin Brown will.)
There is a chance that, if/when the Sox clinch tonight, the celebration could be more subdued than we've suggested, if only because all matters aren't settled and the division crown remains in play. The Sox trail the Rays by a game-and-a-half (two in the loss column) with seven to play, hardly an insurmountable deficit, but one that serves as a reminder of how much circumstances have changed in one year.
On this exact date a year ago, the Red Sox, paced by home runs from Julio Lugo and Jason Varitek (heretofore known as Ruth and Gehrig), secured their spot in the '07 postseason with an 8-6 victory over Tampa Bay at Tropicana Field. Since then, the Rays have dropped the Devil from their nickname and enjoyed a season that, so far, seems to be a gift sent directly from the heavens.
Six days later, on Sept. 28, the Red Sox clinched their first AL East title since 1995, and you may recall that it happened in sort of a bizarre but wildly enjoyable scenario. The Sox defeated the Twins at Fenway, 5-2, to guarantee at least a tie for the division crown. They then waited in the clubhouse and fans watched on the Jumbotron as the Orioles rallied to defeat the second-place Yankees in 10 innings, ensuring that the AL East was theirs alone, and setting off a raucous, if delayed, celebration on Yawkey Way.
Wrote the Globe's Daniel Malloy:
About 2,000 or so fans stuck around to watch the end of the [Yankees-Orioles] game . . .and cheered as the Red Sox -- sporting new T-shirts and hats boasting of their accomplishment, as is the trend these days -- came out and sprayed champagne and beer and danced around. Papelbon -- who at one point was wearing an empty case of Bud Light on his head -- was the most wild participant. He did a rather impressive (and by impressive I mean not impressive) Irish jig on the infield. He eschewed shorts for black spandex, and at one point was wearing goggles. Dustin Pedroia used his smallness to sneak up on several players to give them Korbel showers.
It was quite a party, and as you may recall, not their final one last fall. Tonight, perhaps we'll get our first hint that this autumn will also be memorable.
Just to be safe, don't forget your goggles.

About Touching All The Bases
| | |
| --- | --- |
| | Irreverence and insight from Chad Finn, a Globe/Boston.com sports writer and media columnist. A winner of several national and regional writing awards, he is the founder and sole contributor to the TATB blog, which launched in December 2004. Yes, he realizes how lucky he is. |
Tweets by @GlobeChadFinn
browse this blog
by category
The best of Touching All The Bases