Posted by Chad Finn, Globe Staff
September 4, 2008 11:19 AM
Playing nine innings while wishing the sizzling Sox had a ballgame tonight . . .
1. Theo Epstein deserves endless credit for his shrewd maneuvering after the trading deadline. In both Paul Byrd and Mark Kotsay, he's acquired exactly what the Red Sox needed, a dependable old pro capable of steady if not spectacular contributions. It reminds of the way the Yankees always used to seem to get what they needed in late July and August; they'd add a David Justice, while the Sox would bring in some stiff like Ed Sprague. In a related note, on the days when Terry Francona pencils in an outfield of Kotsay, Jacoby Ellsbury, and Coco Crisp, is that the best defensive trio in Red Sox history? All three of those guys are above-average center fielders. And no, Jimy Williams, your Lewis-Buford-Bragg daydream does not qualify.
2. I've enjoyed watching A.J. Burnett pitch dating back to his days with the Sea Dogs a decade ago, and I realize the brash righty has long been a favorite of John Henry's. But I can't imagine that there's much legitimacy to this report (via SoSH) that the Sox will pursue him in the offseason should he opt out of his deal with the Jays as expected. For all of Burnett's ability - and he has a ton, perhaps the best arm in the AL - he's a 31-year-old injury-prone underachiever, a real-life Nuke LaLoosh whose similarity comp is career 74-game winner Chuck Dobson. I'd rather he gets his next ridiculous eight-figure contract elsewhere. Preferably the Bronx.
3. Until the Yankees are officially, mathematically, stake-through-their-cold-hearts dead when it comes to their playoff hopes, I just can't bring myself to root for them, even when they're playing the team the Sox are chasing in the standings. Wanting the Yankees to lose - and lose painfully - is an instinct that you can't turn off just because they're suddenly irrelevant . . . though with a few more seasons of practice I suppose I could learn.
4. Looks like the player we pegged in yesterday's post as Dustin Pedroia's main competition for the AL Most Valuable Player award may not be able to make his case for at least a few games, and perhaps more. White Sox slugger Carlos Quentin, who has had a remarkable breakthrough season with 36 homers and 100 RBIs, is sidelined with a sore right forearm, and the team says he'll miss a week and maybe longer. If Quentin can't come back anytime soon, Pedroia has to be considered the easy favorite for MVP, and no, I never would have thought three months ago that I'd be writing those words.

5. It's not quite Pedroia-esque, but Brandon Moss has been on an impressive tear himself lately for the Pirates, batting .366 with four homers since Aug. 20, and posting multiple hits in five of his last eight games. You might recall that Moss was a binky of ours around here - I still think he will be a better hitter than David Murphy and could have Trot Nixon's career - but there was no real place for him with the Sox, and it's nice to see him getting his deserved and overdue chance to establish himself in the big leagues.
6. Former Red Sox farmhand Rich Rundles made his big league debut with the Indians yesterday at age 27, throwing a grueling four pitches while facing one batter in the ninth inning. If you can name the lunatic the Red Sox acquired for Rundles and another pitcher in '01, you win the grand prize. What that is, I have no idea, but I'm open to suggestions. Maybe a Pat Mahomes baseball card or something.
7. It's starting to look like the end is very near for our old friend Pedro, whose velocity is down to Livan Hernandez levels in the final year of his contract. Obviously, the Red Sox made the right decision in letting him walk after the '04 season, and it would have been a bummer to watch his otherworldly skills erode here. But man, I do still miss watching him pitch every fifth day. When he was at his peak, there was nothing like it, and it's going to be a long time before there ever will be again.
8. I'm not much of a Jim Leyland fan - I can smell his cigarette breath through the TV, and his old-school "charm" gets him a free ride with the media - but I did get a kick out of him calling out Justin Verlander after the underachieving Tigers pitcher blamed the ump's allegedly small strike zone for his latest disaster. I was among those who had him pegged as the Cy Young front-runner entering the season (oh, like you were onto Cliff Lee), and my greatest disappointment at my league's fantasy draft was missing out on him by a pick or two. Brandon Webb turned out to be a decent consolation prize, however. (And that concludes this week's segment on Boring Nonsense About My Fantasy Team That Only I Care About. Tune in next week when I confess my irrational admiration for Ian Stewart. Actually, feel free to share your hits and misses this season in the comments.)
9. As for today's Completely Random Baseball Card: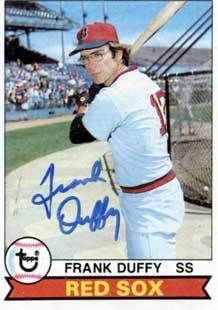 Because sometimes, it really is random.
About Touching All The Bases
| | |
| --- | --- |
| | Irreverence and insight from Chad Finn, a Globe/Boston.com sports writer and media columnist. A winner of several national and regional writing awards, he is the founder and sole contributor to the TATB blog, which launched in December 2004. Yes, he realizes how lucky he is. |
Tweets by @GlobeChadFinn
browse this blog
by category
The best of Touching All The Bases