Posted by Chad Finn, Globe Staff
September 26, 2008 02:49 PM
A Troy Brown tribute edition of Random Lists of Five . . .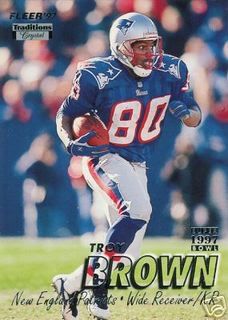 Top five most clutch Patriots of all time:
1. Adam Vinatieri. There are three last-minute, game-winning field goals in Super Bowl history. He's hit two of 'em. Next question.
2. Brown.
3. Tom Brady. Obviously tempting to put him higher, but he gets a demerit here for losing a playoff game to Jake Plummer.
4. Kevin Faulk. Somehow, he cured his fumbleitis and became amazingly dependable in big situations.
5. J.R. Redmond. An unsung hero of the Snow Bowl and the first Super Bowl, and a lost cause the rest of his brief career.
Top five NFL players out of Marshall:
1. Randy Moss.
2. Brown. But to Moss's credit, he always refers to himself as the second-best receiver ever to come out of the school. Classy.
3. Chad Pennington. Imagine if he had a fastball.
4. Ahmad Bradshaw. Part of the Giants' stellar '07 draft, he was a steal with the 250th overall pick.
5. Jermaine Wiggins. Gotta go with the East Boston kid over underachieving QB Byron Leftwich.
Top five most memorable plays of Brown's career, all of which you surely can still picture in your mind's eye:
1. The blocked kick/lateral to Antwan Harris against Pittsburgh.
2. The 23-yard catch that set up Adam Vinatieri's winning field goal against the Rams.
3. Stripping the football from the Chargers' Marlon McCree after an interception.
4. The 82-yard TD in overtime to beat the Dolphins.
5. Catching a pass from Drew Bledsoe -- as a defensive back.
Five players the Patriots drafted ahead of Brown (but after Drew Bledsoe and Chris Slade) in the '93 draft:
1. Vincent Brisby, 2d round (58th overall), WR, NE Louisiana
2. Kevin Johnson, 4th round (86), NT, Texas Southern
3. Scott "Missin' "Sisson, 5th round (113), K, Georgia Tech
4. Richard Griffith, 5th round (138), TE, Arizona
5. Lawrence Hatch, 6th round (142), DB, Florida
Five players from the '93 draft still active in the NFL (and the only five, as far as I can tell):
1. K Jason Elam, taken 70th overall by the Broncos
2. FB Lorenzo Neal, taken 89th by the Saints
3. QB Mark Brunell, taken 119th by the Packers
4. P Craig Hentrich, taken 200th by the Jets
5. QB Trent Green, taken 222d by the Chargers
Five players who had more catches than Brown's two during his first season as a Patriot:
1. Brisby. He had 45 receptions, second on the team to tight end Ben Coates. That was before he missed 5 1/2 seasons with a hamstring injury.
2. Michael Timpson (42 receptions)
3. Kevin Turner (39). He earned his place in Patriots' lore with the winning TD in the infamous victory over the Vikings in '94.
4. Brockton's own Greg McMurtry (22). Shoulda signed with the Red Sox, kid.
5. Ray Crittenden. Remember him? He had 16 catches, and probably half of them were spectacular.
Five Patriots who wore No. 80 (because it's hard to believe anyone else will again):
1. Brown
2. Irving Fryar. He had twice Brown's talent, but he didn't get his act together until he left New England.
3. Don Hasselbeck. A decent tight end from '77-'83, he must have married a pretty good quarterback.
4. Jack Rudolph. Played 56 games at linebacker from 1960-65. Oh, all right, I have no idea who he is.
5. Steve Hawkins. A wide receiver who played seven games in '94 after Brown had been released in camp.
Five best receivers in Patriots history:
1. Stanley Morgan. Simply put, one of the most underrated players in the history of the NFL.
2. Brown
3. Gino Cappelletti. And I still enjoy him and Gil on the radio, even if they could use a decent spotter and might refer to Randy Moss as Stephen Starring every now and then.
4. Moss. Sure, it was just one phenomenal season so far, but . . .
5. Terry Glenn. Like Fryar, he could have been so much better, but he made it look easy.
About Touching All The Bases
| | |
| --- | --- |
| | Irreverence and insight from Chad Finn, a Globe/Boston.com sports writer and media columnist. A winner of several national and regional writing awards, he is the founder and sole contributor to the TATB blog, which launched in December 2004. Yes, he realizes how lucky he is. |
Tweets by @GlobeChadFinn
browse this blog
by category
The best of Touching All The Bases