Posted by Chad Finn, Globe Staff
September 10, 2008 02:46 PM
Ten free minutes for me, 10 free throwaway lines for you . . .
1. Anyone who labels Tuesday's loss as "devastating" simply has lost all perspective. Sure, it would have been nice to finally surpass the Rays and take over first place, and yes, the stirring victory probably will rejuvenate Tampa Bay to some extent. But the Sox still have 18 games to make up the 1 1/2-game deficit starting tonight, and considering that Terry Francona again has them playing their best baseball at the end of the season, I like their chances. Besides, I agree with the way they stack their priorities: Winning the wild card while periodically resting regulars and setting up their pitching for the postseason is far more logical than gunning for the division crown at any significant cost.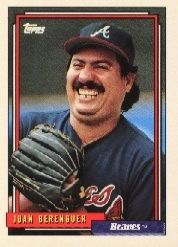 2. The easy comparison around here is to compare these never-say-die Rays to the "Impossible Dream" Red Sox of '67, though I suspect those who were actually born then and savored that franchise-defining summer would say it's not even close. But to me, this Tampa team is reminiscent of the worst-to-first Braves of '91, with three talented young starting pitchers blossoming at once, a couple of sage veterans (Carlos Pena is playing the role of Terry Pendleton), a young slugger (Evan Longoria = David Justice), and a well-cast collection of role players. I'm not sure who plays the lovely and talented Juan Berenguer, however.
3. All right, all you blindly loyal grunts in the Varitek Army. Let me hear how you justify that pathetic bunt attempt in the ninth inning last night. Was he too busy fretting about his pitchers? Did he do it deliberately because he knew that if he succeeded, the Rays would just walk the next batter, David Ortiz? Is he secretly an extremist Sabermatrician who doesn't believe in giving up outs under any circumstances? C'mon, tell me. I know it will be good.
4. A healthy, effective, playmaking Richard Seymour would go a long way toward making this Patriots season far more successful than the alleged experts currently believe it can be. Hard to believe, but he's only 28. If he's knees are okay, he should be able to dominate again, and I don't need to tell you how much a dominant Seymour means to the Patriots' defense.
5. According to the oddsmakers at Bodog.com, the Dallas Cowboys are the new favorites to win the Super Bowl with 4-1 odds. Having watched a "Hard Knocks" marathon on HBO last weekend, I can say with assurance that there's a better chance Wade Phillips will win a gold medal in racewalking than he will a Lombardi Trophy.
6. I was under the impression that Mark McGwire didn't talk about the past. But on those select occasions when he chooses to do so, the truth is apparent: He's still in denial about the fraud he perpetrated on baseball in the summer of '98.
7. You have to give Coco Crisp credit. Rather than moping through the season or forcing the Red Sox to trade him after he lost his job to Jacoby Ellsbury, he instead took the approach of a true professional: he shut his mouth and made the most of the playing time he did get, and now he's outperforming his supposed successor. I couldn't be more impressed.
8. Our expectations have understandably skyrocketed in the Brady/Belichick Era, but it wasn't so long ago when an 11-5 record and a playoff berth was considered an outstanding season by the boys in Foxborough. When this season ends with that exact record, I think we'll feel fairly satisfied, all circumstances considered.
9. I'm able to accept the Patriots' cruel early-season fate in part because I already know how the rival Jets season is going to end: With Brett Favre throwing his fourth hillbilly-brained interception of the afternoon in the closing moments of the AFC wild card game. And the best part? Fireman What's-His-Face and the rest of his cronies don't even see it coming. Mark these words: They'll be longing for Richard Todd before this season is through.
10. As for today's Completely Random Baseball Card: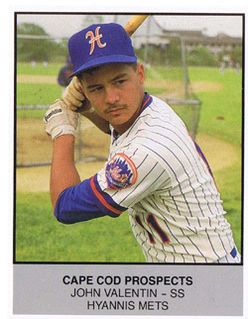 Apparently, puberty walloped ol' Johnny Val hard during his summer in the Cape League.
About Touching All The Bases
| | |
| --- | --- |
| | Irreverence and insight from Chad Finn, a Globe/Boston.com sports writer and media columnist. A winner of several national and regional writing awards, he is the founder and sole contributor to the TATB blog, which launched in December 2004. Yes, he realizes how lucky he is. |
Tweets by @GlobeChadFinn
browse this blog
by category
The best of Touching All The Bases