Posted by Chad Finn, Globe Staff
September 11, 2008 01:05 PM
1. Mike Timlin has had a heck of a career for himself. Eighteen major league seasons and 1,054 games pitched, the seventh-most all time. A career ERA of 3.64 and an adjusted ERA of 124. Four World Series championships - two with the Sox, and the first two with those great, overlooked Toronto teams of the early '90s. He was a poised, dependable setup man for the beloved Idiots of 2003-04, more than a decade after he closed out the Jays' first World Series clincher.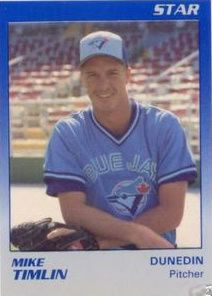 Of course, that was 17 years ago, which in our usual roundabout way brings us to the point: Timlin's old, at least in baseball years, and our praise should also be interpreted as the eulogy on his career. Last night's appearance, in which he gave up an utterly predictable three-run homer to Carlos Pena in the 14th inning, should be the last meaningful appearance of his big-league career.
His ERA is 6.09. His WHIP is 1.62. He's allowed a Wasdin-esque eight homers in 44.3 innings. His command, once his trademark (he walked nine in 83.2 innings in '03), is no longer a strength (he's walked 17 while whiffing just 27 this year). Even his well-placed pitches fall somewhere between hittable and fat right now, which is why it's laughable that both Timlin and Terry Francona claimed Pena's homer came on a great pitch.
Timlin can't get it done anymore. There's no shame in that; it happens to most athletes much sooner than it has to Timlin. I just wish his adoring manager would realize as much, because David Pauley, Devern Hansack, Chris Smith, Gar Finnvold, Eric Hetzel, and just about any other lukewarm arm in the Sox bullpen would have been a better option last night.
2. The main thing I take away from this series? I hope we just witnessed an ALCS preview. The Sox and Rays are two evenly matched yet dissimilar teams, the precocious upstart versus the confident establishment, and the result, in this series at least, was a couple of tense, well-played, thought-provoking games. This was not September baseball; it was October baseball, right down to the chill in the air. And it won't hurt that there's some bad blood between the two clubs, having traded punches during the memorable Crisp/Shields brawl earlier this season. A postseason showdown of the Sox and Rays could be as compelling as a Sox-Yanks matchup, but fresher, and without the made-for-TV angles and angst. Let's hope it happens.
3. I believe this qualifies as ex-Sox-on-ex-Sox crime. It comes from Barry Jackson's column in the Miami Herald:


All-Star Hanley Ramirez -- who leads NL shortstops with 20 errors and is hitting 36 points lower than last year's .332, and .216 with runners in scoring position -- insists his six-year, $70 million contract won't make him complacent. But one Marlins executive wants to see for himself.
Marlins special assistant Andre Dawson said ''work ethic and hunger are telltale signs'' if a good player wants to improve. Does Ramirez have that? "It remains to be seen, especially now that he's locked up,'' Dawson said. "I'd like to see a bit more hunger. That's what makes you a team leader. His intensity is yet to reach that peak. And I want to see him cut his swing down in RBI situations. He's over-swinging.''
The soft-spoken Dawson doesn't strike me as someone who'd call out a player without stacks of evidence. So you have to deduce that the supremely talented Ramirez is still having some of the maturity issues he had during his early days as a hotshot prospect in the Sox system, before he was sent to the Marlins in one of the great "win-win" trades of all-time. I hope he heeds Dawson's advice, because when he's on his game, there are few players who are more breathtaking to watch.
* * *
As for today's Completely Random Baseball Card: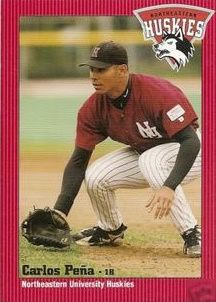 Sure, last night's loss was frustrating, their second Second Guesser's Special in as many days. But if the Sox had to lose, I'm glad it was Pena who delivered the deciding blow. As a smitten Joe Castiglione told us roughly three times per inning the last few nights, he's one of us, a Haverhill native and lifelong Sox fan, and by all accounts he's one of the most genuinely nice people in baseball. I only wish - and I wrote this at the time - that the Sox could have found a place for him after his cameo in the '06 season. I still don't understand why Tito insisted on playing an injured Mark Loretta ahead of him at first base over the meaningless final few weeks.
About Touching All The Bases
| | |
| --- | --- |
| | Irreverence and insight from Chad Finn, a Globe/Boston.com sports writer and media columnist. A winner of several national and regional writing awards, he is the founder and sole contributor to the TATB blog, which launched in December 2004. Yes, he realizes how lucky he is. |
Tweets by @GlobeChadFinn
browse this blog
by category
The best of Touching All The Bases