Posted by Chad Finn, Globe Staff
October 14, 2008 02:23 PM
Leftovers from a long, lost weekend of baseball . . .
Right now, the nagging feeling I get watching the Red Sox is the same one I had during the 2005 ALDS against their eventual successors as World Champions, the Chicago White Sox:
They're losing to a healthier, sharper, and apparently superior team, and while that's both frustrating and disappointing, in a way it's also justice.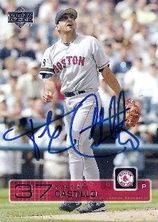 Now, that's not to suggest I think the Sox are a sure bet to be on the golf course a week from now; I always manage to convince myself Tim Wakefield will pitch well in these situations (though there isn't a lot of evidence in the last few seasons to support such faith), and while we're all worried about Josh Beckett's sudden and puzzling transformation into Frank Castillo, the Rays must have similar concerns about Scott Kazmir.
At this writing, a few hours before the pivotal Game 4, there are justifiable reasons to believe in the traditionally resilient Sox despite yesterday's stunning rout -- hey, a 2-1 hole is no big deal to these guys. And should Wakefield come through with victory tonight, the momentum will swing right back in the defending champs' favor. So it goes in a seven-game series.
It's just that, right now, we're hoping that will happen more than we actually believe it will. The Rays, already brimming with primo talent (did you know B.J. Upton was this good?), now own the confidence to match after two consecutive victories, while the Sox, with more easy outs in their lineup than a middling National League team, look lethargic and weary . . . old, actually.
Like the White Sox in '05, the Rays look like the better -- and thus, more deserving -- team in every way. Here's hoping we have a different opinion come tomorrow.
* * *
Man, how we've dreaded this day, when David Ortiz would look lost and frustrated and decrepit in the postseason, and we'd be forced to speak of his mojo in the past tense. Worse, we never thought it would come so soon.
You might know our mantra around here regarding Papi -- he's the greatest thing to ever happen to the Red Sox™ -- and I keep trying to talk myself into believing the one mighty blast he needs to snap out of this thing is just a pitch or two away.
But my eyes tell me the wait might last until next April. For whatever reason, the big man just can't put a charge into a decent fastball right now -- as SI's Tom Verducci pointed out this morning, Rays starter Matt Garza threw Ortiz fastballs on 13 of 16 pitches yesterday, striking him out once and coaxing a pair of weak popups.
He simply overmatched him, and remember, this is the same Garza who gave up a pair of mammoth homers to Ortiz the last time he faced him, Sept. 17. Much of the credit should go to the pitcher, of course, but there's no denying that this just isn't the same ol' Papi right now.
* * *
In a semi-related note, here are the statistics for two players, beginning with Opening Day, 2007:
Player A: .264 average, 77 homers, 223 RBIs, 259 hits in 980 at-bats

Player B: .303 average, 58 homers, 206 RBIs, 292 hits in 965 at-bats

Player A is Carlos Pena. Player B? Papi.
Now, I wouldn't dare to suggest that the Red Sox should have kept Pena over Ortiz after the '06 season -- that would be the ultimate in revisionist history, and had Theo Epstein ever considered such a thing, he would have needed to don his gorilla suit to dodge the bloodthirsty mob on Yawkey Way. At that point, Papi was at the peak of his powers, while Pena was at a career crossroads.
But considering how much heat the Twins took for dumping Ortiz, shouldn't the Sox (and Yankees . . . and Tigers) catch some flak for letting Pena get to the Rays for nothing?
* * *
I'm starting to think that no one believes in the value of Jason Varitek's intangibles more than Jason Varitek.
Seriously, I want you to explain this one to me, all you blind and loyal citizens of Varitek's Army: How can a player who batted .220 overall, .201 from the left side, .175 with runners in scoring position, and .157 with two outs and runners in scoring position during the regular season possibly even consider protesting when his overly patient manager finally has the nerve to pinch hit for him during a postseason in which he is batting .125 with a matching .125 slugging percentage?
Please, don't give me any nonsense about his pride being wounded -- his skills, offensively and defensively, have eroded to the point where his entire value to the ball club is tied to his leadership.
And judging by his thinly veiled annoyance when he's removed for a superior hitter -- and right now, everyone from Alex Cora to David Ross to Dave Magadan qualifies for that title -- apparently even that skill isn't what it used to be.
* * *
File this one under late-breaking news, but I'm thrilled that Tito has decided to put J.D. Drew in the leadoff spot tonight.
While it might foil Jacoby Ellsbury's plan to set a postseason record for feeble groundouts to the pitcher, it should strengthen the Sox' lineup, if only because Drew has a knack for getting on base even when he's not hitting. Even Chip Caray is aware that the Red Sox desperately need baserunners when Dustin Pedroia, Kevin Youkilis, and Jason Bay -- their three trustworthy hitters right now -- come to the plate.
Some will say it's a desperate move, since Drew had only 39 at-bats in the No. 1 spot this season, but it's not. It's a shrewd one.
* * *
As for today's Completely Random Baseball Card: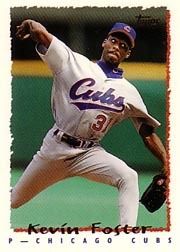 Sad to hear this morning about the passing of former Cubs pitcher and Red Sox farmhand Kevin Foster, who died of cancer Saturday at age 39. Everything I ever heard about Foster -- who spent the 2000 season with the PawSox -- confirms what his friends and family say in this story: he was a genuine and engaging guy who appreciated how fortunate he was to be a professional ballplayer.
About Touching All The Bases
| | |
| --- | --- |
| | Irreverence and insight from Chad Finn, a Globe/Boston.com sports writer and media columnist. A winner of several national and regional writing awards, he is the founder and sole contributor to the TATB blog, which launched in December 2004. Yes, he realizes how lucky he is. |
Tweets by @GlobeChadFinn
browse this blog
by category
The best of Touching All The Bases