Posted by Chad Finn, Globe Staff
October 6, 2008 10:37 AM
Playing nine innings while wondering when Josh Beckett turned into Steve Trachsel . . .
1. I never thought the day would come when I'd think the Sox would be better off with Mark Kotsay in the lineup over Mike Lowell, but, well, here we are. I haven't seen a Sox third baseman so obviously impaired by an injury since Butch Hobson was juggling bone chips in his elbow and endangering the patrons in the first-base side box seats with his scattershot throws during the summah of 1978. Hobson, whom we later learned was also impaired by other things in his career, eventually went to titanium-skulled manager Don Zimmer and asked out of the lineup for the betterment of the team. Terry Francona, who, thank goodness, has nothing common with Zimmer but a hairline, won't allow the situation with Lowell come to that -- I can't imagine he'll be in the lineup tonight after his tough but helpless performance in Game 3. He looked like he was playing his last innings of the season.
2. Anyone who doubts Jon Lester tonight simply hasn't been paying attention since last October. I have no doubts he'll deliver another outstanding performance tonight. What worries me is the Red Sox lineup versus Angels starter John Lackey, who seems to have finally solved his longtime nemesis, save for one ill-advised fastball to Jason Bay. Dustin Pedroia and David Ortiz went a combined 0 for 8 last night, and are 3 for 26 in the series overall. At least one of them needs to snap out of it tonight against the Angels' alleged ace, and right now it looks like Pedroia is closer to coming through than the sadly lethargic Papi, though all it takes is one mighty swing to make things right.

3. For the record, Mike Scioscia, who had the speed of a three-legged end table, swiped 29 bases in 53 attempts in his big league career. So if you were wondering why he doesn't seem to be particularly concerned with playing the percentages on the basepaths, that might be a small clue. He was both slow and somewhat reckless, and at least the latter also describes him as a manager.
4. Welcome to the enemies list , Mike Napoli. As far as we're concerned, you're Jonny Gomes with a catcher's mitt.
5. I don't care if Jonathan Papelbon threw 31 or 131 pitches last night. He must be available tonight if the Sox are holding a slim lead in the late innings. To put it another way: The Sox have to do everything they can to avoid a return trip to Anaheim, and that includes deploying their weary closer if the moment calls for it. This isn't a must-win, but it's pretty damn close, unless you feel confident in Dice-K on the road in Game 5. (Yeah, didn't think so.)
6. From outward appearances, Sean Casey seems to be in the doghouse with Terry Francona. Which is weird considering he's become exactly what Tito was after knee problems robbed him of his early promise: A dirt-slow, defensively-challenged ping hitter with a knack for winning friends and influencing people.
7. So maybe I was a little too harsh on Buck Martinez the other day. As a couple of readers pointed out, TBS's coverage is a significant upgrade on the convoluted, overhyped dreck we had to put up with on Fox for so many years, and Martinez has Tim McCarver beat if only because he doesn't offer an unsolicited ode to the depth and beauty of Derek Jeter's eyes every three innings. (If I didn't know better, I'd wonder if Fox ceded coverage of the playoffs to TBS only after their favorite team was eliminated from contention?) But I still have my complaints about Chip Caray, who is giving me Jerry Trupiano flashbacks with his ridiculously premature home run calls. I'm starting to suspect he got his broadcasting skills from his mom's side of the family.
8. All right, J.D. Drew. You win. I give up. I'll never figure you out. You carry us through June . . . and spend September in the trainer's room. You silence the Rally Monkey and his ThunderStix-wielding worshipers with a majestic home run in Game 2 . . . and then are out of the starting lineup for Game 3. We'll just have to accept you as you are -- one of the biggest enigmas in Red Sox history, a player who delivers just when you're sure you can't count on him.
9. As for today's Completely Random Baseball Card: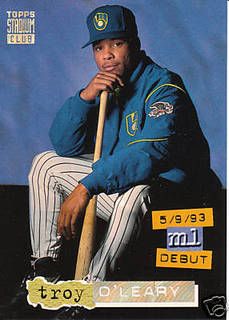 First thought upon hearing that longtime TATB favorite "Yummy" is throwing out the first ball tonight: it's long overdue. He's responsible for perhaps our favorite pre-'04 Red Sox memory, as well as one of the best postgame quotes ever in the aftermath of his stunning two-homer, seven-RBI performance in Game 5 of the '99 ALDS: "Guess it was just luck of the Irish." Second thought: The Orioles must have refused permission to Millar.
About Touching All The Bases
| | |
| --- | --- |
| | Irreverence and insight from Chad Finn, a Globe/Boston.com sports writer and media columnist. A winner of several national and regional writing awards, he is the founder and sole contributor to the TATB blog, which launched in December 2004. Yes, he realizes how lucky he is. |
Tweets by @GlobeChadFinn
browse this blog
by category
The best of Touching All The Bases