Posted by Chad Finn, Globe Staff
October 9, 2008 12:29 PM
(From the perspective of a concerned and slightly deranged Red Sox fan. As usual.)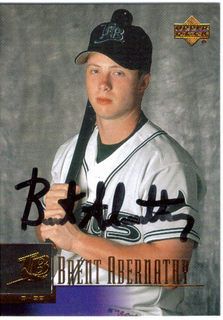 Yeah, yeah, yeah, we've heard . . . the Tampa Bay Rays are a wonderful story. Worst-to-first and all that. Bah.
Hey, after seeing them 18 times in the regular season -- and losing 10 -- no one needs to convince us that Longoria, Pena, Shields and the rest of this deep if hardly star-studded cast will be a formidable and legitimate opponent in the ALCS. Brace yourself for an epic, folks.
But if you're a Sox fan, you're starting miss the not-so-long-ago old days, when Tampa Bay had little talent and even less hope, and they were more likely to attempt to beat the stuffing out of Brian Daubach than put up a crooked number on the scoreboard.
So with those good times in mind, let's take a look back at some real Rays, and not these talented imposters who actually have the nerve to beat the Sox once in a while . . .
Catcher
John Flaherty: Pedro's unlikely nemesis put up a .207/.261/.273 line in '98, with three homers in 307 at-bats and a truly brutal OPS+ of 39. You have no idea how difficult it is for me to resist making a Jason Varitek joke right now.
First base
Steve Cox: He was the Rays' primary first baseman from 2000-02. I'm not saying he was non-descript, but I'm pretty sure not even his former teammates could pick him out of the team photo.
Second base
Brent Abernathy: In 463 at-bats in '02, he put up an OPS of .599 (so close to the elusive .600 mark!) and an OPS+ of 62. Conclusion: The Rays would have gotten more production had they played Dick Vitale at second base.
Shortstop
Julio Lugo: Oh, how we wish he'd remained a Ray for life.
Third base
Vinny Castilla: As if you needed more proof that the life of a ballplayer is a ridiculously blessed one: Castilla -- the epitome of a Coors Field fraud who hit .221 with an OPS+ of 43 for the '00 Rays -- made $44,936,500.00 in his major league career. Now if you'll excuse me, I have to go hit my 2-year-old some fungoes.
Outfielders
Jason Tyner: This scrawny slap-hitter was supposed to be the next Brett Butler; he turned out to be a poor man's David Hulse, which is strange since David Hulse was the poor man's David Hulse. He played parts of four seasons for the Rays, hit zero home runs, and posted successive adjusted OPS numbers of 41, 70, 33, and 92. In retrospect, Derek Lowe couldn't have handpicked a better candidate to make the last out of his no-hitter.
Ben Grieve: The No. 1 overall pick by the A's in '94, he looked like a surefire superstar when he whacked 27 homers and drove in 104 runs at age 24 in 2000. But Billy Beane, who apparently knew something, shipped him to Tampa Bay in a three-way deal before the '01 season, and his career promptly and spectacularly fizzled. He was out of the majors for good in '05 at age 29. There's a compelling story here somewhere.
Gerald Williams: His nickname, "Ice," described his usual condition at the plate: he was a career .255 hitter.
Designated hitter
Jose Canseco: The biggest meathead in the history of baseball, and by a comfortable margin over the San Diego Chicken.
Starting pitchers
Ryan Rupe: If you remember that this enormous, erratic Jeff Juden clone pitched in four games for the 2003 Red Sox, well, you must be Ryan Rupe.
Tanyon Sturtze: Now this is what you call a lousy year: In '02, the Rays' "ace" posted a 5.18 ERA, allowing 273 hits and 89 walks in 224 innings for a WHIP of 1.61 and an adjusted ERA of 85. His won-lost record? 4-18. I'm still wondering how he won the four.
Victor Zambrano: He is to Jim Duquette what Larry Andersen is to Lou Gorman.
Relievers
Estaban Yan, Jesus Colome, Doug Creek, Travis Harper, Jorge Sosa: Come back, fellas. The late innings just aren't as fun without you.
(As is always our request with this sort of thing, tell us who we missed in the comments.)
About Touching All The Bases
| | |
| --- | --- |
| | Irreverence and insight from Chad Finn, a Globe/Boston.com sports writer and media columnist. A winner of several national and regional writing awards, he is the founder and sole contributor to the TATB blog, which launched in December 2004. Yes, he realizes how lucky he is. |
Tweets by @GlobeChadFinn
browse this blog
by category
The best of Touching All The Bases