Posted by Chad Finn, Globe Staff
October 10, 2008 03:18 PM
Ten free minutes for me, 10 free throwaway lines for you . . .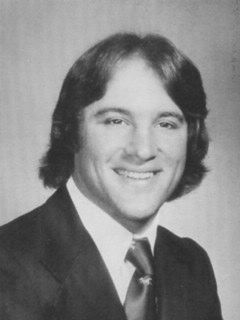 1. Recognize this guy? Nope, that's not Richie Sambora before he discovered booze. Look again, and picture this dude 30 years later, with a white buzz cut. Still nothing? Okay, try putting a pair of pretentious Rick "Wild Thing" Vaughn classes on him. Got it now? I think you do. Yup, believe it or not, that's (here for the answer) . . .
2. I wish the Sox had slotted Jon Lester in the No. 2 spot, with Josh Beckett pitching Game 3, if only because, should the Rays win in 6, the Sox' ace lefty will have pitched just once in the series, which would pretty much be inexcusable. But the way the rotation is set up makes for a very compelling matchup in Game 2: Josh Beckett versus Scott Kazmir. We know about Beckett's situation -- the most dominating postseason pitcher of his time struggled in the ALDS, and there's still some debate as to whether that was because of injury or rust. But Kazmir . .. well, he's the real mystery here. While he pitched decently in the ALDS, allowing two runs and eight hits in 5 1/3 innings in the Rays' Game 2 win, I can't forget Jerry Remy's words after the Rays' lefty melted down against the Red Sox Sept. 15: "He looked scared out there." Kazmir has as much raw stuff as any pitcher remaining in these playoffs, but sometimes I wonder if he's the second coming of Mark Langston. No, that's not a compliment.
3. Huge test for the Pats this week, no doubt, but I don't fear the Chargers quite the way I did, oh, entering last year's AFC title game. Injuries have taken a toll on Antonio Gates and, to a lesser extent, LaDainian Tomlinson, and perennial pest Chris Chambers is also hurt. I think the Pats win with relative ease if three things happen: 1) Matt Cassel is as steady as he was against the Niners last week. 2) Darren Sproles is contained on the return game. 3) Norv Turner shows up.
4. I'll admit I don't look forward to Rick Reilly's columns like I did in his SI glory days -- reading him now is sometimes like seeing the same weary stand-up act a dozen times; you know all the punchlines by heart -- but every now and then he still reminds you why he was the definitive (and most imitated) sportswriter of his generation. Today's piece on short-lived Patriot John Lynch's attempt to adjust to life after football is Classic Reilly, not Shecky Reilly. My favorite part:
Forced out of the NFL after 15 years as a legendary safety, [Lynch had] just watched his old team, the Broncos, beat San Diego in a 39-38 molar-grinder. Now he looked like a man in a giant blender.

He got up, paced around, went into his bedroom, paced around, went into his walk-in closet and stared a hole in his shoes. His 7-year-old daughter, Lindsay, wandered in and said, "What's wrong, Daddy?"

Lynch said, "Nothing, honey. It's justóDaddy's kind of struggling with not playing football anymore."

"So play," Lindsay said.

"Well, I want to. But on the other hand, it's probably time to stop. I don't know. It's complicated."

Lindsay looked at him for a moment then said, "Oh, Daddy. Now you're starting to sound like Brett Favre."
5. For the record, this is my all-time favorite Reilly piece, courtesy of the SI Vault: a look back at the legendary '82 playoff game between the Chargers and the Dolphins. It remains the most entertaining football game I've ever watched, save for perhaps the Snow Bowl. (Pay no attention to the picture on the cover of that issue. Old news, different era, etc. )
6. I have no idea what's going on with Laurence Maroney right now -- check out this odd exchange he had with the media today, and then tell me what in the heck he's talking about -- but I do know this: With every "Dancing With The Stars" shufflestep in the backfield and every 2-yard run that ends with as little resistance as possible, I find myself wondering more and more how the Patriots could have possibly liked this spaceshot more than Joseph Addai in the '06 draft. I know, revisionist history and all that . . . but don't tell me you haven't thought about it.
7. Any room left for me on the Bill Walker bandwagon? I'm always suspicious of rookies who steal a few highlights early in the preseason -- they tend to slide down the bench once the Pierces and Shuttlesworths crank up the intensity for the regular season -- but Walker is clearly tough, can jump to the rafters, and as Theo Ratliff can attest, backs down from no one. He might help the cause sooner than anyone expected.
8. I'm not saying he's ballooned to the size he was during his early days at LSU, but Big Baby looks like he really enjoyed the banquet circuit in the offseason. In terms of weight, let's just say he's gained at least a toddler or two.
9. From the guy who gave you "Jon Lester will be an ace this season," and "Sox over the Angels in four" -- yes, as a matter of fact, I am going to ignore all of my countless awful predictions though the years -- I present to you TATB's Official ALCS Prediction: Sox in six. Beckett wins a pair, Pedroia is the MVP, and the Rays' fans collectively shrug and go back to whatever they were doing before they noticed this team three weeks ago.
10. As for today's Completely Random Baseball Card: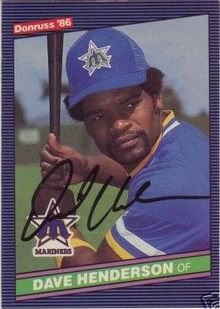 Because Hendu is always good for playoff karma.
About Touching All The Bases
| | |
| --- | --- |
| | Irreverence and insight from Chad Finn, a Globe/Boston.com sports writer and media columnist. A winner of several national and regional writing awards, he is the founder and sole contributor to the TATB blog, which launched in December 2004. Yes, he realizes how lucky he is. |
Tweets by @GlobeChadFinn
browse this blog
by category
The best of Touching All The Bases