Posted by Chad Finn, Globe Staff
October 27, 2008 04:14 PM
Ten free minutes for me, 10 free throwaway lines for you . . .
1. Every time I'm awed by what Kevin Faulk has become -- in essence, the running back version of Troy Brown, circa 2000 -- I flash back to 1999, when he arrived in New England during the frustrating Pete Carroll regime. Back then, Faulk looked like the second coming of Jon Vaughn, an outstanding kick returner who was too small and mistake-prone to ever be considered a long-term contributor as a running back. In his NFL youth, Faulk was anything but Mr. Reliable. But here he is, a versatile and valued role player juking his way through his 10th season, having outlasted such fellow '99 draft picks as Andy Katzenmoyer, Michael Bishop, and Tony George, among others. It's credit to both Faulk and the current Patriots' coaching staff that he has become such an important and dependable piece of the puzzle.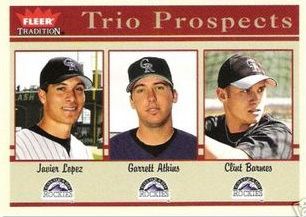 2. I suppose I could be talked into the thought of Matt Holliday on the Red Sox, if only because his Coors/road splits were a little more balanced this season than in the past and I think he's a good enough hitter to do some damage no matter where he plays. But about that other Colorado "slugger" the Sox are speculated to have interest in . . . well, let me put it this way: If Garrett Atkins -- he of the .328 on-base percentage in '08 -- is calling Fenway home next season, it's only because Mike Lowell didn't recover from his hip injury, Kevin Youkilis suffered a horrific beard malfunction, and about a half-dozen other superior alternatives at third base fell through for one reason or another.
3. Of all of the encouraging developments for the Patriots the past two weeks, the most important, other than perhaps Richard Seymour's return to Beasthood, is this: Matt Cassel is undeniably improving, not only at the big things (like, say, throwing game-winning touchdown passes), but the small things as well. When Cassel first took the reins when Tom Brady's knee was turned into Grade D lunch meat, he had the obvious flaws of inexperience. He was much too quick to give up on the play and scramble -- now he's definitely picking his spots better. He also has a better feel within the pocket as -- he deftly stepped into a couple of throws yesterday when the rush was coming from behind him, and he's no longer blindly scrambling into sacks. He's actually becoming poised and confident, two of his predecessor's greatest traits.
4. All right, you've convinced me, dear readers: The Red Sox should not be suckered in to the Jake Peavy sweepstakes. He's had elbow issues, he's benefited from playing half of his games at a pitchers' park, he's been awful in the postseason, and chances are the cost in terms of players and prospects would be much too high. Consider me corrected.
5. I have to admit, I'd have paid more attention to the World Series had I known Evan Longoria and Carlos Pena would be 0 for 29 to this point. They're the Canseco/Vaughn of their time, and I hope Cole Hamels keeps the oh-fer going tonight. Yup, I think you could say the Rays are officially the enemy now.
6. I'll keep this simple, because I'm still sorting out all of the implications, plot twists, layers, and subtleties that a pea brain like me needs three or four viewings to comprehend : Last night's Season 2 finale of "Mad Men" was the best single episode I have ever seen of any television show, blowing past the Season 2 finale of "The Office" and roughly six other "Mad Men" episodes, not to mention that very special episode of "Friends" in which Rachel finally got sick of Ross's whining and shot him in the stomach. Hell, it might rank among the best movies I've ever seen. In a related note: How much fun must it be to be a part of that cast?
7. I would pay good money -- but probably not as much as he'd want -- to read Scott Boras's upcoming treatise on why Jason Varitek is an "inherently valuable" player who deserves a lucrative multiyear deal after putting up an OPS+ of 73 at age 36. Hey, I'm always up for reading some humorous fiction.
8. Loved this new commercial featuring KG; if this doesn't get a Celtics fan pumped for tomorrow's opener, you're hopeless. But I think I'd like the Tony Allen version even better.
9. I wish I could talk myself into it, because he's one of the baseball icons of my childhood and I'm nothing if not a sucker for easy sentiment, but I just don't think Jim Rice gets into the Hall of Fame this year, his 15th and final appearance on the ballot. There's too much statistical evidence, particularly in regards to the benefits he gained from playing at Fenway, that suggests that he doesn't quite measure up -- in fact, if I remember correctly, Bill James once made a compelling argument (in a Historical Abstract, I believe) that the Yankees' Roy White was a more valuable player. Yes, this Roy White. And I'm pretty sure he's not enshrined in Cooperstown, though Yankees fans probably think he should be.
10. As for today's Completely Random Basketball Card: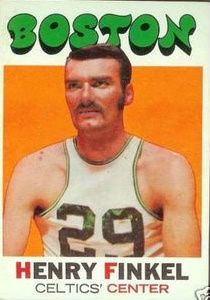 Because sometimes, it really is random. (Aw, who am I kidding? Hank Finkel is never random.)
About Touching All The Bases
| | |
| --- | --- |
| | Irreverence and insight from Chad Finn, a Globe/Boston.com sports writer and media columnist. A winner of several national and regional writing awards, he is the founder and sole contributor to the TATB blog, which launched in December 2004. Yes, he realizes how lucky he is. |
Tweets by @GlobeChadFinn
browse this blog
by category
The best of Touching All The Bases