Posted by Chad Finn, Globe Staff
November 21, 2008 02:43 PM
Playing a quick Nine Innings while starting to think Jason Varitek has seen the light . . .
1. Is Mike Mussina a Hall of Famer? Absolutely in my mind, and I believed as much even before he got that elusive 20-win season on his resume. It's nice he achieved the supposed milestone, but ultimately it's just a random, rounded-off number -- his career would have been just as impressive to me had he won 19 games last season. Mussina pitched at remarkably high and consistent level for a long time, winning at least 11 games in every season of his 17-year career, and it's interesting to note that his most similar historical comparisons on baseball-reference.com include another former Baltimore great, Jim Palmer. I often thought of him as being to Greg Maddux what Tim Raines was to Rickey Henderson -- a contemporary who was similar in style but punished for being not as great. And here's one for the Neyers of the world: How many pitchers have retired after winning 20 games the previous season? The only one I could think of off the top of my head was Sandy Koufax, who earned 27 wins in his final season, 1966. I'm sure this was mentioned in a lot of Mussina's retirement stories, but I guess I missed it.
2. After the comments Mark Teixeira has made the last couple of days, I have a hunch that there's already a leader in the clubhouse concerning where he will play next season and beyond. I just can't make up my mind if it's the Red Sox or his hometown Orioles. And not for a moment am I discounting the Yankees in this, either -- anyone who thinks the Nick Swisher deal precludes them from signing Teixeira simply hasn't been paying attention. Man, I so hope the Sox win the sweepstakes. He's the perfect fit.
3. The longer the $140-million-plus offer hangs out there unanswered, the more convinced I become that CC Sabathia wouldn't play for the New York Yankees even if they promised to let him DH and bat cleanup on the days he's not pitching. I'd love to hear what Hank the Tank is saying behind the scenes.
4. Gotta believe the Sox are at least somewhat serious in their pursuit of A.J. Burnett, if only because the other suggested motivation -- that they are simply driving up the cost for the Yankees -- really doesn't make a whole lot of sense considering sticker prices obviously no longer matter whatsoever in the Bronx.
5. I do love the idea of the Sox kicking the tires on Brad Penny, a hard-throwing beast who finished third in the NL Cy Young voting in 2007, but ultimately, I think some pitching-desperate team will commit to a longer deal than the Red Sox are interested in giving. (By the way, Penny's baseball-reference.com page lists him at 200 pounds. That's the most blatantly misleading player weight since the '98 Red Sox media guide had El Guapo checking in at 215.)
6. I've talked myself into liking the whispered Julio Lugo-for-Dontrelle Willis swap with the Tigers. (But Nate Robertson? No thanks.) It's not that I think the tremendously likable 26-year-old Willis can turn his career around -- his mechanics, unusual even when he was effective, are now such a mess that I'm not sure even John Farrell can come up with a cure. It's just that the next time I see Lugo at Fenway, I'm really hoping he's wearing a road uniform.
7. Rocco Baldelli is awfully easy to root for, and it's always cool when a local kid plays for the Sox. But given his health problems, I'm not sure the ex-Ray is the ideal candidate as a fourth outfielder. The Red Sox require a durable backup, and Baldelli might be the only outfielder in baseball who's more brittle than J.D. Drew.
8. Reader SoxFanInFla offers another addition to our completely subjective and woefully incomplete list of the most talented minor-league teams of all time -- the 1993 Charlotte Knights, who featured two still-active members of the 500-homer (Jim Thome and our dear old ex-friend Manny), as well as One-Dimensional Slugger-Turned-Messageboard-Patron-Saint Sam Horn. They also had cameos from such notables as Matt Young (yep, that one), John Marzano, and Heathcliff Slocumb. That's one entertaining team right there.

9. As for today's Completely Random Baseball Card: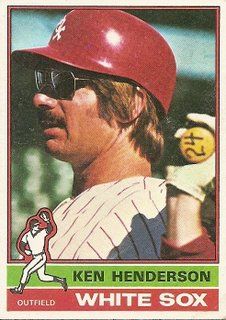 Because sometimes -- especially on Fridays -- it really is random.
About Touching All The Bases
| | |
| --- | --- |
| | Irreverence and insight from Chad Finn, a Globe/Boston.com sports writer and media columnist. A winner of several national and regional writing awards, he is the founder and sole contributor to the TATB blog, which launched in December 2004. Yes, he realizes how lucky he is. |
Tweets by @GlobeChadFinn
browse this blog
by category
The best of Touching All The Bases