Posted by Chad Finn, Globe Staff
November 7, 2008 06:11 PM
The temperature is rising on the baseball hot stove, but the Red Sox aren't the only Boston sports team that could -- or should -- be making a significant addition or two soon. Here's a quick look at various players whose names we might be seeing in the transactions in the coming weeks: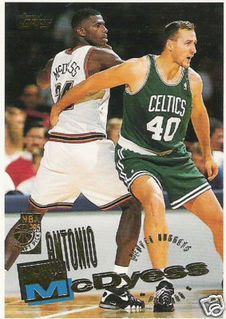 Antonio McDyess: The likable veteran forward, who played extremely well at times against the Celtics in the Eastern Conference finals last spring -- he scored 21 points in Game 4 -- is apparently in the process of negotiating a buyout with the Nuggets after he was included in the Iverson/Billups swap for salary reasons. The 34-year-old would be a perfect fit off the bench for these Celtics, a more athletic and versatile version of P.J. Brown, and he does have a history with Celtics boss Danny Ainge, who was his coach with the Suns in 1997-98 and is still an unabashed admirer. That said, McDyess in green is probably wishful thinking. There's quite a bit of informed speculation coming from the Detroit papers that he'll end up back with the Pistons 30 days from now after the Gary Payton Rule is no longer in effect. Here's hoping Ainge is looking at that as his window to make a relentless sales pitch.
Javier Vazquez: It would be cool to have him here, if only as a living monument to Game 7 of the 2004 ALCS, but even with his obvious ability, he's probably not an ideal match for the Red Sox seeing how he basically got called gutless by his manager, then went out and proved him right. I suppose there are worse booby prizes the Red Sox could get in return for Julio Lugo, though. (See: Willis, Dontrelle.)
Mark Teixeira: Yeah, I know, you haven't heard his name enough lately. But here's the thing: My biggest worry at the moment regarding the 2009 Red Sox -- wait, make that my second biggest worry, after the nightmare scenario of Scott Boras brainwashing Theo Epstein into giving the ghost of Jason Varitek a multi-year contract -- is that Big Papi struggles again with injuries and ineffectiveness, and Mike Lowell can't return to form after hip surgery, thus leaving the Red Sox with a very suspect middle of the order. I think the Red Sox have to fill some suitcases full of cash and make a serious and sincere run at Teixeira, and I think they will. The problem, as Tony Mazz wrote today, is that the 28-year-old switch-hitter is so coveted and has timed his free agency so fortuitously that it's almost the perfect storm to make him the next $200 million player. And I don't see the Red Sox paying him anything approaching that figure (heretofore known as Steinbrenner Money), no matter how much they covet him.
Nick Swisher: I wouldn't be surprised if he's one of the Red Sox' fallback plans if they lose the Teixeira sweepstakes. He's in his prime (28), he fits the organizational philosophy of driving up pitch counts (he's averaged 93 walks over the past three seasons), and it's a decent buy-low opportunity. Of course, there's a reason he's available -- he batted just .219 last season, a point lower than the Varitek, and he's just a .244 hitter in his four-year career. Ultimately, it's a matter of Chicago's asking price and whether Theo Epstein believes his potential is greater than the risk. I do think the Sox would take him for Lugo and some minor-league spare parts in a heartbeat, though.
D'Angelo Hall: I suppose he doesn't belong here since he's no longer available -- the Redskins signed the expatriated ex-Raider to a one-year deal this afternoon -- but it is interesting that the Patriots, according to ESPN's John Clayton, were among the teams "aggressively" trying to sign him. Belichick liked Hall a lot coming out of Virginia Tech in 2004, but he's proven himself to be an incurable meathead during his NFL career, and he wasn't exactly reminding anyone of Mike Haynes in Oakland this season. The Patriots' supposed interest tells you all you need to know about Belichick's faith in his current crop of cornerbacks, though he comically refused to tip his hand during a press conference this morning before Hall became a Redskin:
Reporter: Would you like to comment on reports about D'Angelo Hall? Belichick: I would love to. I would love to. No, I will just comment on the players that we have on our team and leave the other thousands that arenít. Reporter: Do you have a relationship with him from the draft or Pro Bowl? Belichick: Well, he was in the Pro Bowl a couple years ago but not on our team. I think we might have been in the pool together.
Ty Law: Speaking of cornerbacks, I'm officially puzzled now -- how come the real MVP of the Patriots' first Super Bowl victory hasn't caught on anywhere yet? He apparently wants to play and says it's more about the opportunity than the money at this point. Did he slip that much last season with the Chiefs? I don't believe so, and besides, Law has always been a sure enough tackler that it always seemed like he'd be able to prolong his career by moving to safety. Unless he's gained so much weight that he now looks like an honorary Wilfork, it's worth bringing him back to where he made his name. What, you prefer Deltha O'Neal?
As for today's Completely Random Basketball Card: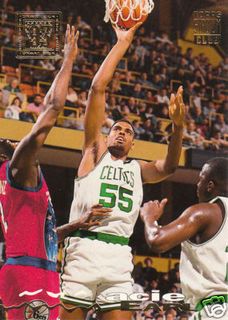 We've already got Dino Radja on here today. Why not Acie too? It's a 1993-94 Celtics tribute!
About Touching All The Bases
| | |
| --- | --- |
| | Irreverence and insight from Chad Finn, a Globe/Boston.com sports writer and media columnist. A winner of several national and regional writing awards, he is the founder and sole contributor to the TATB blog, which launched in December 2004. Yes, he realizes how lucky he is. |
Tweets by @GlobeChadFinn
browse this blog
by category
The best of Touching All The Bases