Posted by Chad Finn, Globe Staff
December 16, 2008 04:29 PM
. . . while desperately hoping the power has been restored by the time I get home. I would have made a lousy pilgrim . . .
I understand why Danny Ainge might have cursory interest in Stephon Marbury -- he's mimicking the Red Auerbach philosophy that if you bring add a talented malcontent to a winning team with a strong and established group of leaders, he will have no choice but to get in line and behave or get lost. And it always was fun when Red would bring in perceived headcases and troublemakers -- Robert Parish and Dennis Johnson among them -- and they would often become vital contributors for the Celtics. But I think Marbury is a different case -- he's the ultimate me-first player, always has been, and always will be, and I don't think anything is going to change him at this point, including a chance to salvage his career with an outstanding team. Hell, I doubt he even believes his career needs salvaging. He's incurable. I would, however, be curious to find out what the "brain doctor" Ainge consults would make of Marbury. I suspect he would report there was no activity whatsoever.
* * *
While cursing Buffalo's "Dumb and Dumber" duo of Dick Jauron and J.P. Losman Sunday, I realized that we don't have a Patriots Enemies List here at TATB like the one we periodically update during baseball season for the Sox. So, with Jauron and Losman as members of our inaugural class of nitwits and villains, here are a couple of other names off the top of my head that should join them:
Ryan Clark: The hit on Welker might not have been illegal, but it was damn sure dirty.
Brett Favre: Consider it a Lifetime Achievement Award.
Channing Crowder: He's like Joey Porter's mouthier, less talented brother, which, in the case of the former, is saying something.
Eric Mangini: King rat.
ESPN: Every last one of 'em but Jaws.
Ty Law: For taking the Jets' dirty money.
Plaxico Burress For not shooting himself in the leg before the Super Bowl.
Bernard Pollard: Imagine how we'd loathe him if Matt Cassel hadn't played so well.
I know there's some obvious enemies I'm missing, so feel free to chime in with your own.
* * *
Sure, he's so brittle that it's been suggested he change his last name to Pavano -- okay, you got me, I just made that up -- but I still think there's a very good chance that former Brewer Ben Sheets could end up being the steal of this year's free agent pitching class. He has the stuff of a legitimate ace -- when he's right, his breaking ball is absolutely untouchable -- and he's apparently a hellacious competitor, which is something not often said about the pitcher most similar to Sheets statistically, according to baseball-reference.com: the ridiculously overpaid A.J. Burnett. I hope the Red Sox have done their due diligence with the 30-year-old righthander, because if the price is reasonable, I have no doubt that he's a risk worth taking. (In a related note, check out Burnett's top three similarity scores: Juan Guzman, Sheets, Ben McDonald. Yikes. Somewhere, Brian Cashman just sucker-punched himself, then slapped himself in the face to emphasize the point. Oh, yes, the meltdown is going to be fun.)
* * *
While it was a typically disingenuous move by the Red Sox' marketing wizards -- I'm pretty sure Mike Dee would go on camera to tell us the fans just love them even as an angry mob wearing classic Sox caps pillaged Fenway in the background -- I've got no problem with the uniform tweaks. Then again, I grew up in an era when they wore this, so anything would look classy by comparison.
* * *
I've said it roughly 200 million times already during this free agent season, so what's once more? I'm convinced Mark Teixeira will end up with the Yankees, and I'm convinced the price tag will make some of us retch. It simply astounds me that people don't remember that this is typically the Yankees' mode of operation when it comes to an available player they know the Red Sox covet: They play it cool, reveal limited if any interest . . . and then, when the time is right, swoop in with just the monstrous offer the player and his agent have been awaiting. It happened with Johnny Damon (though the offer wasn't monstrous, just superior to the Red Sox' proposal). It happened with the A-Rod trade (and thank goodness it did), and I'm convinced that it's going to happen again here, and soon, with yet another Scott Boras client. I've laid out the reasons for my suspicions before -- the Yankees' offense was surprisingly mediocre (seventh in runs per game) a season ago, they haven't even tried to drive up the price (suggesting a more dastardly plan down the road), and Teixeira is simply too appealing an offensive player for the Yankees to simply ignore. I do hope I'm wrong about this, and I try to take solace in reports from the respected likes of Buster Olney that the Yankees really aren't in the mix. Unfortunately, I feel like I have logic and common sense on my side for once, and the press conference during which Jeter and A-Rod fight over who gets to help Teixeira pull on the pinstriped jersey will become reality in a matter of days.
* * *
As for today's Completely Random Baseball Card: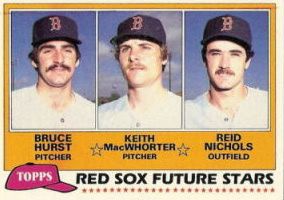 Mustaches weren't just a requirement in the Red Sox' farm system in the early '80s -- they were a way of life, man.
About Touching All The Bases
| | |
| --- | --- |
| | Irreverence and insight from Chad Finn, a Globe/Boston.com sports writer and media columnist. A winner of several national and regional writing awards, he is the founder and sole contributor to the TATB blog, which launched in December 2004. Yes, he realizes how lucky he is. |
Tweets by @GlobeChadFinn
browse this blog
by category
The best of Touching All The Bases