Posted by Chad Finn, Globe Staff
December 26, 2008 04:04 PM
If you missed it while enjoying your holiday festivities, this week's OT column is right here. As a bonus, I'm posting here a few of my Boston sports predictions for 2009 that didn't make the cut.
(Yep. I wrote too long. Again. But by only 500 words this time. That's what you call a craftsman's discipline, baby.)
Anyway, I'll be back with an original column Monday -- at last, one in which the names "Teixeira" and "Boras" will not be mentioned. Until then, here are few deleted scenes that left out of the OT original . . .
Feb. 10: With "Justice" written on one fist and "For Cam" on the other, the Bruins' Milan Lucic pummels 43-year-old Sharks forward Claude Lemieux so brutally that the longtime villain attempts to announce his re-retirement while cowering on the ice. Neely proudly nods his approval from management's box, while NESN's Mike Milbury chucks a shoe in Lemieux's direction for old time's sake.
May 23: Assuming it's no different than taking a mid-game leak inside the Green Monster, Manny Ramirez urinates on the sacred monuments beyond the left field wall at Yankee Stadium during the seventh inning of a 21-3 loss to the Phillies. The entire city of New York is aghast. The ghost of Babe Ruth, however, finds it hilarious.
June 10: The Celtics deliver the ultimate indignity to the Lakers in Game 3 of the NBA Finals when Eddie House's grade-school-aged son, Jalen, blows past Sasha Vujacic for a reverse layup and a foul with 1:22 remaining, giving the Celtics a 133-82 lead. Vujacic retreats to the LA bench, slaps a folding chair, shakes his hand in agony, and immediately bursts into tears. Little House chest bumps his proud pop, then says: "Dad, you told me there was no crying in basketball."
Aug. 21: The Yankees arrive in Boston for a crucial three-game series, and as usual, Alex Rodriquez is embroiled in a self-inflicted controversy. The New York Post reported earlier in the morning that he had broken up with Madonna, and A-Rod confirms the split to reporters at Fenway. "It was my call," A-Rod says. "I just decided she'd hit a few too many fungoes through the years, if you catch my drift." He refuses to confirm or deny tabloid reports that he was spotted slinking out of Elizabeth Taylor's apartment at 3 a.m. the previous Sunday.
Nov. 22: After he's toasted by Ted Ginn Jr. on a 23-yard completion on third-and-22, Patriots cornerback Deltha O'Neal, who against all odds is with the champs for a second season, removes his helmet and rips off a rubber mask to reveal a horrific truth: He's been Chris Canty in disguise all along! As those in Gillette Stadium collectively gasp, Canty immediately breaks into a choreographed dance routine to Wrexx 'n Effects' smash hit "Rump Shaker."
* * *
Programming note: I'll again be chiming on on the Boston.com Patriots-Bills live blog tomorrow, and we'll continue into the Jets-Dolphins showdown at 4:15. So consider this your invitation, and be sure to stop by and offer your two cents' worth. It'll be a good time -- assuming the Pats win, of course.
* * *
As for today's Completely Random Baseball Card: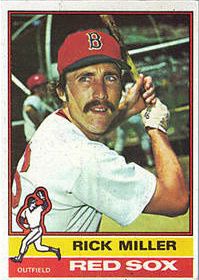 I realize he was a heck of a glove, but not too many outfielders, at least nowadays, could have a single-season high of six homers and a career adjusted OPS of 93 and yet last 15 seasons in the big leagues. Different game then, wasn't it?
About Touching All The Bases
| | |
| --- | --- |
| | Irreverence and insight from Chad Finn, a Globe/Boston.com sports writer and media columnist. A winner of several national and regional writing awards, he is the founder and sole contributor to the TATB blog, which launched in December 2004. Yes, he realizes how lucky he is. |
Tweets by @GlobeChadFinn
browse this blog
by category
The best of Touching All The Bases