Posted by Chad Finn, Globe Staff
December 10, 2008 11:44 PM
Playing nine innings while snickering that the Yankees have almost replaced Mike Mussina's 20 wins . . .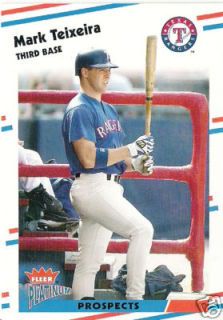 1. When the topic is Mark Teixeira and free agency, I have held two beliefs all along: 1) He's going to get at least $200 million. 2) The winning bid will come from the Yankees. I remain convinced of No. 1. I'm no longer convinced of No. 2, though if I had to bet, I still say the Yankees, whose offense was just as mediocre last season as their pitching staff, are going to swoop in with the insane offer Scott Boras has been waiting for, just as they did for Johnny Damon after the 2005 season. Part of this is my lifelong (but recently dormant) Yankees paranoia talking, but if they threw 10 years and $250 million Teixeira's way Thursday morning, I wouldn't be surprised. As someone who has coveted Teixeira in Boston since Texas first put him on the market midway through the '07 season, you know I'm desperately hoping the Sox are the team that makes him the proverbial Offer He Can't Refuse, though I'm also preparing myself to be disappointed. I want to believe all of the vague reports coming out of the Bellagio that the Sox are the frontrunner for the 28-year-old slugging first baseman, but then I remember that Theo Epstein is essentially giving reporters the mime treatment and Scott Boras isn't offering too many updates from his lair, either, and I can't help but think the notion is little more than the speculation at this point. Teixeira has said he wants to know his destination before Christmas. I hope it's settled much sooner than that. The anticipation is exhausting.
2. Jon Lester should be the Sox' next target for a long-term contract. Jonathan Papelbon seems intent on gambling that he will remain healthy and dominant long enough to hit the jackpot in free agency, and it's still to be determined whether Kevin Youkilis will continue to be the force he was in '08, or whether it was a career year -- I want to see him do it again. I have no doubt that Lester, assuming he avoids significant injury, is going to become one of the game's premier lefthanders for the next 5-6 years. And in certain ways he's already a franchise icon, though I suppose the same could be said for Papelbon and Youkilis to a lesser degree.
3. If the reports that the Yankees will offer Derek Lowe a four-year, $66 million deal are true, he'd be nuts to turn it down, simply because of the ridiculous amount of loot. But baseball-wise, D-Lowe in the Bronx might be doomed to fail. Lowe is master at getting groundballs, as you might recall, and the Yankees' infield defense isn't exactly conducive to supporting a sinkerballer, as you also might recall. To put it another way: There are statues on Easter Island that have better range than Jump-Throwin' Jeter at this point, and second baseman Robinson Cano considers defense an excellent time to catch up on his sleep. I can see Lowe's first season stats in New York now: 12 wins, 14 losses, 4.36 ERA, 203 innings, 356 hits, 222 of which would be groundball singles up the middle.
4. Just for the fun of it, here's how I currently rank the Red Sox' Big Four pitching prospects in terms of value:
1. Justin Masterson. A little bit of The Eck, a little bit of D-Lowe. Untouchable.

2. Clay Buchholz. Yes, he was shockingly brutal a season ago, and there are questions about his makeup. But he has the stuff and his health, and it wasn't that long ago he was one the premier prospects in baseball. I'd be shocked if the Red Sox sold low, though a deal for Jarrod Saltalamacchia makes plenty of sense.

3. Michael Bowden. The opposite of Buchholz. He's a bulldog by all accounts -- I loved Sea Dogs manager Arnie Beyeler's comments to Adam Kilgore after Bowden's debut -- but I'm not the only one who isn't quite convinced that he has a top starter's repertoire.

4. Daniel Bard. An unreal arm -- it seems like he hits 98 effortlessly -- but the couple of times I saw him in Portland, he really made the catcher work. Watching him made me appreciate Papelbon's command for some reason.

5. I was never much of a Greg Maddux fan -- I was always more entertained by the flash of Pedro Martinez in his prime, or even the rage of Roger Clemens in those suspicious seasons after the twilight of his career should have arrived. Heck, among among the Braves, I enjoyed watching John Smoltz and his electric slider more. (Brief aside: I'm on board with the thought of the Sox signing him, provided it's an incentive-laden deal.) But I was smart enough to appreciate Maddux, and I actually found myself wishing he'd hang around a little longer for this reason: Once he's gone, there's a good chance we'll never see anyone quite like him again. Maddux's accomplishments are staggering -- he won at least 15 games for 17 straight seasons -- but I think his most impressive feat is posting back to back adjusted ERAs of 271 and 262 in 1994-95, the fourth- and fifth-best ERA+ seasons in history. He was every bit as dominating as Pedro during the steroid era, just in a subtler way.
6. Got a kick out of Johnny Damon's comment to Nick Cafardo about the Sabathia signing. "Well, it's not easy to get guys to play in New York, so maybe signing CC helps us with other guys," Damon said. Good ol' Johnny, still a pleasant mix of brutal honesty and rock-stupidity. I miss him.
7. Anyone who seriously thinks the Sox should pursue Seattle utilityman Willie Bloomquist must have a Darren Bragg jersey buried deep in the closet. Yes, Bloomquist can play several positions adequately, and he's gritty, gutty, scrappy, and even downright Ecksteiny . . . but hasn't anyone noticed that the guy is an absolutely atrocious offensive player? He averages a home run roughly every 210 at-bats, and hasn't had an OPS+ higher than 83 in six full seasons. Let me put this in the most blunt way I possibly can: I'd rather have Julio Lugo as the Sox' chief backup infielder next season.
8. And while we're on the topic of candidates for the Sox' bench, I don't get the howls for a Gabe Kapler sequel, either. Sure, he's a swell guy, and he's proof that chicks not only dig the longball but also routine grounders to third if the player hitting them is dreamy enough. But he's 33, injury-prone, not really a center fielder, and had these adjusted OPS numbers during his three-plus seasons in Boston: 105, 77, 63, 77. We all like him, and he had a nice outlier of a season in Milwaukee after taking a year off to manage in the minors, but the Sox can do better.
9. As for today's Completely Random Baseball Card:
Because you can never go wrong with Dewey. Say, think he's interested in being the fourth outfielder?
About Touching All The Bases
| | |
| --- | --- |
| | Irreverence and insight from Chad Finn, a Globe/Boston.com sports writer and media columnist. A winner of several national and regional writing awards, he is the founder and sole contributor to the TATB blog, which launched in December 2004. Yes, he realizes how lucky he is. |
Tweets by @GlobeChadFinn
browse this blog
by category
The best of Touching All The Bases