Posted by Chad Finn, Globe Staff
December 8, 2008 01:56 PM
Word is that the Red Sox will meet with free agent pitcher CC Sabathia at some point soon, perhaps even today. If all goes to plan -- make that if all goes according to my plan -- the Red Sox will offer the big lefty a huge sack of Dunkin' Donuts most delicious pastries, thank him again for his outstanding work in the 2007 American League Championship Series, and strongly and repeatedly emphasize this point: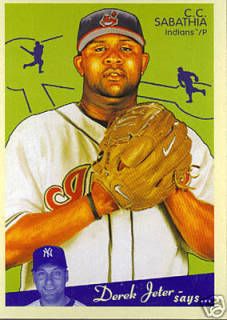 Geez, whaddaya waiting for, Carsten? Take the Yankees' money already! Take it! TAKE IT!
Oh, sure, it's been great fun imagining the Yankees' front office honchos squirming as Sabathia left New York's blockbuster six-year, $140-million offer hanging like an Ian Kennedy breaking ball. Heck, we've reveled in it -- schadenfreude is always acceptable when the discussion concerns the Yankees.
And by not accepting or rejecting the proposal but instead letting it linger for nearly three weeks while Hank Steinbrenner stomps on all of his favorite Little People villages in a rage, the implication is that the Yankees literally can't pay him enough to pitch there. Such a notion is a nice twist from a decade or so ago, when every free agent superstar from Mike Mussina to Jason Giambi desired to go to New York for validation and a championship ring or three. Funny how that worked out.
But as I was enjoying the Yankees' frustrating stint in baseball purgatory, I was hit by a realization that, frankly, I should have been aware of all along:
What the Yankees believe is the best thing for them also might be the best thing for the Red Sox.
Look at it this way: If Sabathia ultimately does reject the Yankees, there should be no doubt in our minds that New York will immediately put the full-court press on the player the Red Sox truly covet, one Mark Charles Teixeira. And presuming the Yankees do offer him the most money, I'm sure Teixeira, who allegedly wore No. 23 in Texas in honor of Don Mattingly, will have no qualms about donning pinstripes, so long as the checks continue to clear.
And like that, the Red Sox' best-laid plans would go up in smoke. Losing this particular player to the Yankees would be so frustrating, Theo might smash some hotel furniture for real this time.
Now, I realize a certain blindly loyal segment of the Sox fandom will collectively shriek when it reads this, but the Red Sox do need Teixeira, and the reason is obvious: It would be foolish to assume that both Lowell and David Ortiz are going to be healthy and highly productive this season, let alone for the seasons beyond. I do hope both extremely admirable ballplayers bounce back and put up prime-of-career numbers, and maybe they will. But common sense suggests they won't, and if the Sox don't sign the 28-year-old, remarkably durable Teixeira, they could find themselves in desperate need of a legitimate slugger in the coming seasons. Lars Anderson is a wonderful prospect -- he may be the second coming of Justin Morneau -- but teams with annual World Series aspirations simply do not count the rapid development of a kid who's spent all of a half-season in Double A.
Do not doubt for a moment that the Sox are serious about Teixeira. I've been convinced for a long time that Teixeira is Theo Epstein's ideal baseball player. You know his resume by now: He's a switch-hitting slugger who plays Gold Glove defense, has a .919 career OPS, and carries himself like the ultimate professional. To be honest, the descriptions of Teixeira being business-like remind me of the general perception about A-Rod before everyone realized that he was actually soulless. But two pluses for Teixeira: 1) His teammates seem to like him. 2) Several young players during A-Rod's time in Texas could not stand him -- that's where the nickname "The Cooler" originated. I'm not sure Teixeira was among them, but I like to believe he was.
Of course, what makes Teixeira the ideal for the Red Sox also makes him the ideal for pretty much every team that can afford him. Further, the truly worrisome aspect is that, in the Yankees' case, this is not necessarily an either/or situation. They have whacked roughly $85 million from their '07 payroll, and as you might have heard, they are moving into fancy new digs next season, swapping baseball history for what surely will be a glossy tribute to excess. (It will be interesting to see if the economy affects sales of those $2,500 tickets.)
The Yankees don't necessarily need more star power, but they are desperate for a better baseball team that the one they put on the field last season, and so signing Sabathia wouldn't prevent them from throwing stacks of cash at Teixeira, Manny Ramirez, Derek Lowe, and any other bauble that strikes their fancy. Remember, this is the Yankees, where "http://www.theonion.com/content/node/27656">satire and reality come awfully close to colliding, which is why it's foolish to believe the acquisition of career .244-hitter Nick Swisher prevents a team that finished seventh in the AL in runs per game (4.87) last season from pursuing Teixeira as well.
I'd like to believe they'll show some restraint, however, especially with calm Hal Steinbrenner, the son who wasn't raised by wolverines, now calling the shots along with Brian Cashman. If the Yankees get Sabathia, chances are they will be less dogged and desperate in their pursuit of Teixeira, and thus there's a more likely chance he'll end up in Boston.
I should note that I actually believe Sabathia would prove to be a worthwhile investment for New York. Yes, he's a rather large fella, and while he's got some miles on his arm in part because of his selflessness in pitching the Brewers into the postseason, that doesn't necessarily mean he's going to fall apart when he's north of 30 years old. (Somewhere, David Wells nods in agreement.) He may not be a legitimate ace to the end of the contract, but I bet he'd match Mussina's numbers in the Bronx. To put it another way: Sabathia will be a better pitcher than Barry Zito over the next five seasons even if he decides to throw righthanded.
All of that considered, the news that Sabathia had a "great" visit with the Yankees yesterday -- Cashman even flashed one of his championship rings from the 1900s -- is nothing short of encouraging. Perhaps he's coming around on his supposed preferences to play in the National League (where he'd get to hit) and on the West Coast (to be closer to family). His willingness to consider other factors besides hoarding every last dollar would be admirable under most circumstances.
Just not this one.
Take the Yankees' loot, CC. The Red Sox are kind of depending on it.
About Touching All The Bases
| | |
| --- | --- |
| | Irreverence and insight from Chad Finn, a Globe/Boston.com sports writer and media columnist. A winner of several national and regional writing awards, he is the founder and sole contributor to the TATB blog, which launched in December 2004. Yes, he realizes how lucky he is. |
Tweets by @GlobeChadFinn
browse this blog
by category
The best of Touching All The Bases