Posted by Chad Finn, Globe Staff
January 8, 2009 03:59 PM
Five quickie baseball tidbits while wondering why no one ever told me "Freaks and Geeks" was such a brilliant show . . .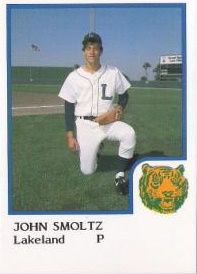 1. I'm probably more excited about today's John Smoltz/Rocco Baldelli combo platter than I should be, given that they combined for a total of three wins and four home runs a season ago. But it's easy, especially at this time of year when summer and baseball season look so appealing, to daydream about the potential of both players. Smoltz is a pitcher we've admired for years -- I'm pretty sure he was in a Braves rotation with Warren Spahn at one point -- and given his competitiveness, his track record, and the fact that he still had his usual filthy stuff even when his shoulder was falling apart, there's pretty decent chance he could arrive midsummer just in time to give the Sox a push toward the postseason. Besides, there's really no risk to the move -- this isn't Dan Duquette banking on Bret Saberhagen or Ramon Martinez to be the No. 2 starter. If Smoltz helps, bonus. If he doesn't, well, we can still claim him as an ex-Red Sox when he goes into Cooperstown in seven or eight years. As for Baldelli, I think most Red Sox fans are happy about this move to some extent, since he's a familiar New England kid who by all accounts appreciates how fortunate he is to play major league baseball for a living. He may have been a Ray for five seasons, but he's always been our Rocco, you know? Yet while we remember his freakish raw ability when he first arrived in the big leagues -- didn't it seem like he used to throw out three Red Sox at home plate in every series (thanks, Sveum), or beat out an occasional routine grounder to short? -- he's had significant injuries to his arm and his legs, and it's hard to determine how much of his talent has been sacrificed to the scalpel. And old baseball injuries are the least of his health problems, which is how a 27-year-old player of his skill and dedication is available as an afterthought on an incentive-laden contract. No, I'm not convinced it's going to work out for him here. But I'm sincerely happy he's getting the chance.
2. Have you noticed that the Oakland A's are suddenly interesting again? Earlier this offseason, they made a surprising trade for Colorado slugger Matt Holliday (a probable rental since he is a Scott Boras client who is a free agent after the season, but one who should produce excellent numbers and/or bring a nice haul of talent at the trading deadline). Then, earlier this week, they brought Jason Giambi back to the place where he had his greatest moments, won an MVP, and got really, really, freakishly huge. Giambi, whose adjusted OPS was just 12 points lower than Holliday's last season, was a typically savvy signing by A's GM Billy Beane (someone really ought to write a book about that guy's approach -- maybe Joe Morgan could do it?). While I'm not saying the A's will overtake the Angels in the weak AL West, they are going to be better than most prognosticators think, and they're going to be compelling to watch.
3. Go easy on Leigh Teixeira, fellas. She has no idea at the moment, but about six months from now, I suspect she's going to wake up to discover that her dear husband is listening to "Like A Virgin" on an endless loop on his iPod while practicing Kabballah with a certain worn-out pop star. (Not Michael Jackson. The other one.) It's going to be devastating, and suddenly, Boston won't look so bad.
4. Prediction: Carl Pavano wins more games for the Indians next season than he did in his four memorable seasons in New York. Of course, that's just nine wins, but still. What I'm secretly hoping is that has a better year than his surefire successor as the Yankees' Criminally Overpaid Pitching Bust, A.J. Burnett. And you know what? I don't think it's out of the realm of possibility.
5. Some items I hope are on Theo's to-do (or in one case, to-don't) list for the rest of the winter: 1) Resist trading Clay Buchholz for Jarrod Saltalamacchia. I hate selling low on that kid, especially for a catcher who I'm not convinced can handle the position. 2) Re-sign Mark Kotsay as an OF/1B super-sub. As I said, even with the optimistic new diagnosis, it's still risky to assume Baldelli could handle the workload of a fourth outfielder. 3) Make one last, fair offer to Jason Varitek, and if he holds out for more or even hedges, move on by signing another veteran catcher. 4) Sign Orlando Cabrera (I know, I know . . . "personal issues"), make Jed Lowrie the 2B/SS/3B utilityman, and convince Julio Lugo that baseball season has been canceled.
As for today's Completely Random Baseball Card: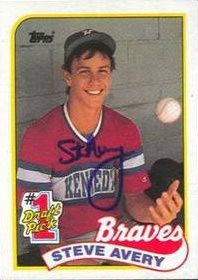 Dan Duquette's favorite washed-up lefthander joined the Braves two years after Smoltz, is three years younger, and threw his last major league pitch six years ago. I'm not sure what my point is, other than that Avery's glory days seem like a long time ago, and Smoltz's run of excellence (injuries aside) is truly remarkable.
* * *
P.S. -- This week's "OT" column is right here. But I recommend plunking down the 50 cents for the printed version. Heck, buy a dozen!

About Touching All The Bases
| | |
| --- | --- |
| | Irreverence and insight from Chad Finn, a Globe/Boston.com sports writer and media columnist. A winner of several national and regional writing awards, he is the founder and sole contributor to the TATB blog, which launched in December 2004. Yes, he realizes how lucky he is. |
Tweets by @GlobeChadFinn
browse this blog
by category
The best of Touching All The Bases