Posted by Chad Finn, Globe Staff
January 21, 2009 04:14 PM
While we sit here patiently at TATB headquarters waiting for Jason Varitek to make up his gritty, gutty mind, why don't we take a quick and completely subjective spin through some bests and worsts in recent Red Sox history. As always, your suggestions -- except for the physically impossible ones -- are welcome in the comments . . .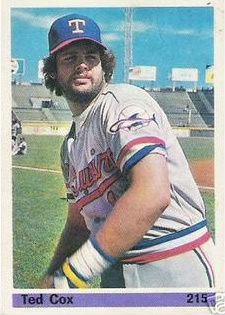 Best start to a career (first week): Ted Cox, a Ted Williams-endorsed phenom who recorded a hit in his first six official big league at-bats during the 1977 season, a record that still stands. The Sox had no place for him to play and dealt him to the Indians that winter in the Eckersley deal. Good move: His career was over four years later.
Best start to a career (partial season): Sam Horn, who became a temporary folk hero by mashing 14 homers in 158 at-bats in 1987 after being recalled from Pawtucket. He might have been the Ryan Howard of his time if not for that massive hole in his swing. Instead, he's the patron saint of a message board.
Best pinch hitter: Bernie Carbo. Somewhere, Rawly Eastwick nods in agreement, then wonders yet again why his parents had to go and name him Rawly.
Worst pinch hitter: Bob Bailey. Zimmer himself would have had a better chance of getting a hit off Goose Gossage -- and he was also in better shape.
Best outfield throwing arm: Dewey, of course, though a smart-aleck contrarian could make a case for Weak-Hittin' Mark Whiten, who had an absolute laser.
Best infield throwing arm: Rick Burleson, who liked to show it off by holding the ball until the last possible second, then gunning the runner down by a half step. In a related note, his career was essentially ended after he blew out his rotator cuff.
Best defensive infielder: I imagine the consensus would be Alex Gonzalez, but I'm sticking with my man Calvin "Pokey" Reese, who had just a touch more flash and gets bonus points for recording the final out in the vanquishing of the Yankees.
Best defensive center fielder: Fred Lynn, if we're talking about a full body of work -- his great catches were a staple on "This Week In Baseball." But for one season, I've never seen anyone as consistently spectacular as Coco Crisp in 2007.
Worst defensive center fielder: Dwayne Hosey, who had an aggravating habit of doing a line dance before pursuing a fly ball.
Best hair: The Eck over Manny, by a follicle. Let's see Manny pull off his current 'do when he's 53.
Best manager: Tito, and there's absolutely no debate, so knock off the "Francoma" stuff now, nitwits. You don't know how good you have it.
Worst manager: Joe Kerrigan. Damn near sacrificed Pedro's career late in the lost '01 season for the sake of saving his own job. Overmatched and reprehensible.
Worst player (obscure): Jim Byrd. A lifetime .219 hitter in the minors, the epitome of a good-field, no-hit shortstop got into two games with the Red Sox in 1993 -- after batting .177 at Pawtucket.
Worst player (famous): Kevin Mitchell. That Greenwell-Hosey-Mitchell outfield the Sox went with early in the '96 season might be the second-worst in big league history -- the worst being that same outfield when Jose Canseco played right instead of Mitchell.
Worst decision to leave Boston: Lynn, a born Fenway hitter who likely would have joined fellow Gold Dust Twin Jim Rice in Cooperstown had he remained with the Sox. To his credit, Lynn admits as much. (Also receiving consideration: Bruce Hurst.)
Best unheralded great season (hitter): Mo Vaughn won the AL MVP award in 1995, but in '96 he was actually even better, batting .326 with 44 homers, 143 RBIs, and a 1.003 OPS.
Best unheralded great season (pitcher): In 1978, Bob Stanley pitched 141.3 innings over 52 games -- all but three in relief -- and ended up with these numbers: 15 wins, 2 losses, 10 saves, 35 games finished, and a 160 ERA+. Relievers just don't do have seasons like that anymore in this LaRussa-ized era, though I wonder if Justin Masterson might be capable.

Worst career hitting trend:Dave Stapleton, who batted .321 as a rookie in '80, then posted these subsequent averages in the following seasons: .285, .264, .247, .231, .227, .128. Had he played four more years, he might have found a way to post a negative batting average.
Best draft pick: Getting pudgy but patient Cincinnati third baseman Kevin Youkilis in the eighth round in 2001. It wasn't much later that Billy Beane was smitten.
Worst draft pick: Lefthanded pitcher John Curtice, who was chosen with the 17th overall pick in the '97 draft. If only they'd ended up with the 16th pick, a Rice University outfielder named Lance Berkman.
Worst trade with the Expos: Bill Lee for Stan Papi, December 1978.
Best trade with the Expos: Carl Pavano and Tony Armas Jr. for Pedro Martinez, 1997.
Best name: Arquimedez Pozo, one of the Dan Duquette Vagabond All-Stars in the mid-'90s. You could tell Joe Castiglione loved saying that name. (Honorable mention: Gar Finnvold. No relation.)
Worst name: You say Dick Pole. I say John Lickert.
Worst stopover by a pitching undergoing a career transformation: Frank Tanana, who went 4-10 during his lone season with the Sox in 1981 while attempting to adjust to no longer having a 95 miles per hour fastball. Tanana eventually did reinvent himself as a slopballer and pitched 12 more seasons after leaving Boston.
Best defensive catcher: Tony Pena. Of course, he was horrendous as a hitter, batting .181 with 19 RBIs and a .246 on-base percentage in 1993. Maybe Varitek isn't so bad after all.
Worst disposition: Mike Lansing, who almost made Carl Everett seem charming. Almost.
Best vocabulary: The Eck, appropriately enough. Remember this line on his approach to pitching? "Pitching is simple -- cheese for the kitchen and a yakker for the kudo." The translation from Eck-ese can be found here.
Best player acquired in a trade for Steve Lyons: Tom Seaver, who went 5-7 with a 110 adjusted ERA down the stretch for the '86 Sox. The championship drought might have ended 18 years earlier if he'd been healthy enough to pitch in the postseason.
Best no-field, good-hit second baseman: Todd Walker, a TATB favorite who I wish could have been a part of the '04 team. He was one of the players who changed the culture of the team from #*$*@#**# to idiots.
Best short-timer, other than Dave "The Steal" Roberts: Dave Henderson, who had just 235 regular season at-bats with the Sox in 1986-87, but whose postseason performance in '86 is everlasting.
Best backup catcher: Ol' Chicken Parm Mirabelli, who at his best was the prototype for a backup. There's also some sentiment here for Bob Montgomery, who batted a decent .258 during 10 seasons as Pudge Fisk's backup despite apparently being denied permission to use a helmet and mask behind the plate.
Worst All-Star: Scott Cooper, 1993.
Worst All-Star, runner-up: Scott Cooper, 1994.
Best player who wasn't fully appreciated in his time: Ellis Burks. That he got to be a part of the 2004 champs was a nice bit of redemption, even if it was his last hurrah. Remember when he climbed off the team plane holding the World Series trophy? Great moment, though it's a wonder Mike Greenwell didn't come sprinting up the tarmac to run him over once more for old time's sake.
Worst offense: The 1992 Sox, who batted .246 with 84 home runs as a team. Tom Brunansky won the club's dubious Triple Crown, leading the way in batting (.266), homers (15) and RBIs (74).
Worst backup catcher: Marc Sullivan, master of nepotism. Haywood's boy had a .494 OPS in 360 career at-bats. By comparison, punchline Mario Mendoza's career OPS was .507.
Best free-agent signing in the history of professional sports: On Jan. 22, 2003, the Red Sox signed first baseman/DH David Ortiz. Any other questions?
About Touching All The Bases
| | |
| --- | --- |
| | Irreverence and insight from Chad Finn, a Globe/Boston.com sports writer and media columnist. A winner of several national and regional writing awards, he is the founder and sole contributor to the TATB blog, which launched in December 2004. Yes, he realizes how lucky he is. |
Tweets by @GlobeChadFinn
browse this blog
by category
The best of Touching All The Bases