Posted by Chad Finn, Globe Staff
January 30, 2009 05:23 PM
A special Jason Varitek-is-staying-now-I-can-sleep edition of Nine Innings . . .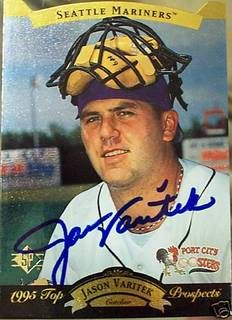 1. In the end -- the glorious, waayyyyy overdue end -- I'm glad ol' No. 33 is back with the Red Sox. I know, you probably don't believe me given the snark (and statistical truths) I've utilized while making the case over the past few months that Varitek is cooked as a major league hitter. But it is consistent with what I said all along -- that if he came back on the Red Sox' terms and in a limited role, there should be a place for him. The pitchers -- particularly Jon Lester, from the sounds of his recent comments -- are comfortable with him, and that does count for something. But again, this is the key -- a limited role. Terry Francona must resist the temptation to lean on him like he has in the past, because he simply is not a player capable of performing at an adequate offensive level anymore. Considering Francona's blind spots for certain veterans -- a washed-up Mike Timlin the past two years, Kevin Millar over Kevin Youkilis in '05 -- it's imperative for Theo Epstein to acquire their proverbial Catcher of the Future soon -- and "encourage" the manager to give the new guy at least 50 percent of the playing time. That's the only way this is going to work.
2. I mentioned this in today's chat, but it bears repeating: It's unfair to the Red Sox' veteran pitchers to suggest that they depend greatly on Varitek's wisdom or guidance. Look at their histories: Brad Penny and Josh Beckett pitched the Marlins to a World Championship with Pudge Rodriguez -- universally panned as a game-caller -- behind the plate. John Smoltz threw to Javy Bleepin' Lopez for years, and we learned the hard way what he's all about. Dice-K seems to do his own thing, Varitek doesn't even catch Wakefield, and to suggest he's the secret to the success of the likes of Jonathan Papelbon and Jon Lester does a great disservice to their talent, dedication, and competitiveness of those pitchers. Yes, to a man, the Sox staff respects him and is comfortable with him, and yes, I suppose he calls a good game, though there's no way to measure beyond anecdotal evidence. But in the end, it's not Jason Varitek who delivers the pitch. It's worth remembering that.
3. The suggestion -- spewed forth all too frequently in the comments section -- that Varitek should or will fire Scott Boras is only slightly less foolish than the notion that Varitek was ever going to get a Posada-type deal as a free agent. It sounds good, but it's never going to happen. Sure, Boras botched this offseason from the moment he declined arbitration -- he seriously misread the marketplace and the effects of the economy, and Varitek certainly has the right to be annoyed about that. But in the big picture, Boras has served Varitek extremely well since becoming his agent 15 years ago. This is a player whose most similar comps include Mike Lieberthal and Mike Stanley (yes, that Mike Stanley), and yet he has made $57 million in his career. Boras bollixed the situation this time around. But overall, Varitek is well ahead on the financial scoreboard in his career, and he has his career-long agent to thank for that.
4. Phrases I never want to hear again in relation to Varitek: They should make him a player coach . . . gritty and gutty . . . he's our captain! . . . best game-caller in baseball . . . selfless leader on and off the field . . . the .220 average was a fluke -- he'll bounce back!. . . and probably a few others I have blacked out. The Varitek Army is still permitted to use "knowledgeable" and "prepared," but that's it.
5. I suppose it's intriguing to some degree that Varitek's time here will likely be up the same offseason that Joe Mauer is slated to be a free agent. But despite a Minneapolis-St. Paul Pioneer Press columnist's insightful suggestion that the Sox would be very interested in Mauer -- duh -- I have to believe that two other possibilities are much more likely: 1) The Twins, who are moving into a new ballpark, will sign the Minnesota native and franchise icon before he gets to free agency. 2) The Yankees, who need a catcher themselves, will make him an offer that blows everyone else's out of the water. That's the way of the world.
6. One major blessing in Varitek's decision not to pack up his mitt and go home: It prevents us from having to watch another popular Red Sox player leave under acrimonious circumstances. It's disappointing when players whose personalities and performances you enjoyed -- from Nomar to Pedro to Damon to Manny -- depart with bitterness and dented legacies. Of course, the difference in this case was that it would have been Varitek's doing entirely -- he should have no complaint about the way the Red Sox have treated him.
7. So in the end, which story dragged out longer: The Teixeira saga or the Varitek melodrama? Discuss. Man, Boras never makes things easy, does he?
8. I feel sort of bad for Josh Bard, who very well could end up getting a raw deal from the Sox again, assuming again that a quality young catcher is acquired sometime this spring. Remember, he has a non-guaranteed deal. He's probably a better all-around player than Varitek at this point, but his chances of making the team seemed to shrink today. I'm rooting for him.
9. As for today's Completely Random Baseball Card:
Until now, I've never actually seen a picture of this guy -- I was starting to think he's the Keyser Soze of the National League. So at least we now know he exists.
About Touching All The Bases
| | |
| --- | --- |
| | Irreverence and insight from Chad Finn, a Globe/Boston.com sports writer and media columnist. A winner of several national and regional writing awards, he is the founder and sole contributor to the TATB blog, which launched in December 2004. Yes, he realizes how lucky he is. |
Tweets by @GlobeChadFinn
browse this blog
by category
The best of Touching All The Bases