Even considering the shameful and self-inflicted events of this week, Alex Rodriguez is a first-ballot Hall of Famer. And the same goes for many of his infamous fuel-injected peers.
So there. I said it. The Juice Guys and 'roiders -- the elite among 'em, anyway -- deserve a place in Cooperstown.
Some are already in, you know. Oh, we don't know the names, but there's no doubt that some performance-enhancing drug users have long since been inducted, right there alongside the racists and role models and drunks and goody-two-cleats and various other decent and dastardly examples of our society through the decades.
We still do not have a definitive picture of who was clean and who wasn't. But the more time that passes, the clearer it becomes that PED use was well beyond prevalent. It was an epidemic. At the rate we are going, we may get to the point where there are only two or three clean potential Hall of Famers from this era. Heck, Paul Byrd -- Paul Byrd! -- used human growth hormone. That makes everyone a suspect in my mind. And isn't there something patently unfair about banning those who were caught, knowing that some -- probably many, since it apparently takes a complete fool to flunk a drug test -- got away with it?
The period from 1994 to 2003 will be recorded as the Steroid Era. We're resigned to that fact, and nothing can be done to change it. Sure, it's disheartening that so many narcissistic, greedy blockheads made a mockery of the record book. But I'd be more outraged if it was the first time drug use has influenced the game.
Of course it is not. The supposedly lovable "We Are Family" Pittsburgh Pirates of 1979 had a thriving coke dealership operating out of their clubhouse -- that remains the sport's most damaging drug scandal, at least until we can pry the list of the other 103 names from Gene Orza's bloodless hands. (The Pirates also were known to enjoy a good smoke -- in the dugout.)
Many members of the 1980 World Champion Philadelphia Phillies were reportedly hopped up on greenies. (No, not you -- the pills, dummy.)
And I can't wait to read future National Book Award winner Darryl Strawberry's upcoming masterpiece on the mid-'80s New York Mets, who apparently did everything short of snorting ants with Ozzy Osbourne.
Yes, A-Rod and too many others were despicable cheaters, and yes, they deserve to have that label permanently attached to their sullied names. They deserve scorn and shame even as we permit them in the Hall of Fame. Maybe the solution is to put an asterisk by their names in the record book, or better yet, an image of a syringe. Mock them by making their heads just a little more swollen on their plaques. Brand them with a scarlet S.
Go ahead, label them as you wish. But just remember to vote them in. The true superstars, the greatest of their time, belong in Cooperstown. The Hall is incomplete without them.
(I imagine you're figuring out where I stand on Pete Rose right about now.).
Let's take a look at some proven and strongly suspected PED users who will get at least some level of Cooperstown consideration, and I'll tell you whether they should be enshrined. I suspect you will then tell me why I have a whistle-pea for a brain, but let's get to it anyway ...
Barry Bonds: I've used this back in the old neighborhood, but I think it bears repeating in today's context. Here's something Bill James wrote about Bonds in his 1994 Player Ratings annual:
You probably don't want to hear this, but Ted Williams was never the player this guy is. Bonds steals more bases every year than Williams did in his career. Bonds is a vastly better outfielder. Williams never hit 46 homers, and never had to play in some place like Candlestick Park. Williams never won three MVP awards in four years, or three MVP awards period.
And that was in 1994! Everyone adored Ken Griffey Jr. then, but the reality was that Bonds was the superior offensive player then, and he'd still rate as one of the best in the sport's history had he never become hooked on "flaxseed oil." He's a scoundrel of the highest order, but he's also a Cooperstown lock.
Jose Canseco: Only if they put him in the clowns' wing, alongside the San Diego Chicken, Max Patkin, Gene Orza, the Phillie Phanatic, and Hank Steinbrenner. We'll never know how much of Canseco's early success was because of raw talent and how much was because of chemical concoctions, though I suppose he did have more pure ability than, say, his twin brother Ozzie.
Roger Clemens: I loathe the Rocket probably more than anyone outside of the Duquette household, and I've pretty much expunged his entire time with the Red Sox from the highlight reels in my mind. He's a compulsive liar, a creep without a shred of conscience, and the only thing that even begins to bother me about his downfall is that he's too rock-stupid to realize it's entirely his own doing. He's incapable of a moment of clarity. But . . . he was probably the premier starting pitcher of his era before he began frequenting the 24-hour McNamee Pharmacy, he's in the argument as the best pitcher of all time based solely on statistics, and as much as I despise the drooling, disingenuous doofus, he belongs there as much as anyone.
Jason Giambi: He'll be on the ballot exactly one year longer than his brother -- and Jeremy doesn't even meet the criteria. He's the American League's version of Ryan Klesko.
Mark McGwire: Don't you wonder how he looked the Maris family in the eyes? Ah, but we're not here to talk about the past, right? Two of his three most similar players of all time: Jose Canseco and Jason Giambi. Appropriate. For what it's worth, Dan McGwire's comps do not include Ozzie Canseco and Jeremy Giambi. To answer the question, though, no, he doesn't belong, and I have absolutely no idea what kind of player he would have been without all that obvious pharmaceutical assistance.
Rafael Palmeiro: Mr. "I Have Never Used Steroids . . . Period!" hit 47 home runs in his first 2,031 major league at-bats spanning three full seasons and parts of two others. In 2001, at age 36, he hit -- you got it -- 47 home runs in 600 at-bats. He's a fraud's fraud . . . and yet, the numbers ain't lyin'. He accumulated 569 homers and 3,020 hits before his career faded to black, and because of those milestones, he must be considered. But he's not getting my hypothetical vote. Unlike Bonds, Clemens, and A-Rod, circumstantial evidence tells me he was not blessed with Hall of Fame gifts. Hey, I never said this was objective.
Andy Pettitte: With 215 wins, four championships, the Yankee cachet, and his share of postseason highlights (he's tied for second all-time with 14 postseason wins, trailing John Smoltz by one), he's closer to being a Hall of Famer than you might think. But he probably won't win quite enough games the next few years to make a truly compelling case, and if he somehow does, his link to McNamee will be the piece of evidence that keeps him out.
Sammy Sosa: You want ridiculous? There are eight 60-homer seasons in baseball history. Sosa owns three of them. While I think the True Sammy was the player who batted .273 with 40 homers and a 123 OPS+ at age 27 in 1996, I'm putting him in. But you can probably talk me out of it.
Miguel Tejada: Tejada's career numbers at age 25:
290 games, 1057 at-bats, 254 hits, 34 homers, 139 RBIs, .240 batting average, 86 OPS+.
The legendary John Buck's career numbers at age 25:


303 games, 1010 at-bats, 244 hits, 35 homers, 127 RBIs, .242 batting average, 79 OPS+
Tejada's unexpected breakout came at age 26 when he hit 31 homers, and he won an MVP award two years later. I think it's fairly easy to pinpoint when he began getting his "B-12 shots" and how much he gained from doing so. In a related note, two of his most three similar players are Bret Boone and Vinny Castilla. Tejada doesn't even belong in upstate New York, let alone Cooperstown.
That probably goes without saying for John Buck as well.
* * *
As for today's Completely Random Baseball Card: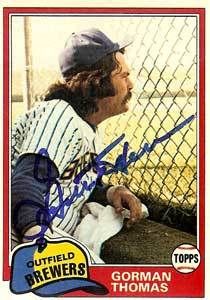 Not sure, but I think I might have seen this guy wandering in the woods behind my house once.
About Touching All The Bases
| | |
| --- | --- |
| | Irreverence and insight from Chad Finn, a Globe/Boston.com sports writer and media columnist. A winner of several national and regional writing awards, he is the founder and sole contributor to the TATB blog, which launched in December 2004. Yes, he realizes how lucky he is. |
Tweets by @GlobeChadFinn
browse this blog
by category
The best of Touching All The Bases