Posted by Chad Finn, Globe Staff
February 9, 2009 04:55 PM
Playing nine innings while hoping Gene Orza and Scott Boras fight to the death . . .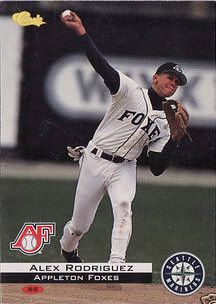 1. It's understandable for a Red Sox fan to take a certain amount of glee in watching Alex Rodriguez, that pathological narcissist (that's a nice word for what the New York Post called him this morning), suffer a self-inflicted fall. And it's easy to savor the schadenfreude as another layer of his phoniness exposed. But the more information that spills about the circumstances and culture of baseball in the mid-'90s and beyond, the more convinced I become that clean players were in the vast, vast minority. And to be honest, I'm roughly the distance of an A-Rod home run in April beyond the point of outrage, and no single name is a surprise anymore. I just wish the whole truth -- every last name, every last positive urine test -- could be revealed in one swoop. Then, and only then, will we be able to put the entire era in perspective and move on. I'm not holding my breath.
2. As for A-Rod's apology, well, pardon the cynicism, but he simply did what he had to do -- a mea culpa was the man's only real option. I still don't believe there is much about this guy that is particularly sincere or honest, and his comments today were nothing but a fundamental approach to damage control – reveal the whole dirty truth as you see it, act contrite (even if you are not), and wait for the populace to move on to tomorrow's scandal. Andy Pettitte grasped this, though I think we all found a certain level of sincerity in his apology. That steakhead Roger Clemens did not, or at least his Hall of Fame ego would not permit him to. And you know how their stories played out. One is long since forgiven and preparing to pitch a 12th season for the Yankees this year. The other appears obliviously en route to wearing a different kind of stripes. A-Rod and his advisers knew better than to take the contentious Clemens/Bonds path. Sorry, but I'm not praising him for following the only logical option.
3. Been re-reading Seth Mnookin's "Feeding the Monster" lately -- I'd forgotten how detailed and insightful it was, particularly considering we all think we know everything about the Sox -- and I stumbled across a passage that details the tight friendship between Mark Kotsay and John Henry dating back to their time with the Marlins. That was news to me, and in a sense it reassured me that the Sox probably aren't peeved at Kotsay for having back surgery a few weeks after he was signed. However, Brad Wilkerson and his mincemeat shoulder is not a suitable replacement, and I wouldn't mind if Theo found another capable backup outfielder in the bargain bin. I almost wish there was a place for Bobby Abreu.
4. I think I might be giddier about the John Smoltz signing than I would be if the Sox had signed Mark Teixeira. I realize that is somewhat irrational -- okay, very irrational. It's just that I keep looking at the numbers Smoltz put up last season while his shoulder was barking -- 36 strikeouts in 28 innings, a 2.57 ERA, and a 165 adjusted ERA -- and given his history as a big-game bulldog, it is not that much of a leap to think he will be the steal of the offseason, especially since Theo Epstein raves about the workout he had for the Sox before they signed him.
5. Um, Theo does still plan on bringing in a young catcher this season, right? Right? Two more weeks and I might start thinking Buchholz-for-Saltalamacchia is a reasonable idea.
6. Happened to catch Kerry Wood's 20-strikeout one-hitter on the MLB Network yesterday -- it's the first time I've seen in more or less in its entirety, even though a friend gave me a DVD of it a few years ago. I'm pretty sure it's been the best game I've ever seen pitched -- the one hit was the result of a half-hearted lunge by third baseman Kevin Orie on a grounder that deflected off his glove -- though it may not quite nudge aside Pedro's 17-K one-hitter in the Bronx in September 1999. Had Orie made that play, there would be no debate.
7. Sandy Martinez -- who got a cup of Dunkin's with the Sox during the 2004 championship run and always got his money's worth during the postgame celebrations -- was Wood's catcher that day. Funny how you never hear the Tek Army refer to Martinez as one of the great game-callers around.
8. Okay, just one more item about the MLB Network. (Sorry, I'm in love.) If I'm Karl Ravech, I'm marking the days until I can leave Krukie and the rest of the "Baseball Tonight" droolers behind and jump to a network that doesn't treat the sport as a string of soundbites and half-formed arguments. MLB's coverage of the breaking A-Rod story was spectacular television, and better yet, it was the first real confirmation that the network doesn't intend to be a house organ.
9. As for today's Completely Random Baseball Card: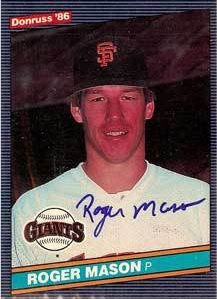 Still can't believe the Celtics got beat by this guy.
About Touching All The Bases
| | |
| --- | --- |
| | Irreverence and insight from Chad Finn, a Globe/Boston.com sports writer and media columnist. A winner of several national and regional writing awards, he is the founder and sole contributor to the TATB blog, which launched in December 2004. Yes, he realizes how lucky he is. |
Tweets by @GlobeChadFinn
browse this blog
by category
The best of Touching All The Bases