Posted by Chad Finn, Globe Staff
February 5, 2009 03:41 PM

Ten free minutes for me, 10 free throwaway lines for you . . .
1. While I thoroughly enjoyed reading this story (sorry, Insider access required) that makes the case that Nomar Garciaparra might be a more valuable player than Derek Jeter at this point -- yes, you read that right -- I'm not sure I buy it, considering that some of the logic is based on Nomar playing shortstop on a regular basis, and we all know every tendon in his body would simultaneously rip to shreds if he had to play more than 10 games in a row there at this point. But like I said, it was a fun and thought-provoking read, especially this part:
For those who think Garciaparra is no longer a shortstop, he actually played 31 games there last season. Based on Baseball Prospectus' fielding rate metric, he was three runs below average per 100 games. That's a small sample size, but for his career he is two runs above average per 100 games, so he was right in line with that. In case you were wondering, Jeter was 13 runs below average per 100 games in 2008, and six below for his career.
In other words: Nomar can barely play the position adequately -- but he's classic Ozzie Smith compared to Jeter! Or at least that's how I choose to read it.
2. Oh, and Jetes? You're no Manny, either. And while you're at it, Captain, take your glove and move to center so we can sign a real shortstop. Like Orlando Cabrera. Or Nomar. Or Luis Rivera. (Jeter-bashing: My sport of choice.)
3. Three things I want from tonight's Celtics-Lakers showdown: At least five 3-pointers from Eddie House; uncontrollable tears from Sasha Vujacic; and victory by the home team by a margin similar to that of Game 6. I don't think that's too much to ask, though if I had to settle for the latter only, I'd certainly be cool with that. Man, this Lakers team is easy to loathe, isn't it?
4. Still can't believe the Monty Beisel who played so well for the Cardinals in the Super Bowl is the same overpursuing stiff who looked so lost for the Patriots three years ago. In a related note, I'm pretty sure I saw Duane Starks, another member of the Pioli Class of '05, trying futilely to cover Santonio Holmes on the Steelers' last drive, though I'm not sure why it said "Francisco" across the back of his jersey.
5. Can't help but think that when it's all said and done, the Patriots will get one first-round pick plus another useful draft pick in exchange for Matt Cassel. While there has to be at least some concern that a portion of his success is due to having Wes Welker and Randy Moss on the receiving end of his passes, he is a considerably safer bet for a rebuilding team than some unproven Big Man On Campus such as Mark Sanchez or Matt Stafford. The Patriots will be happy with their haul in the end, and I bet the team that eventually gets Cassel will also be satisfied. He's the real thing.
6. I was going to write -- probably for the third or fourth time this winter, since this is the Offseason of Neverending Stories -- that Ben Sheets would be worth the compensation (a first-round pick) it would cost to sign him, and that it's a mystery to me why no pitching-hungry team like the Rangers has signed the talented if injury-addled righthander. Then, I read this, and I realized most teams probably had an inkling of Sheets's condition all along, although it is somewhat surprising Brian Sabean didn't give him an eight-year, $140 million deal.
7. All I have to say about post-Super Bowl episode of "The Office" is this: The quality and humor of the show seems to be in inverse proportion to the prominence of Dwight Schrute. And he was featured in this episode. Dwight, who now hides weapons around the office and generally behaves like a serial killer suffering from Mad Beet Disease, is off the charts in terms of our willing suspension of disbelief, and that's too bad, because what I liked about it so much in the beginning was that it seemed so real, save for some of Michael's antics. I'm not giving up, because I think the Dwight/Michael nonsense will tone down once the writers figure out what to do with Jim and Pam. But right now, I miss the show of seasons 2 and 3.
8. Karma and justice, I'd like to introduce you to Barry Bonds and Roger Clemens. I realize it's not the best form, but I can't help but be satisfied when lousy things happen to soulless, self-absorbed jerks. I hope they end up cellmates. After all, Clemens is going to need someone to play the role of Steve Donahue.
9. Couple of housekeeping items: This week's "OT" column on my Celtics binky Ray Allen can be here, and I also wrote the text for today's Boston.com gallery/poll on predictions and expectations for the Red Sox in 2009. Had a lot of fun with that one -- it was originally going to be a post here, but we decided to dress it up a little -- so be sure to check it out. Also, don't forget to stop by for TATB Chat III tomorrow at noon.
10. As for today's Completely Random Baseball Card: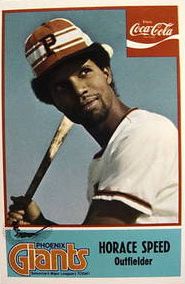 Forever and always my all-time favorite baseball name. Though Shooty Babitt is a fairly close second. And Stubby Clapp would be tough to beat if I didn't have a natural dislike of scrappy Eckstein-worshiping white guys.
About Touching All The Bases
| | |
| --- | --- |
| | Irreverence and insight from Chad Finn, a Globe/Boston.com sports writer and media columnist. A winner of several national and regional writing awards, he is the founder and sole contributor to the TATB blog, which launched in December 2004. Yes, he realizes how lucky he is. |
Tweets by @GlobeChadFinn
browse this blog
by category
The best of Touching All The Bases