Posted by Chad Finn, Globe Staff
February 25, 2009 02:44 PM
Chasing the headlines, and all the usual minutiae as well . . .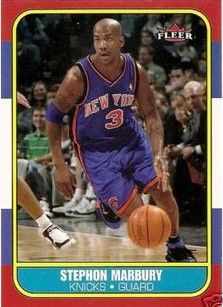 Like the majority of Celtics fans, I imagine, I have mixed feelings about the impending addition of that skilled carcinogen, Stephon Marbury.
From a basketball standpoint, I've talked myself into at least being intrigued by it, primarily because this is the kind of low-risk, high-reward acquisition that Red Auerbach wouldn't hesitate to pull off. Marbury -- assuming his skills haven't eroded too much after more than a year since his last NBA game -- could be a terrific fit as a combo guard coming off the bench for 15-20 minutes per night. His presence will take the ball out of Eddie House's hands and allow him to play his natural position at two-guard. And Marbury's shoot-first tendencies might not be such a bad thing when he's on the court with a second unit that sometimes has a hard time generating offense.
His presence should be no threat to Rajon Rondo's psyche, either -- this is his team now, he knows it, and should he need a reminder, Doc Rivers is perceptive enough to remind his young point guard of as much before Marbury rolls into town.
But what nags at me is this: Even though Marbury could make a difference in whether or not the Celtics repeat as champions, I can't shake the feeling that he does not deserve to be part of such a selfless, admirable team. He's been a first-team All-Malcontent selection annually, and I'm skeptical that he has a clue how fortunate he is to have this opportunity.
Ultimately, the Celtics do have to take a shot here, because if Marbury plays up to his ability and behaves like somewhat of an adult, sure, he could be a tremendous asset. If he doesn't realize what's at stake and plays his Starbury-First game, they can simply send him back to whatever planet he came from. But should he even consider pulling his chaotic act here, I hope Kevin Garnett slaps that tattoo right off his head.
* * *
While poking around baseball-reference.com the other day (okay, every day), it dawned on me that there was a chance Red Sox manager Terry Francona had actually batted against John Smoltz during his playing days.
After all, Francona's final big-league season was 1990, while Smoltz arrived for good with the Braves in '88. Much to this nerdling's disappointment, however, their paths never crossed -- Francona wrapped up his big league career with Milwaukee and Cleveland in the AL, so he never had a chance to take some hacks against Smoltz in the days before interleague play.
But . . . there are two active major league pitchers who faced Tito.
So tell me who they are already, will ya?
* * *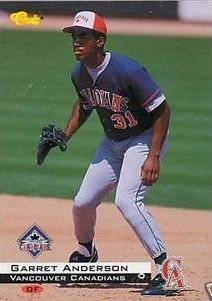 Garret Anderson, the longtime Angel who signed a one-year deal with the Atlanta Braves earlier this week, is your classic example of an athlete who was called underrated for so long that he became overrated -- vastly so, in Anderson's case.
Yes, he did have a pretty decent stretch of productive seasons, culminating with a 131 adjusted OPS in 2003. But he's never been anything more than an adequate left fielder, his career high in walks is 38 (in what is regarded as his best season, his 35-homer, 117-RBI campaign in 2000, he had a puny .307 on-base percentage), and his lifetime OPS+ is 105, slightly above average.
Just for the sport of it, here are a few other adjusted OPS numbers by some of his peers:
Troy O'Leary: 97
Trot Nixon: 112
Raul Ibanez: 113
Kevin Millar: 112
Jacque Jones: 98
Ruben Sierra: 105
Carl Everett: 107
* * *
Since it's encouraged in some circles to speculate that slugger-in-purgatory Manny Ramirez used steroids -- even though there is nothing about his remarkably consistent track record and not a single sinister rumor or dubious association indicating that he has -- I figure I might as well dig up a piece of evidence, anecdotal though it may be, that suggests clean living on Manny's part. This is from a story written by Gordon Edes in the March 20, 2005 editions of the Globe:
Orlando Cabrera laughed at the notion that Manny Ramirez ever experimented with steroids. "My brother [Jolbert] played with Manny in Cleveland," he said. "And Manny hated needles. Every spring, when they took their physicals, Manny would take off, and four, five guys would chase him down. He just hated needles. There's no way he would have ever juiced himself. He just worked hard. When we go on the road, Manny would be out of his room at 8 o'clock, going to the gym. And he practiced hard. He went out to Fenway Park many times to learn how to play the Wall, and he never -- never -- skipped going to the cage."
Does that mean Manny's always been clean? Well, hell, of course not -- we simply do not know about anyone for sure. (Though Jason Tyner would be a surprise.) But it's closer to proof that he lived righteously than any argument I've heard from the other side.
* * *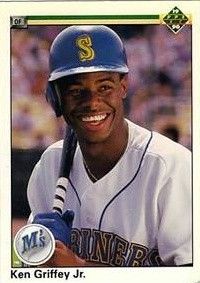 Obviously, the move was motivated by sentiment and desperation to appease the public more than baseball matters. Still, I understand why fans are thrilled Ken Griffey Jr. is back with the Mariners. It just seems right, you know?
As someone who is Griffey's age -- he's a day younger than me -- I've always found the arc of his career compelling. He arrived in 1989 as a ridiculously gifted 19-year-old with an electric smile and a habit of hitting picturesque home runs, making highlight-reel catches, and busting his old man's chops.
He grew up to become perhaps the elite player of his generation -- and certainly the most popular, at least at his peak -- but as injuries and time robbed him of some of his talent, he became more introverted, and the smile didn't come so often.
Or maybe it was just that he matured. As Jeff Pearlman wrote in this smart tribute a few days ago, Griffey could be remarkably thoughtful, particularly for a professional athlete of his accomplishments. (News flash: Superstars don't always have the best perspective on the rest of mankind.)
Griffey aged like a normal person, suffering through the usual aches in his 30s while so many of his peers found some mysterious fountain of youth. And with that came an interesting irony: Griffey's legacy might actually be greater than it would have been had he remained healthy and broken all the records that now belong the someone else, for the perception (and hopefully the reality) is that he was one of the few idols from his era who played the game without chemical assistance.
Griffey's no longer "The Kid" anymore -- he's 39 now and has been a big leaguer for more than half his life -- but it sure is good to still have him around. Besides, as long as he's a Mariner, back where it all began, then I can't be that ancient.
* * *
Maybe it's just because they took down mighty Boston College this afternoon in the first game action of the spring, but I'm feeling extremely optimistic about the Red Sox' chances this year.
The depth of talent on their pitching staff is unprecedented as far as I can recall, and the defense should be well above-average. So they should be one of the better teams in the league at run prevention, which is a shrewd way to build a roster in the post-steroid era.
And the Sox' lineup is probably stronger than people like . . . well, me ... give them credit for. The days of the 950-run behemoths of 2003-04 are gone, but unless disaster strikes, the Sox should still finish in the top three or four in the AL in runs scored. Ultimately, I think they'll prove the Baseball Prospectus projection of 98 victories rather accurate.

* * *
As for today's Completely Random Baseball Card: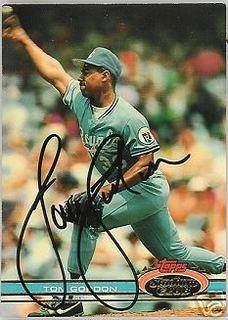 Okay, so it's not quite random today -- it's half of your answer to the earlier Tito Trivia item. Yup, our old friend (and 2004 Red Sox postseason hero) Tom Gordon is one of two active major league pitchers who faced Terry Francona, retiring him both times he faced him. The other is Kenny Rogers -- and Tito owned him, whacking a two-run double the only time he faced "The Gambler." You know, just in case you were wondering.
About Touching All The Bases
| | |
| --- | --- |
| | Irreverence and insight from Chad Finn, a Globe/Boston.com sports writer and media columnist. A winner of several national and regional writing awards, he is the founder and sole contributor to the TATB blog, which launched in December 2004. Yes, he realizes how lucky he is. |
Tweets by @GlobeChadFinn
browse this blog
by category
The best of Touching All The Bases