Posted by Chad Finn, Globe Staff
February 18, 2009 11:36 PM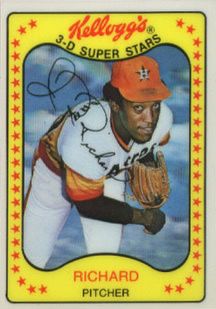 Chalk this up as -- oh, let's see -- the 1,430,909th thing I love about the MLB Network:
It restores, through lively anecdotes and vintage highlights, so many memories of wonderful players and moments that escaped from the baseball vault of my mind.
I mention this now because I was watching a show called "Prime 9" on MLB the other night -- funny how the clicker always seems to conk out there -- when I was reminded of a player I would never hope to forget in the first place.
The show's premise is basic yet engaging: Nine players players are counted down and briefly profiled in a certain category -- say, the Greatest Defensive Third Basemen, for instance, or the Most Improbable World Series heroes, or maybe the Best White Red Sox Utility Infielders of the '80s (that one hasn't been made yet, curiously).
The topic the other night was What Might Have Beens, and typical of the Only Channel I Need, the list was smart and compelling. Satchel Paige was No. 1 and Bo Jackson was No. 2 -- and you can never go wrong reminiscing about either of those two. Lyman Bostock, a pet cause of mine for a long time, also got his due, as did our own Tony C.
But one name captured my attention more than the others. And let me tell you, it sure was a treat to watch footage of James Rodney "J.R." Richard throwing a baseball like few men ever have.
If you don't remember Richard -- a genial, gigantic righthander who won 74 games for the Houston Astros from 1976-'79 and struck out more than 300 batters twice -- all I can say is that "awesome" doesn't do him justice. He was 6-feet -8-inches tall, with legs thicker than your average backup catcher. And judging from the highlights on the MLB Network -- at one point, he's shown whiffing Reggie Jackson on a hellacious breaking ball Jackson missed by roughly the length of Dustin Pedroia -- I'm confident saying he was the most imposing pitcher, in terms of both stature and stuff, I've ever seen, Randy Johnson included.
No exaggeration -- he was that good, and his reputation was enhanced by the reality that he was just wild enough to be completely terrifying. Once, when asked about standing 60 feet 6 inches away from Richard and his 100 mph fastball, a pretty good hitter named Bill Buckners replied, "What you do depends on whether you value your life more than you value one at-bat."
Hitters who transparently requested a day off when Richard was scheduled to pitch were said to have "J.R.-thritis." It seems appropriate that his most similar pitcher through age 30 is the great intimidator Bob Gibson. Perhaps it's even more appropriate that his top pitching similarity overall is another tragically unfortunate former Astro, the late Don Wilson.
No, Richard wouldn't have been featured on this episode had there not been an element of sadness to his story, and his takes a particularly lamentable twist. On July 30, 1980, in the midst of a season in which he had gone 10-4 with a 1.90 ERA and started the All-Star Game, he suffered a stroke while working out at the Astrodome. While doctors saved his life by removing a clot from the two major arteries that was obstructing the flow of blood to his brain, he never pitched in the major leagues again. Adding a layer of sadness to the story was this: Richard had been complaining for a few weeks of a tired arm and fatigue -- symptoms of what was to befall him -- but according to a story titled "Now They Believe Him" in the Aug. 18, 1980 issue of Sports Illustrated, the teammates and media instead portrayed Richard as a malingerer or worse. Wrote William Nack:
Richard had never had a problem with his arm, and thus had never endured the pressures of handling one. Eventually, he grew defensive. Now everybody wanted to know what was wrong with his arm, but he could not explain. He made apparently conflicting statements about his condition. And the Houston media went after him because of the inconsistencies. The media, the fans, even teammates accused him variously of loafing, gutlessness or being jealous of teammate Nolan Ryan's more lucrative contract. There were intimations that he was into drugs. With their pennant chances in jeopardy, some of his teammates sniped at him in print -- often anonymously. It was complex and confusing, and ultimately tragic.
And later:
. . . how could anyone have believed that Richard was dogging it? That he was gutless or lacked personal pride? This was a man who had been a workhorse for as long as he had been on the pitching staff. Until the clot weakened him, he hadn't missed a start in five years.
Richard never made another start, of course, his career abruptly halted at 30 years old, with 107 victories, a 3.15 ERA, and three top-seven finishes in the Cy Young voting to his name.
With better luck or an accurate and early diagnosis, so much more -- perhaps a place alongside Gibson, Ryan, and eventually Johnson in Cooperstown -- could have been accomplished.
But we'll leave the brunt of the wistfulness for another day. Because a few nights ago, it was just nice to get a reminder of all that J.R. Richard did accomplish. What a pitcher he was.
About Touching All The Bases
| | |
| --- | --- |
| | Irreverence and insight from Chad Finn, a Globe/Boston.com sports writer and media columnist. A winner of several national and regional writing awards, he is the founder and sole contributor to the TATB blog, which launched in December 2004. Yes, he realizes how lucky he is. |
Tweets by @GlobeChadFinn
browse this blog
by category
The best of Touching All The Bases