Posted by Chad Finn, Globe Staff
March 10, 2009 06:38 PM
It's always cool -- and encouraging in a way -- when someone you admire acknowledges the days when his loftiest goals were not yet achievements, but only big dreams.
(AP Photo)
Joe Posnanski, the Kansas City Star's ace sports columnist, world-class blogger, and TATB binky, wrote a nice piece today about the thrill of seeing
his first real "Sports Illustrated" cover story
. He recalled, with a deft touch of sentiment, the "beautiful blur" of his career that led to this moment.
Though I'm no extraordinary Joe, I can relate to a degree. This year, for the first time since I've worked at the Globe, I have the chance to contribute to the baseball preview section in a semi-significant way. Given that the day the section came out was essentially a national holiday in my household growing up ... well, let's just say I understand the pride Poz is feeling.
One thing I'm particularly looking forward to doing is adding my two cents to the staff predictions. I'm still devouring the "Baseball Prospectus" annual -- which always has a heavy influence on my prognosticating, not to mention my fantasy baseball draft board -- so let's consider this a run-through of how I think teams will stack up in the American League. They are listed in predicted order of finish in their respective divisions -- subject to change before Opening Day, of course -- along with a half-formed and occasionally relevant comment about each club.
AL EAST
Boston Red Sox: This has nothing to do with the 2009 Sox -- really, did you want another rehash of the importance of Papi, Beckett, Lowell, and Drew? -- but I've been meaning to make a note of it, so I might as well do it now. I was thumbing through the 1979 Sox media guide at work the other day -- can't remember why, probably for some crucial Win Remmerswaal statistic -- when some numbers caught my eye that I almost couldn't believe. Nope, not Jim Rice's home run total or Fred Lynn's OPS; I'm talking about the Red Sox ticket prices in '79. Get this: 30 years ago, the most expensive seats, the roof boxes, cost ... $7. You're lucky if you can get a bottle of Poland Springs for that these days. Box seats were $6, general admission was $3, and the bleachers were all of two bucks. Using my mathlete skills here, season tickets for the best seats in the house would cost you roughly $550 for 81 games. You couldn't buy two dugout box seats to a single game this year for that amount. I know, I know -- supply and demand. I don't blame the Sox at all for charging what they do, because they can get it. I guess I was just stunned at how inexpensive it used to be to spend a day at Fenway.
New York Yankees: You know, I planned on making fun of Johnny Damon here for saying Cody Ransom -- the obscure 33-year-old fill-in third baseman with 183 big-league at bats on his resume -- is "probably the Yankees' best athlete." And then I saw this.
Tampa Bay Rays: Grant Balfour in 2008: 58.3 innings, 28 hits, 82 strikeouts, 1.54 ERA, 288 adjusted ERA. And that my friend, wins the prize for the most improbable performance by a previously lousy relief pitcher (short term or long) since Shag Crawford retired DeCinces and Grich with the bases loaded and the score tied in the epic Game 5 of the '86 ALCS. There's zero chance he does it again, and the mediocre bullpen will lead to the Rays' slight regression.
Baltimore Orioles: As a rookie with the Dodgers in 1993, Mike Piazza batted .318 with 35 homers, a .561 slugging percentage, and a .931 OPS. As I noted -- or marveled at -- previously, Baseball Prospectus's PECOTA projections have Orioles phenom Matt Wieters essentially duplicating Piazza's debut season with a .311 average, 31 homers, a .544 slugging percentage, and a .939 OPS. And, unlike Piazza, he can throw the ball to second base without it rolling to a stop. Man, I can't wait to find out if this kid is for real.
Toronto Blue Jays: Vernon Wells is a coach-killer ... or in baseball nerdling terms, a fantasy-team killer. He looks like a superstar (particularly against the Sox), gets paid like a superstar, but gets hurt like he's paying some sort of bizarre homage to J.D. Drew, and puts up numbers just good enough to sucker you into drafting him again the next year. Well, I've learned my lesson, Vernon Wells. You'll be someone else's enigma this year. (No doubt you'll hit 40 home runs and channel Willie Mays all summer now that I've sworn you off.)
AL CENTRAL
Cleveland Indians: Cliff Lee's most similar pitcher through age 29: Kirk Rueter. Nope, I don't think he's going 22-3 again in this lifetime.
Kansas City Royals: I know someone who's picking them to win this division. I'm not quite ready to tiptoe out on that limb -- the offense will be too spotty unless Alex Gordon becomes the superstar he was supposed to be and Mike Jacobs figures out how to get on base at better than a .299 clip -- but they will be one of the feel-good stories of the season. And Zack Greinke shall lead them, approaching 20 wins and true acehood.
Minnesota Twins: Joe Mauer's back is already bothering him? Dammit, that wasn't supposed to happen until after he signs his 12-year, $360 million free agent contract with the Yankees following the 2010 season.
Chicago White Sox: Honestly, I never know quite what to make of these annual mix-'n'-match Ken Williams/Ozzie Guillen productions, though the Albino Hose always seem to be a little bit better than I expected in the end. This, however, I do know: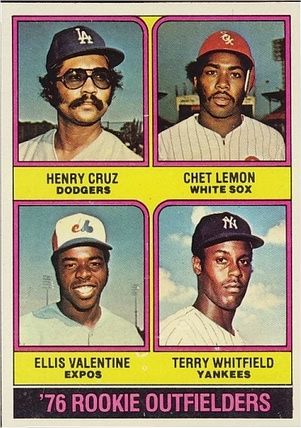 Chet Lemon = awesome. Though not as awesome as Henry Cruz.
Detroit Tigers: Glad to see Dontrelle Willis having some encouraging moments in his attempt to overcome the control issues that have threatened to derail his promising career. He's very easy to root for, one of the more charismatic and appreciative players around. While the odds are probably still long, I hope the D-Train can get his career back on track. He's good for the game, if only the game would be good to him.
AL WEST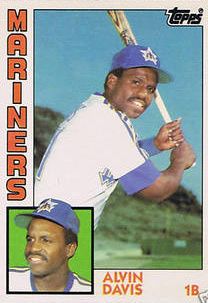 Oakland Athletics: With a roster remodeling that includes the acquisitions of former local favorites Nomar Garciaparra and Orlando Cabrera as well as reinforcements Matt Holliday and Jason Giambi, the A's have become perhaps the most interesting team in the AL. But before you burn a first- or second-round pick on Holliday in your fantasy draft, keep this in mind: Giambi had 32 homers in 458 at-bats last season. Holliday had 25 in 539 at-bats.
Los Angeles Angels: Vlad Guerrero made headlines this week when he accidentally let it slip in a rare interview that he's 34 years old, not the 33 he's listed at in the media guide. Let me know when he admits he's actually 37.
Seattle Mariners: The lineup could use a vintage Alvin Davis or three, but between Felix Hernandez (doesn't turn 23 until next month), Brandon Morrow (75 Ks in 64.2 innings), and a supposedly healthy Erik Bedard (221 strikeouts in 182 innings in '07), they do have the makings of an overpowering starting rotation.
Texas Rangers: Bowden for Saltalamacchia. That's our final offer, Nolan.
(National League is due up tomorrow . . .)
About Touching All The Bases
| | |
| --- | --- |
| | Irreverence and insight from Chad Finn, a Globe/Boston.com sports writer and media columnist. A winner of several national and regional writing awards, he is the founder and sole contributor to the TATB blog, which launched in December 2004. Yes, he realizes how lucky he is. |
Tweets by @GlobeChadFinn
browse this blog
by category
The best of Touching All The Bases