Posted by Chad Finn, Globe Staff
April 14, 2009 07:20 AM
As promised and guaranteed, Nos. 11-34 of the greatest moments from this championship era in Boston sports. For items 1-10, click right here: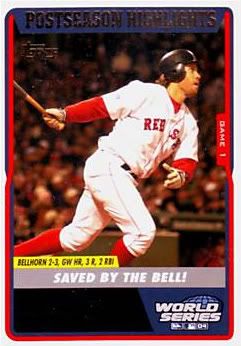 11. Paul Pierce returning to the court moments after suffering what looked like a serious knee injury, Game 1 of the NBA Finals, June 5, 2008: Pierce is an LA kid -- he grew up in Inglewood -- and his Willis Reed-like return showed he has at least a little bit of Hollywood in him. An added bonus: His rapid return to health infuriated Laker fans.
12. A-Rod slapping the ball from Bronson Arroyo, Game 6 of the ALCS, Oct. 19, 2004 : When the umpires overturned their original safe call, it was one more sign that the Sox' luck had finally changed. As for A-Rod's transparent Who me? act, it was our first clear indication that he was one of sports' preeminent weasels.
13. Papi's 14th-inning single to win Game 5 of the ALCS, Oct. 17, 2004: Of all the improbable things that happened that postseason, rallying against Rivera in consecutive games must be at the top of the list.
14. Ray Allen juking the Lakers' annoying Sasha Vujacic out of his Vujajock, Game 4 of the NBA Finals, June 12, 2008: Again with the symbolism. Allen's driving layup through the lackadaisical Lakers' defense was the definitive sequence as the Celtics completed a rally from a 24-point hole to take a 3-1 lead in the series. After that, the Lakers were broken, and banner No. 17 was a mere formality.
15. Vinatieri's 23-yard field goal to win the Snow Bowl, Jan. 7, 2001: Think it was chip shot? You try kicking a field goal in a snow globe.
16. Walt Coleman invokes the Tuck Rule, Jan. 19, 2002: Because without his correct interpretation of a silly and contrived rule, all that came afterward wouldn't have been possible, and Al Davis might still be sane.
17. Papi's homer in first inning of Game 7 of the ALCS, Oct. 20, 2004: Coming immediately after Johnny Damon was cut down at the plate, it staked the Sox to a 2-0 lead and delivered this message: Not only would they not go quietly, but this time, the Sox had no intention of going at all.
18. Troy Brown's 55-yard punt return for a touchdown versus the Steelers, AFC Championship game, Jan. 27, 2002: As ol' No. 80 ran the final few steps to toward the end zone, a group of desperate Steelers defenders fell like dominoes behind him. Just a great visual.
19. Papi's 10th-inning walkoff homer to complete an ALDS sweep of the Angels, Oct. 8, 2004: Still one of my favorite Globe sports headlines of all time: David, Goliath.
20. J.D. Drew's first-inning grand slam off Cleveland co-ace Fausto Carmona, Game 6 of the ALCS, Oct. 20, 2007: Drew may carry himself like baseball is a job rather than a passion, but say this for the man: He has a flair for the dramatic in the postseason.
21. Manny Ramirez's walkoff homer off K-Rod, Game 2 of the ALDS, Oct. 5, 2007: Do me a favor: Let me know when it lands, will you?
22. Manny's three-run homer off of Oakland ace Barry Zito, Game 5 of the ALDS, Oct. 6, 2003: Funny how those who claim Manny never hit clutch home runs always conveniently forget this moment, when Zito was at the peak of his powers.
23. Brown recovering a blocked field goal and lateraling to Antwan Harris, who took it 45 yards for a touchdown, AFC Championship Game, Jan. 27, 2002: A typically heady play by one of the smartest players to ever wear the Patriots jersey. You and I had no idea the obscure Harris could run like that. Good thing Brown did.
24. Pokey Reese fields Ruben Sierra's grounder and throws to first to record the final out of Game 7 of the ALCS, Oct. 20, 2004: Because it had finally happened -- in the most delicious way possible -- and now we would get the reward: Watching the Red Sox celebrate on the Yankees' turf.
25. Mark Bellhorn's three-run homer in Game 6 of the ALCS, Oct. 19, 2004: According to our accounting, this is the first time in history a controversial call at Yankees Stadium went the Red Sox' way . . . but it wasn't the only one in this game.
26. Bellhorn's game-winning homer in Game 1 of the World Series, Oct. 23, 200:Shhh. If you listen closely, you can still hear it rattling off Pesky's Pole.
27. Vinatieri's 46-yard winning field goal against the Titans, AFC Divisional playoff, Jan. 10, 2004: When the temperature was almost as cold as the ice water in Vinatieri's veins.
28. Dustin Pedroia's tone-setting homer off Rockies lefty Jeff Francis in Game 1 of the World Series, Oct. 24, 2007: A few days later, when a security guard didn't recognize Pedroia as he was trying to enter the ballpark, the Sox' rookie second baseman replied in his usual comically brash fashion: "Ask Jeff Francis who I am."
29. Derek Lowe's crotch chop, Game 5 of the ALDS, Oct. 6, 2003: After whiffing Adam Melhuse and Terrence Long with a pair of the nastiest sinkers he ever threw, after stranding three runners to save the game and the Red Sox' season, only Miguel Tejada could blame the flighty Lowe celebrated a little too, um, graphically. Hey, you'd be excited too if your team had just overcome an 0-2 deficit.
30. Jed Lowrie's ninth-inning RBI single to win Game 4 and defeat the Angels in the ALDS, Oct. 6, 2008: Wait -- a playoff-series-winning hit is 30th on the list? You betcha. Again: That's how good we've had it, son.
31. Tom Brady hits Troy Brown for to set up winning kick in Super Bowl XXXVI, Feb. 3, 2002: Brady threw for just 145 yards in the game, but twenty-three of them came on perfectly executed crossing route to his favorite target, the biggest gainer of the nine-play, 53-yard drive that set up Vinatieri's winning 3-pointer.
32. Papi's winning two-run double in Game 4 of the ALDS, Oct. 5, 2003: Coincidentally, Papi's first huge postseason moment -- which came with two outs in the eighth -- came off future Sox postseason super hero Keith Foulke, then of the A's.
33. Coco Crisp's epic 10-pitch at-bat in Game 5 of the 2008 ALCS, Oct. 16, 2008: The Sox were down 7-0 with two outs in the seventh inning. With two outs in the eighth, Crisp had his defining moment with the Sox, singling in the tying run to tie it at 7-7. Couldn't have been happier for him, either.
34. Kevin Garnett's declaration that ''Anything is possibbuuuulllllll!!!, June 17, 2008: Because, as we've learned time and again this decade, it is the absolute truth.

A ridiculously long, somewhat vague, and hopefully complete list of honorable mentions, in no particular order: Trot Nixon's pinch-hit walkoff homer off Rich Harden in Game 3 of the 2003 ALCS . . . Ortiz's I-ain't-dead-yet three-run homer to jump start the Sox's comeback in Game 5 against the Rays . . . Lowe gets Jason Tyner to ground out to complete his no-hitter . . . Clay Buchholz's filthy curve to whiff Nick Markakis and complete his no-hitter . . . Jon Lester throwing strike three past Alberto Callaspo to complete his no-hitter . . . Terry Francona embracing Lester in the aftermath as if he were his own son . . . Rodney Harrison's interception to clinch Super Bowl XXXIX, then flapping his wings like T.O . . . MVP Deion Branch's full-extension catch after the ball slipped through an Eagles defender's hands during that same Super Bowl . . . Branch's 60-yard TD catch against the Steelers early in the 2004 AFC title game . . . Bobby Kielty's solo homer in Game 4 of the 2007 World Series, which proved to be the margin of victory . . . Kevin Garnett and Ray Allen holding up jerseys and their introductory press conference alongside a beaming Paul Pierce . . . Bryan Cox's we're-not-to-be-messed-with hit on the Colts' Jerome Pathon in the 2001 regular season . . . Willie McGinest stuffing Edgerrin James at the 1-yard line to steal a crucial win in Indy in 2003 . . . Bethel Johnson's kick return TD against the Colts just before the half in the same game . . . Troy Brown beating the Dolphins deep in overtime . . .Brown's strip of the Chargers' Marlon McCree to keep the Patriots alive in the 2006 AFC Divisional playoffs . . . J.D. Drew's game-winning single in the ninth inning of Game 5 against the Rays . . .Drew's two-run homer two innings earlier . . . Josh Beckett's third straight strikeout in the first inning of Game 1 of the 2007 World Series . . . Drew Bledsoe's lasered touchdown pass to David Patten versus the Steelers in the 2001 AFC Championship game . . . P.J. Brown's crucial jumper with a little more than a minute remaining in Game 7 of the Eastern Conference finals versus Cavs . . . Paul Pierce's lucky-bounce free throw to ice the Cavs series and cap his 41-point performance . . . Any of Ty Law's three picks in the AFC Championship game against the Colts . . . Any of J.R. Redmond's receptions in the 2001 postseason . . . Brady's go-ahead touchdown pass to Jabar Gaffney with 55 seconds remaining to beat the Ravens and keep the Patriots undefeated in 2007 . . . Roughly two dozen other moments from the 2004 baseball postseason . . .
About Touching All The Bases
| | |
| --- | --- |
| | Irreverence and insight from Chad Finn, a Globe/Boston.com sports writer and media columnist. A winner of several national and regional writing awards, he is the founder and sole contributor to the TATB blog, which launched in December 2004. Yes, he realizes how lucky he is. |
Tweets by @GlobeChadFinn
browse this blog
by category
The best of Touching All The Bases